McLouth was in business in the opening minutes Friday against Immaculata in the first week of district play.
The Bulldogs forced the senior-laden Raiders into a three-and-out situation on their opening series.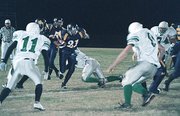 MHS then started their first offensive series on the Immaculata 44. Thanks in large part to a 29-yard run by sophomore wide receiver Levi Masqua, the Bulldogs charged down the field in four plays and had posted a 6-0 lead with 9:38 left in the opening quarter.
The promising start, though, soon dissolved. IHS drove down the field in 13 plays and took the lead, 7-6.
They never looked back.
On McLouth's next series, the Bulldogs were preparing to punt, but after a late MHS substitution at the line of scrimmage, an Imac defender broke through and blocked the Bulldog punt. Immaculata took over at the McLouth 28 and scored on a pass on the next play.
Immaculata just kept on scoring to the tune of a 39-6 win. The Raiders improved to 4-3 overall and 1-0 in district play. The Bulldogs dropped to 4-3 overall and 0-1 in districts.
In the second quarter and trailing 19-6, McLouth went for a first down on fourth and 6 from the Raider 30. MHS quarterback Jimmy Steffey scrambled, but was inches short of the first down.
On the next play, Immaculata quarterback Chris Garlick found Chris Pike for a 70-yard touchdown pass. Immaculata went into the locker room with a commanding 25-6 halftime lead.
"I told them we've got some things to fix," MHS coach Harry Hester said, restating his post-game discussion with his team. "But there's nothing we can do tonight.
"I told them let's get back to work on Monday."
As the playoff format changed two years ago, the first and second-place teams in districts now advance to the playoffs. That means losing the first district game isn't as detrimental, but the strength of the Bulldogs' opponents doesn't weaken.
McLouth will face Pleasant Ridge at 7 p.m. Friday at MHS. The Rams are 7-0 overall after they dropped Maur Hill, 35-7, last week. PRHS can close out a Delaware Valley League championship with a win Friday, along with a playoff spot with a win against the Bulldogs.
"They're not fancy," Hester said. "They shove it down your throat and you'll have to stop it."
Immaculata 39, McLouth 6
Imac (4-3) 13 12 8 6 -- 39
MHS (4-3) 6 0 0 0 -- 6
MHS -- Kevin Stewart 3 run (kick failed)
Imac -- Barrett Kaufman 1 run (Chase Day kick)
Imac -- Tim Fitzgerald 27 pass from Chris Garlick (kick failed)
Imac -- Paul Kelly 7 pass from Garlick (pass failed)
Imac -- Chris Pike 70 pass from Garlick (pass failed)
Imac -- Day 1 run (Day run)
Imac -- Garlick run (kick failed)