Dynamic Duo
Senior Kolman, freshman weller take different paths to state
Christy Weller was struggling to keep a straight face.
While taking a cross country picture with fellow runner Andy Kolman, Weller worked to erase a big grin from her face, but it was no use.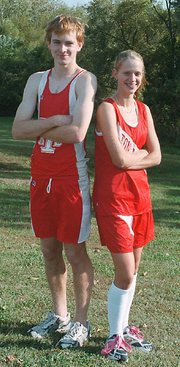 Her giggles were infectious and Kolman then would crack a smile
Kolman, Weller said, kept making her laugh.
That seems logical. Both runners, after all, have had plenty to smile about this fall.
Kolman, a senior on this year's squad, has advanced to the state meet for three of his four high school years.
On Saturday, he clinched trip No. 3 with a 10th-place finish at regionals in Tonganoxie.
Although THS didn't advance as a team this year, Kolman earned a berth as an individual with a time of 17 minutes, 19 seconds.
As for Weller, she is just a freshman, but already has made a name for herself among local runners.
Like Kolman on the boys team, Weller has been the top girls runner. On Saturday, she also earned a trip to Wamego with a sixth-place finish (12:34).
On the course
Kolman has put together a successful senior season. He placed first at the Tonganoxie quad, Maur Hill Invitational and the Kaw Valley League meet. He also finished second at the Tonganoxie Invitational, third at Gardner and fifth at the Rim Rock Classic.
Kolman thought there was something about this year that was better as far as his running style.
"It just seems easier to push yourself and stay towards the front," Kolman said.
Coming into the season, Kolman had a goal of being on the all-area team for the Lawrence Journal-World. If he can finish with a strong showing at state, Kolman could make that goal a reality.
Weller's road to state has been more unexpected, according to the freshman.
From the start of the season, though, she's looked like a seasoned veteran. She placed first at the Tonganoxie quad and Maur Hill. She also took second at the KVL meet and was fifth at Rim Rock and the Tonganoxie Invitational.
"I surprised myself," Weller said. "I didn't think I'd be that good."
Her biggest race came in September when she competed at the Rim Rock Classic. The meet attracts runners from across the Midwest, but Weller was all by herself.
Because most of the runners on the girls squad were at K-State Band Day, Weller was Tonganoxie's lone representative. But Weller held her own with a 17:09 time on the longer course.
"I was really nervous," Weller said.
A running background
Kolman has run in several 5K runs, usually in the Tonganoxie Library's run during Tonganoxie Days each June.
He also has participated in the Thanksgiving run on the Sprint campus in Overland Park.
Kolman also has been involved in Tonganoxie's running club. His mother, Kim, was in the club and urged her son to join.
Being a freshman, Weller has a different background.
Her running experience is limited to junior high track.
Last year, Weller set the eighth-grade record in the 800 and was on the 4x400 relay team with Elizabeth Baska, Ashli Cook and Lindsey Himpel that also set a school record last spring.
"Track is kind of what made me go out for cross country mostly," Weller said. "Cross country's a lot harder."
Training time
Occasionally during the winter months one might see Kolman running in Tonganoxie. Because of the colder temperatures, he doesn't run that often, but in the summer, that's a different story.
Many nights he would run five to six miles, Kolman said.
Once again, the senior and the freshman had different routines.
Weller ran some in the summer, but she said she didn't run as much as she probably should have.
"Yeah, the workouts are crazy for me," Weller said. "Everyone else is like 'this isn't even bad yet.'
"And I'm like 'woah.'"
It's entirely possible that Weller will make fans say "woah" frequently in the next three years.