Residents recall Nick's projects
Editor's note: This is the second in a two-part series about the life of Nick Marel, a stonemason who lived in the Tonganoxie area from about 1941 until his death in 1968.
A new wrinkle has crept into the story about Nick Marel. While sources in last week's story identified him as Italian or Mexican, now it seems Old Nick has a new possible heritage -- Greek. "He came from Pennsylvania, but he was a Greek," said Anna Mary (Doege) Landauer. When Landauer first met Nick in 1941, she was about 23 years old. Her father had died several years back, and Landauer's mother needed someone to build a garage of the bricks salvaged after the family's house had burned. Landauer's mother, Carolina "Carrie" Doege, didn't know of anyone to hire locally. "So she drove to Kansas City, Missouri, where my daddy used to go to find help, they called it 'Helping Hand,'" Landauer said. "It was a place where vagrant men would come to look for work." At Helping Hand, Carrie asked if there was anyone who could build a brick garage for her. "And this man came forward with a hammer in his hand," Landauer said. "He told my mother he could build a garage. It was Nick Marel." Carrie explained she didn't have a place for him to stay, but that she would prepare his meals and wash his clothes. "She told him how to get to Tonganoxie," Landauer said. "She didn't see him for three or four days, and one day she came home from her HDU meeting and here was this black hearse sitting in the yard -- and it scared her, really."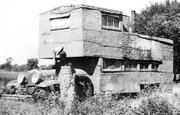 This was no funeral director But it wasn't the undertaker -- it was Nick Marel, and he'd brought his house with him. "My momma said is that your vehicle out there," Landauer said. "And he said yes that's my house, that's where I'm going to sleep." Landauer chuckled when she recalled that Nick had fashioned a bed in the upper level of his modified hearse. "My brother, Albert Joe Doege, said Nick told him he'd always wanted to sleep upstairs," Landauer said. Nick didn't waste time in building the garage. "Every morning he'd get up early and work," Landauer said. "Then he'd eat breakfast and he'd go lay down a while and then he'd go lay bricks. He'd rest again after lunch, and then work till dark." Landauer recalled that Nick had his own way of mixing cement. "He wouldn't let nobody mix his concrete," Landauer said. "He done it himself." And, she said, he was sure of his work. For instance, Landauer said Nick told her that his concrete would never break in the joints. "And they didn't," Landauer said, noting the garage, which since has been painted white, is still in good condition. The garage is at 20853 Tonganoxie Road. Nick never asked for much. "He was evidently satisfied with what my mother could give him," Landauer said. "He seemed to be satisfied with the meals that we provided him with and that we kept his clothes clean for him." Nick was getting up in years when Landauer met him. According to the dates in his obituary, Nick would have been about 73 when he arrived in Tonganoxie. And though alone at the time, he seemed content with his solitary life. "He didn't really have anybody," Landauer said. "He told us his family was all gone and his children were all married, or I guess all his children had pretty much expired or gone on by the time he got here." Even though her mother was a widow, the family felt comfortable with Nick nearby. "He wasn't no bad man to be around," Landauer said. "He maybe wasn't as polished as a lot of people, but he had a lot of interesting things about him. My momma never minded us kids being around him, for him being a complete stranger."
Lasting work Throughout the area, Nick also completed countless small jobs, along with his larger, more well-known stone houses and barns. According to Gladys and Harold Steffen he worked on a stone fence near Eudora. Bobby Hunter said Nick built the retaining wall in front of a Tonganoxie restaurant built by his parents, Ray and Ruth Hunter. That's the present location of Wander Inn. He built a stone wall and the outside of a fireplace at the home at 720 Shawnee, now owned by Eddie and Carol Slawson. And, among his many other projects, he built a basement for Hap Evans, with the help of Evans' sons, J.W. and Lem, who recalled that Nick taught them how to lift the heavy stones and put them into place. Pat Black, who now lives in Eudora, said that in 1960, Nick built a retaining wall when she and her husband built a house east of Tonganoxie on Evans Road. "He did an excellent job," Black said. "Those walls are still in good shape." By the time Nick went to work for the Blacks, he had been in the area almost 20 years. Black recalled that he had at one time lived in Tonganoxie's Elm Park addition. "Mr. Marel had his little shanty truck at that area," Black said. And, although Black said she didn't recall ever visiting with him, her two children, who were young at the time, were drawn to the curious man. "He fascinated the kids," Black said. Wanda (Davis) Bruggeman, for whose parents Nick built a house and two barns, recalled how intriguiging he was to children. "He could weave a story that was unbelievable," Bruggeman said. "He would always say 'I'm going to bake ice cream for you in the oven.'" And Bruggeman, the stonemason and her family grew close and stayed that way. "Nick was always part of our family," Bruggeman said. "He was there at every Christmas and Thanksgiving with us, always at evening meals, and he helped Daddy on the farm." In fact, he and Ted started up a truck garden business, growing produce on 10 to 20 acres. "Nick would leave on Friday,s drive on in to Kansas City where there was a farmers' market, and he came home at the end of the weekend with what I thought was millions of dollars -- bags of money -- and he and Dad divided it, and that's how they worked it out."
Satisfied customers Francis Wiley met Nick in the early 1940s and came to know him well. In about 1941, Francis' father, Othal Wiley, ran into Nick in Kansas City and asked him to come to his farm near Reno to build a dairy barn. Putting the stones in place was only part of the job. The first task was to quarry the stones. "We had a team of mares -- a mother and daughter," Francis recalled. "They were hitched to a stone boat which had a piece of steel about 5 feet by 7 feet with 2 by 6's bolted to the sides of the sled so rocks wouldn't slide off of it and yet you could roll them over to get them on there." The rocks were brought down from the hillside behind where the dairy barn stands today. Nick's knowledge seemed innate. "He could go up there and quarry rocks and he knew exactly where he was going to put that rock in the wall," Wiley said. He recalls the times as if it were yesterday. "With Babe and Molly (the mares) and the stone boat, he'd go up there and say lets get those rocks there," Wiley said. "And sometimes we got her pretty full -- it was all those two mares could do to pull it down the hill. We made many trips to get the rocks down there." Nick's method of mixing his concrete in small batches was legendary, according to those who watched him work. "Everything was mixed by hand," Wiley said. "He didn't want you to bother it at all. We still have the old box that he used -- it has a tin floor that slopes upward on both ends and it has wood sides." It took four years for Nick to do the stonework on the house, Wiley said. After someone else dug the basement, Nick built 18-inch-thick stone walls in the basement. "When he got it up to ground level where they could build the floor joists in there, he put a 12-inch wall from there to the top," Wiley said. Wiley, who has lived in the house with his wife, Donna, for 25 years, said the house today is still in good condition. "The only crack we have is on the back porch where the arch is," Wiley said. "It settled in that corner. But it's not going to fall in because it's all tied in a circle." Wiley hopes that eventually one of their five children or even a grandchild, will want to live in the house. He trusts that the house Nick built will remain in good shape. "It will be there for two or three more generations if nothing happens," Wiley said. And, his memories of Nick will long remain. Wiley recalled that as a teen he fed his collie, King, oatmeal for breakfast. "King would like that, but he got to where he wasn't eating it," Wiley said. "I went out to Nick's motor home one morning and there was Nick in there feeding her steak." That's how Nick was, Wiley said, looking past the man's rough appearance, and describing him as tenderhearted, and pleasant to work with. "I never head him say a cussword," Wiley said. Wiley's sister, Janey Kaiser, who lives in Topeka, said her parents were pleased with Nick's work. "Very much so," Kaiser said. "In fact they were so happy with it that our cousin Ted Davis had him build a house for him on my grandfather's farm." (That is the stone house located just south of Tonganoxie on U.S. Highway 24-40.)
The house Nick didn't build Near the Tonganoxie depot is another stone house, one with a similar look to the houses Nick built. But this was not his project, said Betty Quisenberry, who built the house with her husband, Harry. Nick quarried the stone for the house and garage on East Fifth Street, Quisenberry said. "But he didn't build the walls," Quisenberry said. "Mr. Hummelgaard did that." Though Quisenberry has since sold the three-bedroom stone house, she said she still misses it. "It is beautiful," she said. "I think I have a few tears every time I go by, because we worked so hard on that house and Nick got all the rock out of the ground for us. We were poor and we worked hard for it."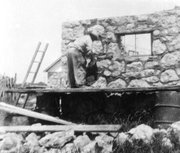 Built for storms And now for the most enigmatic house of them all -- the castle -- Nick's house at the southwest corner of Fifth and Church. David McAlexander, who lives in Kansas City, Kan., is in the process of refurbishing the house, which his parents bought after Nick died. The exterior walls are two feet thick, McAlexander said. "All the inner walls are 18 inches thick -- solid rock," McAlexander said. "There's not a crack anywhere. Old Nick, he knew how to put a foundation down." Although the family completed the house after buying it -- adding roofs and filling in unfinished exterior walls, the floor plan is the same as when Nick built it. The upper level has at least three bedrooms and a bathroom and a living room, dining room and kitchen. And among the basement's spacious area are two rooms that could serve as storm shelters. Or, as McAlexander said, "You could go down there and five tornadoes couldn't hurt you."
Preserving the house Samih Staitieh is a Lawrence businessman who bought a cabin near Lone Star that Nick had built for the Charles Stough family. "The story goes that he carried the stones from Tonganoxie," said Staitieh, who bought the property from Stough's children in 1996. Like the others who live in houses Nick built, Staitieh has respect for the original structure. "When we bought it we took out the old linoleum floor, put a stone floor in, put in a new phone line, dug a new well, re-did the electrical, put in new cabinets and re-plumbed," Statieh said. "But we renovated it to keep it as it was." Staitieh was as much attracted to the house as to the land surrounding it. "It's the most beautiful piece of land I've ever seen," Staitieh said. "Honestly, it's just beautiful." The house is private. "And the cabin faces the 14-acre lake," Staitieh said. "It's just beautiful. It humbles you when you look at it." And like others who live in houses Nick built, they tend to hold onto them. Does Staitieh plan to keep the cabin throughout his life? "We hope so," he said. "Only God knows."
His legacy Now after learning so much about Nick Marel, blank spaces remain. At Mary Frances Krull's suggestion that we review census records to find out more about Nick, a visit was paid to the city library. There, librarian Sharon Moreland did an online search of Pennsylvania's census records. It should be noted that while Nick may have been included in later census records, the details in federal census records are kept confidential for 72 years from the time they were compiled. Listed in the 1910 Pennsylvania census records for Indiana County, Pa., was a Nicholas Marel who would have been about 10 years younger than "Old Nick." Indiana County is next to Clearfield County, where according to his obituary, Nick was born. In the 1910 census, the younger Nicholas was listed as having been born in Italy and his occupation -- a stone quarry operator. Whether Nicholas was related to Tonganoxie's Nick Marel is a question that long may remain unanswered. But, in this hilly area of northeastern Kansas, Nick Marel, an enigmatic man who was somewhat of a mystery to his Kansas friends, chiseled his place in Tonganoxie's history. Today, some 36 years after he died, one small stone at Hubbel Hill Cemetery marks his death. But many carefully placed stones in Tonganoxie mark his life.