Chieftains dominate home quad
Freshman Weller wins girls cross country meet; Kolman takes boys top medal
Christy Weller was Tonganoxie's top runner in the Chieftains' home quadrangular Thursday.
She also won the meet, finishing in 13 minutes, 18 seconds, which was four seconds ahead of Kansas City Christian's Kourtney Ford.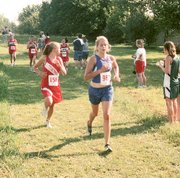 Those aren't bad statistics for a freshman running in her first cross country meet.
But the victory didn't catch THS coach Phil Williams off-guard.
"She didn't surprise me a lot," Williams said. "She had some great workouts.
"She hasn't even learned how to pace herself yet, so she's got a lot of potential."
Tonganoxie won the meet with a score of 37. Basehor-Linwood scored 40 and KC Christian 44. Lansing competed, but did not run as a full team.
Jennifer Wagner placed fifth for the Chieftains, while Kaitlyn Saathoff, Megan Holton and Rachel Bouza finished 14th, 15th and 16th respectively.
"Before the race we talked to them that they should run as a group as long as they can," Williams said. "And stay as much a pack as we can."
The Chieftain boys followed through for Williams in that department.
THS grabbed six of the top nine spots in the boys race as Andy Kolman won the race with a 17:48 time.
Levi Huseman finished third (18:59), Brett Garrett sixth (19:08), Matt Chenoweth seventh (19:23), Justin Smith eighth (19:29) and Colt Coffin ninth (19:38). Michael Shaw was Tonganoxie's other runner. He placed 15th with a 21:29 time.
Williams knew Kansas City Christian had lost two runners from last year's squad, but he was unsure how strong they would be this year.
After all, the Panthers have won three straight boys titles -- the last two in Class 3A and the first in 2A in 2001.
"I thought our boys had a chance to win that race but they (KCC) were still ranked No. 1 in the preseason," Williams said. "I knew they were still tough."
KC Christian's Andy Nichols finished 27 seconds behind Kolman. Nichols placed 21st at state last season.
Tonganoxie now will head Thursday to Atchison for the Maur Hill Invitational. Races begin at 4:30 p.m. The field will include between 16 and 20 teams, so Tonganoxie runners definitely get a feel for taking on more runners.
"It will be a lot more competition," Williams said. "Not that any of the teams will be tougher than Kansas City Christian, but there's going to be a lot more competition anyway."
Williams noted that Kolman was somewhat under the weather, as were two runners on the girls side at the home meet. Kelley Stauch also was out with an injured Achilles' tendon.
"I think we can improve quite a bit," Williams said. "When we get healthy and feel good I think we've got some potential there."