Chieftains rally against 5A Paola for emotional win
Tonganoxie was on the verge of losing its first game of the season Sept. 14 against Paola in De Soto. The Chieftains trailed Paola, 24-23.
A Tonganoxie point keeps the team alive.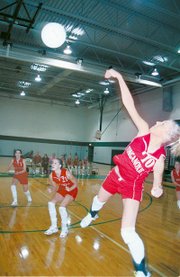 A miscue forces a game 3.
Hannah Heintzelman made sure Tonganoxie still had a life.
Heintzelman's thunderous kill tied the game as the Chieftains eventually won, 26-24. Tonganoxie trailed, 24-22, but the late run sealed the match in game 2.
"That was our most competitive match this season," THS coach Tiffany Parker said. "We fell behind in game 2. We had to calm the girls down."
Tonganoxie won the first game, 25-20, against the 5A school that has provided a bit of a rivalry in recent years for the Chieftains.
The Paola match also served as the closest contests on the night for THS.
Tonganoxie faced De Soto in the first match of the night and prevailed, 25-17, 25-18, against what Parker called a "much improved" Wildcat squad. THS then defeated Central Heights, 25-10, 25-10, in the night cap.
The Chieftains improved to 6-0 after the quadrangular, but none was as crucial as the Paola match, according to Laura Jeannin.
"It was really big because it kind of proved that we can beat that big team and that we can compete with anybody," said Jeannin, who had 25 assists against DHS and 16 against Paola.
Against De Soto, the Chieftains registered 32 kills. The team also had 25 against Paola and 21 against Central Heights. Addie Heim had 13 against De Soto, nine against Paola and eight against Central Heights. Ali Pistora had five kills against De Soto, five against Paola and four against Central Heights. Sami Franiuk had six kills against DHS, three against Paola and two against Central Heights.
Pistora, meanwhile, accumulated six blocks against De Soto, three against Paola and two against Central Heights.
The Chieftains faced Perry-Lecompton and Piper on Tuesday in Piper. That was the team's last tune-up before the much anticipated Tonganoxie Invitational on Saturday in Tonganoxie. Matches begin at 8 a.m. Saturday.