Daniel Hipsher's barbecue sauce is making a name for itself from coast to coast.
Hipsher, owner of Daniel's BBQ, has sent sauce orders from his restaurant to as far away as California and Boston during the past year.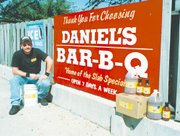 Of course, winning a national tournament hasn't hurt his notoriety.
Last fall at the American Royal International Barbecue Sauce Competition, Daniel's BBQ won first place in taste with his original flavor and 13th in packaging, or the labeling.
Another flavor, known as Competition Blend No. 9, came in 13th in taste at the American Royal and 22nd in packaging.
The event, which includes meat and sauce categories, is the largest in the world. Last year, 402 teams competed at the Kansas City, Mo., venue. This year, the American Royal is shooting for 500, said Hipsher who will be among the competitors.
"That right there is an accomplishment," Hipsher said.
The American Royal has a sanctioned contest and an open-entry competition as well. Hipsher qualified for the invitation-only sanctioned event last year because he was named grand champion at the Tonganoxie Days BBQ Cook-off in June 2003.
Because the local cook-off was a state-sanctioned event, Hipsher qualified for the American Royal's top competition.
Along with his first-place sauce at the American Royal, Hipsher's meat entry made the top 50 in its category.
Jack 'n' Smoke
The Tonganoxie Days win also qualified Hipsher for a chance at the Jack Daniels Barbecue Contest in Lynchburg, Tenn. At that contest, only one winner from each state is selected. Kansas had six qualifying events -- including the Tonganoxie Days Cook-off.
One of the six winners was randomly picked. Unfortunately for Hipsher, he was not selected. However, he did attend last year's event, which takes place every November, with a team from Olathe. That team took first in ribs last year, and Hipsher expects to go with the group again this year.
The Jack Daniels event also attracts competitors from across the globe. Hipsher said representatives from countries such as Sweden and Jamaica were at the event. In a pre-tournament ceremony, entrants had a parade in the Tennessee community. Many people competing from other countries wore traditional clothing from their homelands, Hipsher said.
For the customers
Judges aren't the only people getting a taste of Hipsher's barbecue sauces.
Hipsher has sold the original flavor for some time, but this month he's putting the Competition Blend No. 9 on the market for customers. He also plans to introduce a dry rub he puts on meats before cooking them.
"With this new line coming along, we're just busting at the seams," Hipsher said.
Each month, Daniel's BBQ produces about 2,000 gallons of barbecue sauce.
"That adds up to a whole lotta sauce," Hipsher said.
So much so that Hipsher is searching Tonganoxie for a building to strictly house his sauce-making production. The restaurant will stay where it is, but Hipsher would like to have more room to strictly produce sauces and seasonings.
"We're looking around town here for a building where we can start manufacturing sauces and rubs," Hipsher said.
On the road
Daniel's BBQ can be found competing at about 17 barbecue tournaments a year, Hipsher said. That usually costs between $500 and $600 per event, but Hipsher has lined up one corporate sponsor and is looking to sign up another.
Cintas, a national laundry service that also is the official laundry of NASCAR, will be a Daniel's BBQ sponsor at tournaments.
"It's an expensive sport," Hipsher said.
But with the expenses have come success as the east wall at Daniel's BBQ is filled with various awards.
"If you're on top of your game you walk away with awards, which always make you feel good," Hipsher said.
Even though teams at the tournaments are vying for trophies, there's camaraderie among competitors.
"It's a hard competition, but not a mean competition," Hipsher said. "Once you get into this circuit, it's awesome.
"Ninety-nine percent of you become friends. Nine out of 10 of them will give you what you need. We help each other out."