Fond memories
Leaving church difficult for longtime church members
For more than a century, the Sacred Heart Catholic Church has been the home of worship for generations of area families.
On Nov. 7, that will change.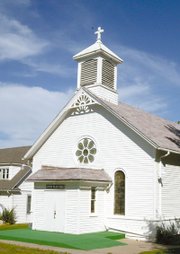 On that autumn Sunday morning, for the first time since 1890, the doors of the white steepled church on River Street will remain closed.
And the doors to the congregation's new parish worship center, which is at U.S. Highway 24-40 and Washington Street, will open.
It will be a celebratory time. The new building will house more parishioners. And eventually, the church plans to build a new church near the parish center.
Yet, for some longtime members of Sacred Heart Catholic Church, it will also be a time of sad nostalgia.
Gladys Walters, who has lived a block from Sacred Heart for 51 years, has been a church member all her life. She is 71. She was baptized in the church, married in the church and her children and one of her grandchildren were baptized there. Five generations of her family have worshipped at the little church on River Street.
For more than a century, the church bell has announced the starting of Mass. And, until the city established a siren system, the church bell was rung to warn residents of tornadoes.
The church has been a part of the community's life, and of her life.
"I think it's very sad to part with that part of history," Walters said.
It would be impossible for a new building to possess the serenity and feeling of home that Sacred Heart's old church offers, Walters said.
Like others, she understands the growth that's created the demand for a new worship center.
"I am not bitter," Walters said. "It's just part of my life and it's such a big change. But it's too bad that we have to part with such a beautiful building."
Connie Putthoff, who has been a member of Sacred Heart since marrying 49 years ago, wishes there were something she could do to keep the church open.
In fact, Putthoff says if she would win the lottery, she'd put her winnings to good use.
"If I do, I'm going to buy the church and hire a priest and keep it," Putthoff said. "But that will never happen. I haven't won the lottery yet."
But she keeps trying, purchasing tickets every Wednesday and Saturday.
"I keep hoping," Putthoff said.
Fate unknown
As the congregation prepares for a move to the new parish center on the south side of Tonganoxie, the fate of the old church, built in 1890 and tucked into a quiet residential neighborhood, is unknown.
Ron Zishka, president of the church's parish council, said he has had to accept the fact that the old church, as members have known it, will soon be gone.
"It's been a long process," Zishka said. "We've checked into what it would cost to move it to the historical society, but that was too expensive. ... We thought we could get another church to buy it, but that didn't come through. It's been a hard decision to sell it, knowing they could buy it and bulldoze it under," Zishka said.
But still, he added, the congregation had simply outgrown its church home. About 370 families belong to the Sacred Heart parish. Zishka noted the old church only seats 220 people.
Altogether, the property is appraised at about $350,000. According to the Leavenworth County appraiser's office, the church is valued at $106,790, the rectory at $100,200, and the church activity center at $150,530.
"We're selling it as three different pieces," Zishka said Monday. "The rectory, the church and the parking lot will be sold, and the Father Moriarty Center will be sold -- it can be converted into a house."
Tonganoxie Realtor Dan Lynch said Monday that he expected to list the church property this week.
Lynch anticipated the property would likely sell for more than the appraised value.
The rectory, Lynch said, is a four-bedroom, two-bathroom house in excellent condition. The activity center, he said, was plumbed so it could be converted into a house.
"And the church, it's really going to take somebody who goes in there with a little more of a creative mind about how to go about things," Lynch said.
Already, there's been talk that developers are interested in the property.
Tonganoxie developer Jack Willis and his wife, Estee, discussed the possibility of buying the property. They initially talked about selling the house and church center, but keeping the church and the parking area behind it. They have since decided not to proceed toward a purchase, Willis said Friday.
"One of the thoughts I had was using the old church so I could rent it out for wedding receptions, things like that," Willis said. "Or you might convert it into a house, but it would cost a lot of money."
Fitting in
And, Willis said, prospective buyers would be wise to look into the area's zoning if they're thinking about changing the building's use.
Tonganoxie city administrator Shane Krull said the area surrounding the church is zoned as single-family residential.
To fit in with the neighborhood, the church building would have to be used as a church, or as an institution, service or social service agency that would be compatible with area, Krull said.
And, it's not just the buildings that will be sold.
An auction will be held Nov. 13 at the church to sell the remaining contents of the church, the rectory and activity center. Auctioneer George Warren is in charge of the sale. Zishka said that among items listed are pews from the sanctuary.
Always there
Putthoff opens the doors to Sacred Heart Catholic Church, to the sanctuary where she's worshipped since her marriage.
For her, it's hard to describe the way she feels when she enters the church.
"You go in and it's just a quiet time and it's very peaceful," Putthoff said. "You feel like you're closer to God."
For years she and her husband, Harold Putthoff, have been fixtures on the back pew during Saturday night Mass.
And at other times when she's needed a comforting moment, Putthoff said she would drop in at the church.
But with the church's new parish center nearly ready to open, Putthoff knows the old church's days are numbered.
There's been talk of moving it to the historical site.
But George Cooper, president of the Tonganoxie Community Historical Society, said even if the church were given to the Tonganoxie Historical Society, the organization's board believes it wouldn't be feasible to move the building.
"As it stands now, it would be probably close to $100,000 to move it," Cooper said.
He noted this would include the cost of building a basement to set the church on, as well as all of the additional work involved.
"But right at the moment, we've talked to the people on the board and frankly they're not anxious to have to contend with another building," Cooper said. "Besides the cost, of course, which we couldn't possibly dig up at the moment."
And Cooper noted, the historic site already includes two buildings moved to the 10-acre site -- the Honey Creek school house donated by the Gordon Harman family, and the Reno Methodist Church. And the group has remodeled a dairy barn that was already in the site, turning it into a museum and meeting house.
"Those among our group question whether we need another church out there," Cooper said.
And, to tear the building down would be costly, as well.
Kelly Angell of Angell's Excavating, estimated it would cost about $10,000 to tear the building down and haul everything away.
Changing times
To Putthoff, the closing of her beloved church is a nostalgic reminder that things will never be the same again.
"Right now I feel scared because I know it's not going to be there much longer," Putthoff said. "I personally look for it to be torn down and if it is, I'll be there. I don't want that to happen, but if it does I'll be there."
Her children were baptized and confirmed in the church. Her oldest son, Stan, used to ride his bike to the church to help serve Mass on Monday mornings. A half-century in a church can make a lot of memories, Putthoff said, her voice breaking.
"It just has too many memories," she said. "That's home."
John Cass Lenahan, who is 81, has been a member of Sacred Heart Catholic Church all his life.
Lenahan's father, Frank, and Frank's brothers, Pat, Tom and Richard, were among those who hauled the stone to build the church's basement.
Lenahan remembers when the east side of the basement housed not the modern kitchen it has today, but a garage where the priest parked his Whippet, a car manufactured in the late 1920s.
Like the Putthoffs, Lenahan was married in the church. And his parents were married in the church before him.
"I have mixed emotions after going to church there for so many years," Lenahan said. "But there's a beginning and there's an end to everything."
He noted the area's population growth that has led to the need for a new church home.
"We were a small town," Lenahan said.
And he said it will seem different -- after eight decades of attending mass in one church -- to go to church somewhere else.
"Certainly I'll miss it, you bet," Lenahan said. "But change is inevitable, so we must go with it."