THS

knocks off Olathe East; places second
Pretty in pink.
That was the state of the Tonganoxie High volleyball team as players posed for a team picture after they finished second in their own invitational Saturday.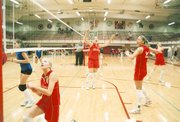 Wearing their eye-catching pink warm-up T-shirts, the Chieftains were all smiles after finishing as runners-up for the second consecutive year.
Second place doesn't always bring a happy face, but Tonganoxie lost to defending Class 6A champion Manhattan in the tournament finals. The Indians handed the Chieftains their first loss of the season in pool play in two games before needing three games to beat THS in the finals.
"It's our own fault," THS co-coach Brandon Parker said with a sly grin. "We're the ones who bring them in.
"Yes, our goal is to win it, but we also want to bring in good teams."
Big schools such as Manhattan, Olathe East and Great Bend would fall into that category.
On Saturday, Tonganoxie proved it could hang with some of the better teams in the state. The Chieftains dropped Eudora in the tournament quarterfinals before defeating Olathe East in the semifinals. In pool play THS handled Bonner Springs, Basehor-Linwood and Gardner-Edgerton before knocking off 5A Ottawa in three games. Ottawa was ranked No. 5 in Class 5A coming into Saturday's tournament.
Parker said it was hard to pick anyone in particular on the team who had a breakthrough tournament. With eight matches in one day, Parker said everyone contributed.
"We had to rely on all nine girls today and they responded when they needed to," Parker said Saturday. "With eight matches, everybody had their time in the sun."
Some Chieftains caught the eyes of other coaches at the invitational. Addie Heim, Ali Pistora and Sami Franiuk were named to the all-tournament team. Ashlee Murphy was named the top defensive player.
Hannah Heintzelman also contributed with some authoritative kills, while setter Laura Jeannin was a crucial constant, Parker said.
"For a 5-nothing 90-pound setter against eight teams, that's tiring," Parker said, referring to Jeannin.
Tonganoxie entered the tournament undefeated at 8-0 and left the tournament with a 14-2 mark.
With wins against Ottawa, Eudora and Olathe East, Tonganoxie could crack the state rankings this week.
Parker said he and fellow varsity coach Tiffany Parker thought the hot start was possible.
"Tiff and I felt we could be there but we had a lot of question marks of people stepping into roles because they weren't in those roles," Parker said. "I'm pleasantly surprised, but I'm not shocked."
The Chieftains got back into the Kaw Valley League portion of the schedule with a triangular in Leavenworth against Immaculata and Basehor-Linwood. The Chieftains then will have their biggest KVL tests of the season Tuesday against Lansing and defending league champion Mill Valley.
¢ MATCH-BY-MATCH RECAP
THS 25-25, Bonner Springs 9-13
The Chieftains opened the day a little sluggish with a 9 a.m. match. Bonner Springs opened the match with a 5-0 run, and was up 13-8 before going on an 8-0 run before taking the first game, 25-9. Bonner Springs was as close as four points in the second game at 17-13, but another 8-0 THS run gave Tonganoxie the win, 25-13.
THS 25-25, Gardner-Edgerton 11-23
The Chieftains again won their first game convincingly, but had more trouble in the second game. After winning the first game by a 25-11 score, Tonganoxie had a barnburner in the second game. The Chieftains and Blazers had 14 ties and six lead changes before THS outlasted Gardner-Edgerton, 25-23.
THS 25-25, Basehor-Linwood 15-8
THS ended the first game with a 7-1 run and finished off the second game against the Bobcats with a 12-0 run as the Chieftains improved to 3-0 in pool play.
THS 25-19-25, Ottawa 16-25-21
Tonganoxie topped the state-ranked Cyclones with a game-winning kill from Heintzelman. After the 25-16 loss, Ottawa responded with a 25-19 win of its own. Game three had 12 ties between the two teams. Tonganoxie led early, 5-4, but wouldn't get the lead back until they jumped ahead, 18-17. Franiuk and Pistora had timely kills, as did Heintzelman in the 25-21 victory.
Manhattan 25-25, THS 15-23
The battle of the unbeaten teams in pool play was close in game two. A 6-0 run in the early going and a 5-0 run late helped MHS to a 25-14 win in game 1. Tonganoxie, however, held its own in the second game. THS trailed 20-11, but cut the lead to 20-15. The team later trailed by a 23-17 score, but Tonganoxie's late surge pushed the game to a 23-23 tie. During the next volley, a Manhattan player's hit appeared to be out, but the line judge called it in and Manhattan scored on its next serve for the two-point win.
Tonganoxie 25-25, Eudora 20-23
The last time Tonganoxie and Eudora faced off was during a substate tournament last year. THS prevailed then and extended its winning streak against Eudora to two with the 25-20, 25-23 win. Eudora came into tournament play with more fatigue. The Cardinals had four of their five pool play matches go to three games.
Tonganoxie led or was tied much of the first game before Eudora jumped ahead, 16-15. EHS led, 19-16 at one time, but Tonganoxie put together a 9-2 run and finished off the Cardinals. Eudora's latest lead was 14-13, but Tonganoxie took the lead and eventually held on for the two-point win.
Tonganoxie 25-25, Olathe East 18-22
Last year, Tonganoxie's big tournament play win came against Great Bend. This year, Olathe East was the victim.
The Chieftains handled the Hawks in game one with a 25-18 win before holding off East in the second game for a 25-22 win.
Franiuk's ace serve with Tonganoxie leading 22-20 iced the game for THS.
Manhattan 25-20-25, THS 18-25-18
Manhattan vs. Tonganoxie, part two required three games for a winner.
The Indians picked up where they left off in the first match with a 25-18 win, but Tonganoxie would make some noise in the second game.
THS never trailed in the game as the Chieftains forced game 3 with a 25-20 win.
Manhattan, however, responded. MHS opened with a 3-0 run and never looked back. A 10-2 run midway through the game helped the Indians to a 25-18 win and the tournament title.