Aiming for the Olympics
Two area youths shooting for gold
Olympic shooting coach Sergey Luzov is confident that Tonganoxie teens Cody Owsley and Anthony Lutz can make it to the 2012 Olympics.
"Absolutely, no doubt," Luzov said.
Cody and Anthony earned the top spots at the USA Shooting National Junior Olympics air pistol championships, held March 25 through April 10 in Colorado Springs.
Cody earned a first place gold medal and Anthony earned a second place silver medal.
Their accomplishments at the recent meet mean two things -- both teens are one step closer to meeting their goal of shooting in the Olympics. And, both now are being trained by Luzov, a world-class shooter.
USA Shooting is recognized by the U.S. Olympic Committee as the national governing body for Olympic shooting sports. The Colorado win qualified Cody and Anthony for the National Development Team which puts junior shooters (under the age of 21) under the direction of Luzov.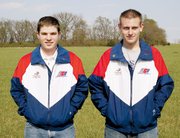 Luzov was the 1986 world champion and world record holder in running target competition. He also won three World Cup gold medals while competing for Belarus in 1986 and 1988. From 1991 through 1994 he was the running target coach for the Olympic team of Belarus. And since 1996 he has coached national shooting teams for USA Shooting. For the past year he has been in charge of the National Pistol Team.
A matter of confidence
Luzov has confidence in Cody and Anthony.
"The way they look and the way they train, it looks like they have drive," Luzov said. "So it's just a matter of time and work. I think their chances are pretty high to get into the Olympics. It (2008) could be realistic, but more realistically it's 2112. By that time they will be ready if they still work the way they do now."
Practice continues
Luzov stays in close contact with his team and e-mails practice assignments.
Cody, a Tonganoxie High School senior, is the son of Craig and Kelly Owsley. Anthony, a home-schooled high school sophomore, is the son of Steve and Randi Lutz.
The national competition will be June 16-22 in Fort Benning, Ga., where the boys will compete in the Championship of the Americas qualifications.
Winners of this competition will advance to the Championship of the Americas games, which will be held this fall in Puerto Rico.
Luzov said he likes the attitude shown by Cody and Anthony.
"It looks like these kids understand everything and they don't expect themselves to push the easy button like in the commercial and they're working on it," Luzov said. "So I won't be surprised if they can make it because they're good enough to do it -- we'll just see -- that's the nature of sports."
4-H start
Both boys began their career in shooting sports by attending 4-H workshops taught by Steve and Randi Lutz in Tonganoxie.
The Lutzs, as well as the Owsleys, have air pistol shooting ranges with target returns in their basements.
That's where the boys spend hours practicing every day. For instance, Anthony said he practices from two hours to five hours daily.
"Usually when I get done with school at 3:30, I practice until 5, and whenever dinner gets over I go back down until 9:30 or so," Anthony said.
Right now for Anthony, his biggest challenge is learning to pull the trigger smoothly.
"If you jerk the trigger, your shot is going to off to the right or the left," Anthony said. "You just pull back nice and smooth until the shot breaks."
Anthony said if things go as planned, he hopes to qualify for the 2012 Olympics, the location of which has not yet been decided.
"If I got better pretty quick," Anthony said, "It would take a lot of hard work, maybe (qualify for) 2008 in Beijing."
Neighbors
Anthony said it helps that Cody, whom he described as "one of my best friends," lives nearby.
In fact, the two, who live southeast of Tonganoxie, both live on Hemphill Road. The drive from one house to the other is about three miles -- if it hasn't rained and they can take the field road that snakes along the Stranger Creek. But as the crow flies, it's only about a half-mile. The Lutzs live on the north side of Interstate 70, the Owsleys live on the south side.
At shooting matches, people are surprised to find that two of the top shooters are from a small town in Kansas.
"From the same town, the same state, everything, that is kind of unheard of," Randi said.
The teens and their coach are quick to say the proximity has helped them progress in shooting sports.
"It's just that we keep competing against each other and we just keep getting better," Anthony said. "We can practice and keep pushing each other to get better."
Luzov couldn't agree more.
"I'm really glad that I have somewhere in the country two kids that are talented, they're both on the team and they can train together," Luzov said. "... It's much harder to train alone, to go after something big you don't have. When there is two or more kids they're kind of watching each other. That drives the scores up to the next level where they want to be. It brings them closer to world level competition quicker -- allows them to progress quicker."