Budding entrepreneur saving money for college, 'date car'
One of Tonganoxie's youngest businessmen is only 12.
Vinnie Angell, who runs the bait shop at Angell's Convenience Store, opened his business when he was 9.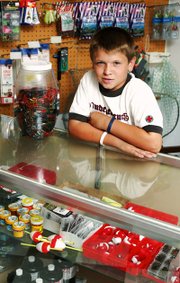 And business has been good, Vinnie said.
"I make about $300 a week profit," he said of his work during the fishing season.
Vinnie stands up straight, his arms crossed, his blue eyes shining beneath a brow topped by a cowlick in his light brown hair.
He organizes his counter, moving the gallon jar of red, blue and green rubber worms slightly to the right, and sliding papers out of the way.
Vinnie works every day of the week, but on Sunday mornings, business tends to start late.
"On Sundays it's real slow until everybody starts getting out of church," Vinnie said.
Vinnie's array of fish bait, tackle and even rods and reels provide what people who like to fish need -- especially those heading to fish at Leavenworth County State Lake, about three miles down the road.
The bait shop is at Kansas Highway 16 and Hatchell Road, about three miles northwest of Tonganoxie.
Vinnie's bait shop, which advertises "live, nude bait" on the roadside sign, may cause people to wonder. But the sign's reasoning is simple, said Vinnie, explaining that the minnows and crawdads don't wear clothes.
Vinnie's not the only Angell running a business at the corner site.
Cindy Angell and her husband, Vincent, own Angell's Liquor next door. Vincent and Cindy Angell's son, Kelly Angell and his wife, Tara, have the headquarters of their business, Angell's Excavating, there, and just weeks ago, the family opened Angell's Convenience Store in the area that also houses Vinnie's bait shop.
"The businesses are all owned and operated by Angells," Cindy Angell said, nothing that even Vinnie's little brother, Hunter, 5, helps out on occasion.
No time to fish
Vinnie keeps track of his stock. That means making sure there's plenty of fish hooks and bobbers. And it means checking on his live bait.
Vinnie purchases crawdads from his friend, T.J. Miller, who brings in about five dozen every two or three weeks.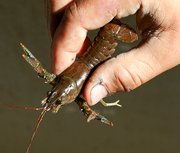 "He seines them in his secret spot," Vinnie said.
Vinnie said his customers use the crawdads when they're angling for catfish.
He also carries Canadian night crawlers, buying about 1,000 at a time that he sorts into styrofoam cups that hold a dozen each. And he sells leeches.
At his glass showcase, Vinnie sells hunting and fishing licenses.
Though his business has grown, Vinnie said he started small.
His grandfather, Vince Angell, used to take him to a bait shop in Wyandotte County to buy his bait.
Now he orders his stock from a Salina woman who delivers the leeches, worms, fathead minnows, regular minnows, large shiners and goldfish, along with his stink bait and tackle.
The whole effort has been a family affair. Vinnie's father helped him build a shed in which his grandfather installed tanks for the live bait. And, during the school year, his grandparents make sure their grandson minds more than his business.
Each day after school, Vinnie rides the school bus to the bait shop. And the first thing he has to do is homework, Cindy Angell said.
Vinnie, who said he makes mostly As and Bs in school said he doesn't mind doing the homework.
And he said he likes to work.
After all, Vinnie will quickly acknowledge that the best thing about running the bait shop is the money he makes.
"I'm saving it for either college or for a car," Vinnie said.
The car is one he already has, it's a Hurst Olds Cutlass 442.
"My dad bought it for me and then I'm going to pay it off," Vinnie said. "It's going to be my date car."
When he has a spare moment or two at work, Vinnie's likely to be seen riding his skateboard in the parking lot, or perhaps playing on the computer.
But it's likely Vinnie won't be found on the side of a lake or in a boat with a fishing rod in his hand.
He chuckles at the thought.
"I never have time to fish," Vinnie said with a mock sigh. "I own a bait shop but I never have time to fish."