On the road again
Tonganoxie native quits job, sells house and buys camper for trip of a lifetime
Whether she's walking her dogs across a glacier stream or packing them in her car for another day on the highway, Shellie Hardisty is a world away from her home.
Actually, she has no home.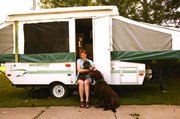 Four months ago, Hardisty sold her house and her belongings. About a month later she quit her job, and shortly after that, she loaded everything she needed for a trip in a pop-up camper.
Then the 35-year-old Shawnee resident headed down the highway, accompanied by her dogs, Cocoa, a gentle chocolate lab, and Dottie, a protective Dachshund.
She planned to travel until her money ran out.
"I took the money I got from the sale of the house and that's what I'm using to travel on," Hardisty said. "When I get back I won't have any money but I'll have a life experience that I think a lot of people will envy, or will wish that they could have done."
Hardisty, who is a 1988 graduate of Tonganoxie High School, said she wanted to take this trip while she was young, energetic and healthy.
"I don't want to get to the point in my life where I say I wish I had done that when I was able to do it," Hardisty said. "I don't want to regret."
At the same time, her decision to sell everything and take to the road even surprises her.
"I don't know why I did it, I just did," Hardisty said, giggling as she added, "Everybody thinks I'm crazy."
Still, family and friends, though concerned, helped her get ready for the trip.
"My parents helped me prepare for the sale and were behind me 100 percent, just like in everything I've always wanted to do," Hardisty said.
Hardisty's parents, Barbara and Bill Hardisty, live in Tonganoxie.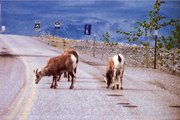 Barbara Hardisty said that though at first she wasn't thrilled about her daughter's plan, she decided not to react.
"I ignored it -- I thought if I ignored it, it would go away," Barbara said with a grin, "And here she did it anyway."
In late June, after Hardisty had completed a safe drive to Alaska, she made an unexpected trip home to attend a relative's funeral. She stayed at her parents' house to celebrate the Fourth of July before heading out again. By then her parents felt better about their daughter's trip.
"It's easy to feel more comfortable with it now because of cell phones, computers and e-mail," Barbara Hardisty said. "Because of this you are in daily contact."
Organized travels
Shellie Hardisty, who described herself as highly organized, planned the trip well in advance.
Long before she left home, she sold her small car and bought a Jeep for off-road driving as well as for pulling a camper. She attended RV shows and decided what type of camper would fit her needs.
She arranged to pay expenses and bills with a credit card online, using her laptop computer and cell phone to access the Internet.
She bought a national park annual pass and planned her route to include stays at numerous national parks.
The first leg of her journey, which began May 20, led Hardisty from Tonganoxie to Interstate 29 into Canada. She drove through Manitoba, Saskatchewan, Alberta, British Columbia and the Yukon to arrive at her Alaska destination, making the drive in 10 days.
In Alaska she spent a week in Denali National Park. From there she went to Montana where she stayed at Glacier National Park, and from there to Grand Teton National Park in Wyoming.
Throughout her journeying, she said she has felt safe.
"Everybody is very friendly on the road, it's mostly retired couples with those big old RVs," Hardisty said. "I felt extremely safe because the people look out for each other -- at the campgrounds you're talking elderly couples and families with children."
Hardisty said that on group activities, such as light water rafting, hiking and horseback she's usually the only person traveling alone.
There are times she wishes someone were with her. It's not that she's lonely or needs someone to talk to, Hardisty said.
"It seems like it's a little bit of a waste doing it by myself," Hardisty said.
For instance, last week at Mount Rainier the wildflowers were beautiful. Hardisty was told that because of the low snowfall in the past winter and the generous spring rains, the wildflowers were prettier than they'd been in the past 20 years.
She took a hike, finding more new flowers around every turn in the trail, stopping to take photos.
"My mom would just love something like that," Hardisty said. "I could take pictures and show her, but there's nothing like doing something like that in person."
Back on the highway
Now, she's in the midst of the second part of her road trip, which is expected to take seven and a half weeks.
She's traveling through the northwest United States. Hardisty plans to make a late-August return to Tonganoxie before heading out again, and on Sept. 4, she plans to celebrate her 36th birthday in Niagara Falls.
When Hardisty is driving toward a destination, she likes to go non-stop. Of course, Dottie and Cocoa have to run every couple of hours. And, to save time, Hardisty munches on her favorite snack -- aerosol cheese and crackers -- while driving.
"My best friend had a little going away party for me and everybody gave me air cheese," Hardisty said. "So I had an ample supply from Kansas to Alaska."
And in the campgrounds, she cooks. Her camper includes a small refrigerator and a gas stovetop.
At night, just before she goes to bed, Hardisty records her experiences and her thoughts in a journal a friend gave her.
Hardisty said she'd recommend that others take a similar trip -- even if on a smaller scale.
"It's been a learning experience," Hardisty said. "But it's been really liberating and relaxing. I hate it when people say they're doing something to go find themselves -- that's not what this trip is about -- but I do feel that I'm learning things about myself."
Working for things
Prior to her trip, Hardisty worked as the general manager of a party and equipment rental business. She also worked part time as a ticket sales supervisor for Kansas City Chiefs and Wizard games, and the Kansas City Ballet.
Paychecks from her numerous jobs allowed her to get ahead. At 22, Hardisty, who has never married, bought her first house. About five years ago she bought a larger house in Shawnee.
She worked hard, often seven days a week, but through the years, the work, or rather, the paychecks, began to lose meaning.
"I've always had a full-time job and several part-time jobs," Hardisty said. "I got to the point where I wasn't working for me anymore, I was working seven days a week -- I was working for things -- I was working to buy stuff."
Though her jobs gave her the money to take nice vacations, still, she felt that wasn't what she wanted. But this trip -- and time to travel and discover the country -- was.
No need to hurry
In mid-July, Hardisty stopped at Sisters, Ore. The town, known as the gateway to the Cascade Mountains, is the home of America's largest outdoor quilt festival.
Hardisty, who never misses a Kansas City Art Fair, was intrigued by the quilts, as well as the art shops in Sisters' six-block downtown area.
She bought a living room lamp that she will use in her next house and Christmas presents for friends.
"I could have bought something in every store that I went in," Hardisty said, laughing. "I had to get myself out of that city -- I was spending way too much money."
Another pleasant trip, among the many, was a jaunt to a lavender festival in Washington. Hardisty said the area by Olympic National Park includes the largest lavender growing operation in the nation. The area's shops were full of items made with lavender.
After stops at several wineries in the area, Hardisty quipped she was ready to change the theme of her trip from a national park tour to a winery tour.
And along the way, Hardisty learned not all national parks are beautiful.
Yellowstone, the brunt of fires in the late 1980s, still shows the damage.
"I was very disappointed at first because here I am driving through and all I am seeing were dead forests," Hardisty said. But her impression improved as she toured the park, which Hardisty later referred to as "fabulous."
And again at Mount St. Helens, Hardisty said, the multitude of dead trees from the 1980 eruption, reminded her of children's pickup sticks.
"I could not believe that after 25 years the amount of evidence (from the volcano eruption) you would still see," Hardisty said.
She'll stay on the road for a year, or as Hardisty recently said, "until my money runs out. I'm going to use it all, I don't care."
And when that happens, she's confident things will work out.
"I've never had trouble finding a job. I'm not worried about that at all," she said. "I just know I'll work the rest of my life when I get back, so I'm in no hurry to get back."