Debate continues over interchange along turnpike
Lynn McClure views the potential of Leavenworth County's first turnpike interchange as monumental for the county.
McClure, the executive director of Leavenworth Area Development, spoke Monday to the Tonganoxie City Council about a brochure being developed to promote Leavenworth County.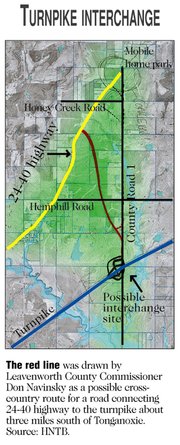 When asked if there were any questions, council member Velda Roberts asked for McClure's take on the hot topic of the interchange in the southern portion of the county. Conceptual plans call for a turnpike interchange near the County Road 1 intersection. The county is looking at two possible routes to connect U.S. 24-40 south of Tonganoxie to the turnpike -- one that basically follows County Road 1 and another that would go cross-country from 24-40 to the turnpike west of County Road 1.
"This could be the biggest thing since the fort landed in the county," McClure said, referring to the military base of Fort Leavenworth.
McClure said a turnpike interchange, like the fort, would generate a lot of traffic through the area.
While Tonganoxie City Council members and the Leavenworth County Commission agree with McClure's assessment of the impact of a turnpike interchange -- they certainly disagree with where to construct a road connecting 24-40 with the new interchange.
City officials favor the route that follows County Road 1. But county officials are leaning heavily toward the cross-country route.
Last Thursday, council members and other Tonganoxie residents encouraged the county commission to build the connecting road along County Road 1.
County commissioner Don Navinsky, however, opposes the County Road 1 route.
"Easement in front of homes can be very, very expensive," Navinsky said. "I'm looking forward to the future, five or six years down the road.
"I don't want an access road to look like Fourth Street in Lansing and Leavenworth."
Although easement could be an issue along the west side of County Road 1, much of the land on the east side of the road is owned by Paul and Elizabeth McKie. The McKies have informed the city they would voluntarily annex their more than 2,000 acres, also known as Tailgate Ranch, into the city if the access road follows County Road 1. Council member Velda Roberts also told the county commission that easement acquisition for an existing road would be "a fraction of the cost of easement acquisition of an entire new road."
A cross-country route would affect about 12 landowners, a county official said.
As for the access road being congested with several stop lights and entrances, city council member Jason Ward said that could be avoided.
"I think we're going to have a lot of control over County Road 1," Ward said. "I don't see it as a main street."
Although both routes to the interchange are conceptual, county and city officials think the cross-country route could be cheaper.
But Ward said that shouldn't make it the automatic choice, noting the economic benefits that could come from properly developing County Road 1.
"You can't just look at: the secondary road is less expensive to build," Ward said.
He also pointed out that a cross-country road would mean the county would have another road to maintain.
When Ward and Navinsky finished debating the two roads, Navinsky said his opinions weren't those of the county commission's, but his alone.
"If you want to throw rocks, throw them at me," said Navinsky, one of three county commissioners.
Fellow commissioner Clyde Graeber hasn't said publicly which route he favors. But at the Aug. 8 city council meeting, county commissioner Dean Oroke -- who lives just south of Tonganoxie -- did voice concern about County Road 1 not being as cost-effective as a cross-country route.
At Thursday's meeting, Oroke discussed the importance of the Tonganoxie's commitment to the project.
"How much money is the city of Tonganoxie willing to put into this project?" Oroke asked.
Oroke said that while he was on the commission during a previous term in the late 1980s, the commission pledged substantial money to industrial parks in Tonganoxie and Leavenworth "only to see it fall apart because someone didn't step to the plate."
City Administrator Mike Yanez said the city planned to work with the county extensively.
"We know that this is not going to be done overnight," Yanez said.
In addition to the mayor and city council members, Tonganoxie Chamber of Commerce president Charlie Stimac spoke in support of County Road 1, as did Chris Donnelly of First State Bank and Trust.
When county and city officials meet again in Leavenworth to discuss the interchange project, discussion likely will be based more on concrete figures than conceptual options.
During last April's election, county voters approved a 10-year extension of the countywide 1-cent sales tax to fund, among other things, a road from 24-40 to the Kansas Turnpike where KTA plans to construct a new interchange.