Family, friends revel in Boatwright's victory
Bichelmeyer's Steakhouse in Tonganoxie resembled the host for an NCAA Final Four party, with Kansas University as one of the teams vying for the title.
In reality, it was the site for the Survivor Final Four. And instead of KU, the fans were rooting for Tonganoxie's Danni Boatwright.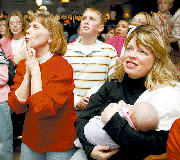 Nearly 200 people on Sunday packed into the bar area of the downtown steakhouse to watch their native daughter compete for -- and ultimately win -- $1 million.
One sign read, "Tonganoxie loves Danni."
Another read, "Million $$$ Danni."
CBS cameras from a Kansas City affiliate recorded footage of fans at Bichelmeyer's. The footage aired after was Boatwright was named Sole Survivor.
Fans hooted and hollered for the camera, almost as if they were basketball fans vying for camera time.
Casey Boatwright, one of Boatwright's seven brothers, started chanting, "We Love Danni."
And after the show, he let out a celebratory "Rock Chalk Jayhawk" chant in honor of his sister, who is a KU and Kansas City Chiefs fanatic.
Casey beamed as he talked about his sister, noting that she had a big heart -- and was a true competitor.
And minutes after Danni was determined the winner, Casey couldn't believe what his sister had just accomplished.
"That's the way I put it -- surreal," Casey said.
Watching at home
Absent in the Sunday night's cheering throng at Bichelmeyer's was Tammy Starcher.
Her son, Kelton, was in attendance for the Survivor watch party, but not Starcher.
Starcher, who works next door to Bichelmeyer's, at Pelzl's Do It Best Hardware, is a diehard fan of Survivor.
Each season, employees at Pelzls play along with the show, making guesses as to who next will be voted off and who will win.
In fact, the employees mark the show's progress on posters at the checkout stand.
So one would have thought that Starcher would have been among the Survivor fans who gathered to watch the season finale.
"I stayed home for the simple fact that I wanted to hear it and watch the whole thing," Starcher said. "I was a nervous wreck the whole time. I was so proud of her, so proud of Danni. I was telling my husband, this is history for Tonganoxie, it's a big thing."
Throughout the season, Starcher and her co-workers kept their faith in Danni.
"I did from day one," Starcher said. "Everybody voted Danni for the survivor -- how could you not -- you had to."
Starcher's prediction was close. She noted that Danni and Stephanie made it to the top two.
"I thought Rafe and Danielle would be the last two, but I was blindsided."
All in the family
Just knowing, or being related, to Danni was enough to pull normally non-Survivor fans into the frenzy.
Jim Zaenger, Overland Park, is related to Danni.
"Danni has made me watch Survivor. I'm normally not a fan of the show. Now that I have watched Danni on survivor, I have become a fan," Zaenger said.
He said he was proud of the way she participated in the program.
"She hasn't had to lie, she is very athletic, she's challenging everything, she's smart," Zaenger said. "She keeps her mouth shut, does her job, goes about her business, that describes her life too. That's how she approaches life, she just goes about her job."
Barb Gangle, who drove to Tonganoxie from Bucyrus, agreed, saying,
"She's played this game with a lot of class. It's just been so refreshing to see her play this game with honesty and respect."
And Elizabeth Paterson, Olathe, who works at a clothing store owned by Danni's mother, Vicki Cackler, said Danni's competitive spirit led her to prepare for the show.
"She spent a lot of time studying ahead," Paterson said. "She studied with the Navy Seals, she reviewed past episodes of Survivor. Her sister-in-law who is a teacher worked with her on the history of Guatemala."
Staying up late
Parker Dean, and his older brother Hunter Dean, were allowed to stay up later than usual on a school night. The boys are the sons of Matt and Vicki Bichelmeyer, who own Bichelmeyer's Steakhouse.
Her sons are both Survivor fans, Vicki Bichelmeyer said.
"Parker always did his homework early so he could watch Survivor," Bichelmeyer said. "He always thought that she (Danni) was going to win, from the beginning."
And Parker's prediction came true.
He said, smiling, "Now I can say that I've met a millionaire."
Among other young fans participating in festivities was Ryan Wolfe, a 15-year-old Tonganoxie youth.
"It's awesome, there's no words for it. I'm just so excited, I was so glad that she won all those immunity challenges when she needed to," Ryan said. "Now they're going to have a star from Tonganoxie on the map."
Not a peep
Meanwhile, one of the youngest fans around, 7-week-old Megan Page Boatwright, the youngest child of Casey and Jennifer Boatwright, showed support for her aunt in her own quiet way.
"She slept through the screaming," said her proud grandfather, Jim Zaenger.
He was just one of many family and friends pulling for Boatwright, all of whom wanted her to outlast, outwit and outplay one last fellow castaway.
Some of those family and friends wished her well via cell phone after Sunday's show.
Boatwright had 61 voice mails on her phone, some of which were repeat calls because the first message was nothing but cheers.
She said on Monday she has not returned all of Sunday's calls.
"No, no," Boatwright said with a smile. "I'm waiting to do that later on this week when I get home."
Representing the hometown
The 30-year-old Tonganoxie woman gladly accepted her monumental monetary winnings, but she wasn't just competing for herself.
"For my family and for Tonganoxie," Boatwright said. "They've been so supportive with everything I've ever competed in.
"You want to win so much for your family and friends. That really makes it exciting."
One of those family members was her mother, Vicki Cackler, who consistently has been Boatwright's biggest fan.
Cackler said she wasn't sure how she felt about her daughter winning the $1 million when she woke up Monday morning -- because she never really went to bed.
About 10 minutes after finishing the live Survivor show in California on Sunday night, Cackler flew with her daughter to New York City so she could appear on "The Early Show."
Aside from a nap on the plane, Cackler, as of late Monday morning, hadn't slept since waking up Sunday morning.
When one's daughter wins a check for $1 million, things are bound to change, but Cackler said everything was relative.
"Life hasn't really changed, except you have a little cushion in life," Cackler said with a chuckle. "Yeah, you're going to have a lot more opportunities.
"It looks a little different, but it really is the same."
As for Boatwright, she's been on a roller coaster ride of interviews with television shows and media outlets.
She's just eager to watch a copy of Sunday's season finale when she gets home -- so she can get a glimpse of that hometown watch party.
"I'm exhausted but I'm so excited," Boatwright said. "I can't wait to watch that part of everything.