Tiny Linwood Cafe plans to pick up and move
Joe Chaney's had breakfast, and sometimes lunch, every day -- for the past 11 years -- at 314 Main in Linwood.
That's the long-time home of Linwood Cafe, southern Leavenworth County's home of omelettes, fried chicken and homemade pie.
When the cafe moves to its new location -- 19700 Linwood Road -- later this year, Chaney will find his breakfast a couple of blocks to the north.
"It will still be the same people, and there will probably be more room," Chaney said Wednesday after attending a groundbreaking ceremony for the soon-to-be new and improved Linwood Cafe. "This place fills up -- sometimes there's no place to sit for a while."
Lianne Abare agreed.
Her restaurant, which she's owned since 1994, only seats 28.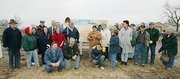 "That's with four to a booth and the counter full," Abare said.
Compared to the 14- by 43-foot building she works in now, the 50- by 70-foot new metal building, located on Kansas Highway 32 on the east side of Linwood, will be a castle.
Abare said the building that houses the Linwood Cafe was built in 1927 and served as a barber shop until 1951 when someone began using the building as a restaurant.
Clearly, Abare's 36 years of experience in the food industry explains why she's been able -- with the help of her loyal staff -- to crank out up to 60 breakfasts a day (followed by lunch), all while working in a kitchen that could best be described as cramped.
Small-town atmosphere
In a post groundbreaking party held at the Linwood Cafe, longtime customer Henry Green knew just how to warm up.
Going straight to the back of a room where a wall furnace radiated heat, Green, backed up to it as if he were standing before a glowing fireplace.
"I've lived around here since 1946," Green said, noting he's pretty much a daily breakfast customer at the Linwood Cafe.
The charm of the restaurant is its family atmosphere, Green said.
"It's down home," Green said. "And, we have our political hour too -- it's just like any small town community -- you just can't beat it."
Ray Zimmerli, has lived in Linwood all his life. And after he retired from 35 years at Ernie Frye Ford in Bonner Springs, he took up a second career. Zimmerli washes dishes at Linwood Cafe.
Zimmerli comes to work every day around 6 a.m., which gives him time to visit with the regulars as well as take care of business.
"I enjoy it," Zimmerli said.
Shannon Raines, who's worked at the cafe since August, said it's the early coffee customers who liven up the early morning shift.
"We get a lot of the old-timers then," Lori said, chuckling. "They're in a good mood. I get them just before they wake up."
Good for the town
Although Lianne Abare will run the restaurant, it's Jeff Coatney who will own it.
Coatney has a manufacturing business, Phoenix Industries, next door to the restaurant site.
"I just had the idea for a number of years," Coatney said. "I had the land right here on the highway, it just occurred to me that putting a building on there that would serve some useful function would be better than letting it sit. And, I think it's an idea whose time has come."
Linwood needs a larger place to eat, he said.
"Lianne turns customers away just about every day in that restaurant that she's in now," Coatney said.
But Coatney said he doesn't plan to stay in the restaurant business forever.
He's hoping business will be brisk enough for Abare that she'll be able to buy the building from him.
"If things work out right, she'll end up with the restaurant and I'll get my investment back," Coatney said. "She'll have what she wants and the community, I think, will be enriched by having a more full-service place to eat."
Pulling others in
And, Coatney wouldn't mind if the new Linwood Cafe will draw diners in from other areas.
"There are a lot of cars that go by Linwood every day and never stop because there's nothing to stop for," Coatney said. "Hopefully that will help change things a little bit."
Sissie Stripling, who lives near Linwood, is the contractor for the new restaurant's construction.
She designed the building and even painted the sign that is now located at the future restaurant's site.
Stripling has designed and served as contractor for several other buildings, including her home on County Road 25.
The restaurant will be a wood frame building with a composite roof and a partial stone front, Stripling said.
From start to finish, including interior furnishings, Stripling said the restaurant will cost about $250,000.
And, she said, in a town where the only store is a convenience store down the highway, and the only other new commercial structures have been service-related businesses such as real estate offices, or for industry, a new commercial business is a rarity.
"From my understanding, this is the first general commercial building to be built in the city of Linwood in 40 or 50 years," Stripling said.
Construction will begin as soon as possible, and the new restaurant -- complete with expanded hours -- is expected to open in May.
Bob Raines, whose wife has worked at the cafe since August, said moving to Linwood from the Westwood area of Kansas City last year was a bit of a culture shock for him.
But he said he's been impressed with the small-town living, including the hospitality he's seen at the "old" Linwood Cafe.
Raines pointed to a "Coffee Rules" sign on the wall. The prices range from 75 cents for one cup of coffee to $3 for an all-day cup of coffee. And it stipulates a longstanding rule at the Linwood Cafe -- if you get up to refill your cup, you have to refill everyone else's cups as well.
While future owner Jeff Coatney said nearly everything in the "New Linwood Cafe" will be new, long-time customers will recognize a few items, which likely will include the familiar "Coffee Rules" sign.
"There is going to be memorabilia from the old Linwood Cafe," Coatney said. "That's why we're calling it the 'New Linwood Cafe.' It's just the continuation of something that goes back 50 years."