Back from Iraq
Tonganoxie Police Chief Ken Carpenter leaves active duty
Army Sgt. Major Ken Carpenter has returned to Tonganoxie -- again.
After a year serving in the Army reserves in Iraq, Carpenter resumed duties Monday as Tonganoxie police chief.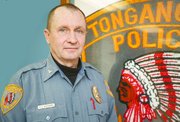 Although a few new faces joined the department in the past year, Carpenter said things seemed to be similar.
"It appears that things ran pretty smoothly in my absence," Carpenter said with a laugh.
The police chief, though, is happy to be back at his civilian, full-time job. Spending a year in Iraq away from loved ones can takes it toll.
"The biggest thing is just missing your family," Carpenter said.
John Putthoff, who served as Tonganoxie's acting police chief in Carpenter's absence, said the department was eager to have Carpenter back in his police uniform.
"It's kind of nice he's back," Putthoff said. "He's glad to be back."
Whether it was by phone or e-mail, Putthoff and Carpenter kept in touch during Carpenter's stint in Iraq. Although the time difference sometimes posed problems, Carpenter stayed connected to his department.
Depending how busy Carpenter was in Iraq, however, Putthoff sometimes wouldn't hear from Carpenter for extended periods.
"We would check in with him periodically just to make sure he's still around," Putthoff said. "It was good. If I needed something I could e-mail him and he would call the next morning."
The one plus to Iraq in the winter is the weather. When Carpenter left Baghdad to come home, daytime temperatures were in the 60s. At night, the temperatures dipped only into the 30s.
Summer, of course, is a different story. It's extremely hot in Iraq in the summer, but Carpenter compared that summer climate to Nevada.
"It's fairly close to the weather in Las Vegas, it only gets a little hotter in the summertime," Carpenter said.
While Carpenter was stationed in Iraq, he worked in Baghdad. During his deployment, Carpenter served in two different assignments.
In the first two months, he served as operations sergeant major for the Combined Joint Task Force-7's provost marshal, assisting in planning and coordinating military police operations throughout Iraq.
During the last 10 months, he served as senior sergeant major for the High Value Detention Facility. Both assignments were in Baghdad, a city Carpenter said didn't have many working public utilities in the area he was stationed.
"Citizens had electricity two or three hours a day," Carpenter said.
Carpenter returned to the police department for a visit when he was on leave this year. But his time in Tonganoxie has been limited during the past two years.
In February 2003, Carpenter was called to the reserves. He returned to Tonganoxie in September 2003, but then was activated two months later.
Carpenter's last stint ended Jan. 29, but the police chief took a much-needed vacation before returning full-time.
Last week, he headed to Las Vegas.
"I didn't make any money, I'll put it that way, but I had a lot of fun," Carpenter said. "It was probably worth it."
While in Iraq, Carpenter was awarded the Global War on Terrorism Expeditionary Medal, the Global War on Terrorism Service Medal and the Bronze Star.
And although he's back to work with the local police department, it's possible Carpenter could return to the Middle East.
"It's hard to tell," Carpenter said. "There's that possibility."