Blood drive draws donors of all ages
Thomas Bazemore was a ringleader.
The 17-year-old Immaculata High School senior -- and four of his friends from school -- donated blood Wednesday at the Tonganoxie blood drive.
For Bazemore, now a three-time blood donor, he was first motivated to donate blood when he and Elizabeth Prevou saw an advertisement at Fort Leavenworth for a blood drive that would be held there. "We just went there and did it and now we're doing it pretty regularly on eight-week intervals," Bazemore said.
Pat Jones, another Immaculata senior who had just given blood, said Bazemore then encouraged him to donate blood as well.
Jones, as well as Immaculata students Erin Drozinski and Alison Thiele, joked about how Bazemore would corner them at school in the quest to get more blood donors.
But it was all in good humor.
"Hey, it works," Jones said. "And it's a pint of blood for somebody."
And, the students said they were motivated to come to Tonganoxie to donate, because that gave them eight weeks until they could donate again -- at Imac's April blood drive.
While blood donors may complain of temporary lightheadedness, Bazemore said he feels just like normal after donating blood.
"I don't get bothered by it, either," Jones said.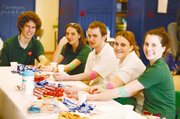 This year the venue for the blood drive, sponsored by the Tonganoxie Civic Club and operated by Community Blood Centers, changed.
It used to be held in the basement of the Methodist Church, which meant the equipment had to be hauled up and down stairs.

This year, VFW member Harold Denholm suggested the blood drive be moved to the VFW post home, which has no stairs.
"It would be easier to move the equipment in here," Denholm said. "We're just tickled to death to provide the building."
VFW members -- and their spouses -- jumped in with both feet.
"The auxiliary made cookies, Elmer Tanking's a superb bartender," Denholm said as Tanking handed out orange juice to those who had just donated blood. "And Wilbur Henson made the coffee."
Donors needed
Eleanor Lenahan, who has helped Richard Dean organize the blood drive for years, was disappointed with the turnout.
According to Lenahan, 53 people registered to give blood, and 44 pints were drawn.
"Way back when when we first started this, Tongie was much smaller and we used to have 100 pints drawn," Lenahan said. "Now we're huge and we come up with 44 pints."
She said she realized blood drives at the high school, as well as in neighboring communities, might explain why there are fewer donors.
"But the Tonganoxie area is huge -- to only get 44 pints out of this," Lenahan said. "I just think people need to be encouraged."
And, she said, some people who might think they're ineligible may find otherwise. For instance, she said, even people who are diabetic may find they're able to give blood.
And, Lenahan said, normally the Tonganoxie drive is held on a Friday, whereas this year it was on Thursday.
She's hoping the next drive, scheduled for July, will bring in more donors.
The venue for this year's drive -- the VFW post -- worked well, Lenahan said. "The blood people were ecstatic," Lenahan said, explaining that in the past, Tonganoxie was not a popular spot with the workers, because all of the equipment, including the beds, had to be carried downstairs.
It took the workers about 45 fewer minutes to set everything up, because of the easy access of the VFW.
Some of the long-time donors who'd scheduled to give blood this year included Dean Beatty, 61 pints; Iva (Boots) Brassert, 44 pints; George Sprague Jr, Bob Knudson and Phyllis Shilling, all 41 pints, and Eleanor's husband, Bob Lenahan, 41 pints. However, Lenahan noted, because her husband had been on a round of antibiotics, he wasn't able to give blood.
Eleanor Lenahan said she hopes community members will come out in greater numbers for the July blood drive.
"People really need to be encouraged to participate if they can," Lenahan said. "Because there is a great need."