Dreamin' along
Basehor boy steers himself to sleep each night in his own car bed
Some children may put on the brakes when told to go to bed. But not John Herriott, who eagerly hops off to his room at bedtime.
That's because John, who is 7, doesn't sleep in a traditional bed.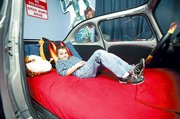 The Basehor first-grader sleeps in a car.
No, John's bedroom isn't in the garage of the Herriott home.
But his bed -- inside his bedroom -- is a real car.
A 1962 Subaru, complete with a windshield, steering wheel and doors that open.
Mr. Fix-it
John's father, John Herriott, has long been known as a man who can fix just about anything.
Right now, John and his wife, Lyann, are remodeling their Basehor home, room by room. By day, John Herriott works at WDAF Fox 4 television, where again, he can fix just about anything.
"From the boilers to the air-conditioner -- anything and everything," Herriott said. "I build furniture for them. I fabricate parts for the tower ... whatever they want."
If it rolls
And in his spare time, if it can be said that a man who remodels his own house has any spare time at all, Herriott tinkers with cars.
It started with a 1967 Nova he fixed up and painted canary yellow. He started working on it the day their son, John, was born.
Finally, when the car was finished, the family drove it through a car show at a Sonic drive in and won the manager's-special trophy.
"We thought, let's go a step further," Herriott said. "We entered it in the World of Wheels show and took the outstanding awards."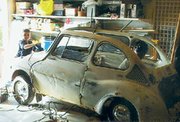 Now, he's working on a three-wheeler -- with a 350 Chevy motor, all fabricated by Herriott.
Amazingly, in the midst of all this, Herriott and his son came across the old Subaru.
It wasn't an instant decision to turn a real car into a bed.
But it was, obviously, a thought that the father and son didn't want to let go.
"We went back four times," Herriott said. "I kept thinking, no, no, no, it needed so much work. ... There's a lot of fellows who will get parts to do a room, but to do a whole car was quite a difference."
The car, which was offered to him for $350, was in sad shape.
"The front end was completely missing because it had hit a tree," Herriott said. "The whole front lower section of it was completely rotted out and gone. It was just so far beat up."
Growing up like Dad
The first-grader is picking up plenty of tips on how to be a fix-it man himself.
Young John sat on the couch Saturday morning, his hair freshly combed, his face scrubbed.
He says he learned to use a cutting torch while working on his bed.
"I forgot what else -- welding ... I don't remember," John said, putting his left index finger on his lower teeth as he tried to put the experience into words.
John's brown eyes sparkle and the corners of his lips turn upward into a sweet smile as he talks about other things he likes to do.
"Camping, fishing, swimming, I like to go tubing at Perry Lake," John said.
And this summer, he already has a project lined out for his father to do.
John pointed to a broad-limbed elm tree in the back yard -- the kind of tree that's just begging for a treehouse -- and said that's what they'd build in it.
"He's got a pile of lumber out there and he's ready for summer," Herriott said, acknowledging once again, this would be another father/son job.
Meanwhile, the Herriott's other child, 5-year-old Amanda, has designs of her own.
Amanda's not wanting a car for her bed.
Instead, she wants a real treehouse in her room.
And she wants it painted pink.
Never say never
Lyann, who is attending nursing school at Kansas City, Kansas Community College, said her son's classmates at school, understandably, at first didn't think her son had a real car in his room.
"Nobody believed him, so he had to take pictures to school," Lyann said.
The car project, from start to finish, took four months, with young John pestering his father to keep at it.
"Just about every day after work we'd go out there (in the driveway where the car was located) and when we didn't, he'd say I was lazy," Herriott said, laughing.
What missing parts they could scrounge up, they did. And the rest -- they fabricated.
"It was just labor enforced," Herriott said. "There was a lot of rebuilding parts, and fabricating parts because it's such an oddball car."
And, surprisingly, as they worked on it in their driveway, several people stopped and offered to buy the car.
But for the Herriotts, the car had one purpose -- to be a bed.
Putting a car in a bedroom is quite different from driving it into a garage.
The hallway to John's bedroom is about four feet wide.
That meant, to get the car into it, they had to cut the car in half.
Though it's possible in another five or six years, young John may have literally outgrown his bed, that won't mean he'll be through with the car.
Think about it.
By the time John is a teenager and ready for his first car, it's possible, Herriott said, this may be the one.
After all, any guys who can turn a car into a bed would very likely be able to turn the bed back into a car.
This type of thinking reflects Herriott's upbringing.
As a child, he too, worked with his father, who was a bricklayer, on various projects.
"About the only thing I ever got in trouble for was saying 'can't,'" Herriott said. "Don't never say you can't, because you can if you try. I think that is probably the best thing I learned from my dad."