Hunter's big game
Determined Chieftain senior on quest for first state wrestling appearance
When Hunter Samuels was about 5, he tagged along with his father, Gene, to watch a youth wrestling tournament at the Kansas Expocentre in Topeka.
As the wrestlers emerged from the shadows of the arena, theme music from "Rocky" blared from the Expocentre's speakers.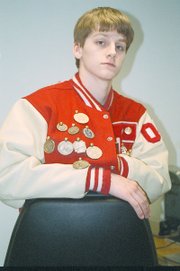 At that point, Samuels knew he wanted to wrestle.
Soon, the Tonganoxie senior hopes he'll hear that music again -- this time at the Kansas Coliseum in Wichita.
That, after all, is the site of state wrestling championships for Classes 6A through 4A on Feb. 25 and 26.
Samuels was denied a state berth during regional tournaments his sophomore and junior campaigns.
This weekend at Fort Scott, Samuels will eye a goal that's dated back to about kindergarten -- being part of that parade of champions at state tournament.
A determined grappler
Samuels has played in his fair share of sports. From football to baseball, the senior has been involved in athletics almost all of his high school career.
But when it comes down to it, wrestling pumps through Samuels' veins the hardest.
"It's definitely my favorite," Samuels said. "I like playing baseball, but I had to work hard at wrestling and it's something I've had to dedicate myself to, so it's made me feel really good when I win."
Ever since that trip to Topeka, Samuels has been involved in wrestling. Now in his 12th year participating in the sport, the THS senior has become a veteran. He admits there were a couple times he wanted to retire his singlet, but those days are a distant memory.
"There were a couple years I wasn't sure I liked it," Samuels said. "But when I had a little success, it sparked everything back up."
Samuels' workout regiment has included a few hours of overtime. Whether he's running extra some mornings or working in the wrestling room before school, the senior punches his time card again and again.
"I usually try to go in early a couple mornings a week, run a couple miles in the gym or do some drilling with Coach Goebel," Samuels said. "Something to give me a little different workout so I keep my shape up and I don't have to worry about getting tired in practice."
Piling up the wins
Samuels currently is 24-15 this season in the 130-pound division. As a junior, he went 22-17 at 119, while he was 24-14 his sophomore year at 112. As a freshman, he split time with Andy Koontz at 103 and finished the season at 15-5. Samuels made regional appearances as a sophomore and junior, but didn't qualify for a state berth.
His final journey toward a possible state trip, however, didn't begin with the start of wrestling practice in November.
Samuels attended camps and worked out with Goebel in the summer. That experience, Goebel said, has helped Samuels tremendously in the past year.
"There's not even a comparison," Goebel said of Samuels' junior and senior years. "He's one of those kids that you show him stuff, he picks it up.
"We've worked a lot on fundamentals this year. He has what it takes to win matches."
Overcoming injury
During the spring of 2003, Samuels was involved in his other sport -- baseball.
During one particular game, Samuels, playing at second base for the Chieftains, drifted toward right field for a pop fly. Charging from right field at the same time was former THS athlete Justin Walker.
The two collided. Walker's head and shoulder rammed Samuels' ribs.
Doctors told Samuels he had broken his spleen. Samuels suffered some internal bleeding. As part of his recovery, doctors instructed Samuels to forego physical activity for five or six months.
Before the injury, Samuels had qualified for the state youth wrestling tournament. The injury, however, spoiled those dreams.
"I was kind of bummed about that," Samuels said.
The injury occurred in March. Samuels started jogging toward the end of July.
"I kind of wanted to prove to myself I could get back in the swing of things and not be afraid to get in there and get after it," Samuels said.
One last shot
Samuels has suffered his share of defeats this winter, but the senior has competed in some tougher tournaments compared to last season.
He should, however, benefit from the experience. Only a handful of losses have come against fellow Class 4A opponents.
"I'm pretty satisfied with where I'm at but there's always work to be done," Samuels said. "I can always improve."
Wrestling against Santa Fe Trail's Josh Cauthon at the Baldwin Invitational a few weeks ago, Samuels lost the match by a considerable amount.
On Saturday, Samuels returned the favor and eventually finished second at league, his highest place ever at the Kaw Valley League meet.
The senior looks at that performance as a stepping stone to the state tournament.
"I think it was," Samuels said. "I got to avenge the loss to the Santa Fe Trail kid, which was pretty big."
Samuels' quest for a state appearance begins Friday with the first day of regionals at Fort Scott.
After spending all those hours training in the off-season, Samuels' hopes rest on his performances on Friday and Saturday.
"We definitely put in a lot of time this summer," Goebel said. "It's paying off. He's a great kid to have in the room and a great kid to coach.
"I just hope our time pays off and he gets his goal. I have confidence in him."
The goal?
Well, Samuels won't be satisfied to simply hear "Rocky" music resonate from the rafters at Kansas Coliseum.
"My goal is to place at state," Samuels said.