THS

girls pound Lansing, stay perfect in league
The Tonganoxie High girls basketball team hadn't played for 10 days when they stepped on the court Friday at Lansing.
Early on, the rust showed.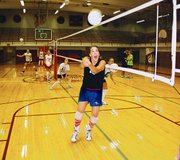 Although the Chieftains had a 5-0 lead, the team started the game cold from the field.
Lansing also was struggling early, but the Lions were fired up after losing to Tonganoxie by more than 20 earlier in the season.
Once the Chieftains found their groove, however, they didn't look back.
A 7-0 run midway through the second quarter and a 15-2 advantage in the fourth helped Tonganoxie remain unbeaten in Kaw Valley League play with a 67-29 victory.
"It was a slow start for us," THS coach Randy Kraft said. "I think about four or five minutes into the game, we started to get in control.
"We just played really good defense tonight."
SANTA FE TRAIL VS. TONGANOXIE
¢ The game: 1 p.m. Saturday at Santa Fe Trail High School.
¢ The records: Tonganoxie, 8-0 league and 13-2 overall; Santa Fe Trail, 7-1 league and 9-5 overall.
¢ Last meeting: Feb. 15, 2004. Tonganoxie won, 55-36 at Tonganoxie. Both teams were 7-1 in league play coming into the contest.
¢ What's at stake: The winner likely wins the Kaw Valley League title.
The Chieftains were without Rebecca Bogard, who couldn't play because of illness. In her place, Kelley Stauch and sister Rachel Bogard saw more time on the floor.
"Kelley and Rachel had to play a few more minutes and did a good job," Kraft said.
Tonganoxie again had plenty of players make their way into the box score. Ali Pistora led the team with 17, while Heather Deaver also was in double-figures with 10 as nine Chieftains scored in the victory.
The victory pushed Tonganoxie's record to 8-0 in the Kaw Valley League and 13-2 overall.
Tonganoxie played Piper on Tuesday and Mill Valley on Friday. That leads the Chieftains to a game that likely will decide the league title. THS will travel Saturday to rural Carbondale to meet Santa Fe Trail in a makeup game. The Chargers have one loss in league play and are 9-5 overall.
"We'll have to play well," THS coach Randy Kraft said. "This time of year, you have to be in rhythm."
Box score
Tonganoxie 67, Lansing 29
Tonganoxie 14 17 21 15 -- 67
Lansing 8 6 13 2 -- 29
Tonganoxie -- Lenon 2, Pistora 17, Baska 8, Heim 8, Weller 8, Stauch 5, Ra. Bogard 4, Jeannin 5, Deaver 10.
Lansing -- Twitchel 7, Nietzke 7, Radovich 5, Richardson 4, Deere 2, Goodlin 2, Casto 2.