For 4-H'ers, training means letting go
Tonganoxie-area teens complete initial training of service dogs for the disabled
After a ride on the family golf cart with Tina Allen driving, Barley hops off for a game of fetch.
As Tina's older sister, Nicole, holds a small stick, the 2-year-old yellow Lab sits in front of Nicole, her eyes on the prize.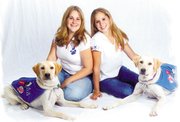 Like any playful dog, Barley jumps at the chance to chase after the stick.
Though it would appear Barley is a permanent resident at the rural Tonganoxie home of Dean and Debbie Allen and their daughters, there's a catch.
Barley is a service dog in training. She arrived at the Allen's nearly two years ago so that Nicole could train her, fulfilling requirements for a 4-H leadership badge.
For a long time, the family -- which watched Barley grow from a big-footed, floppy-eared pup into a mature, well-mannered dog -- didn't know when they'd have to say goodbye.
But now they know.
At 1:30 p.m., March 21, the family will drive Barley back to KSDS in Washington, Kan. They will come home without her.
KSDS is a non-profit organization dedicated to the training and placement of canine assistance to individuals with disabilities.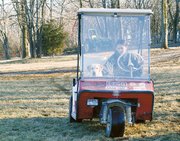 Though raising and training Barley is what the program is all about, Nicole realizes that reaching her goal will mean saying goodbye to a very good friend.
Nicole pets Barley, barely missing a beat as she adds, "I'll be sad -- I'll miss her."
About a dozen miles east of the Allen family's house, Barley's brother, Adobe, is leading his trainers on a similar experience.
Erin Drozinski and her parents, Jackie and John Drozinski, have become accustomed to having Adobe around the house.
"I think it's going to be a sad ride home," Erin said of the trip home on March 21. "Because I've grown attached to him now, he's like me. ... Adobe is so interested in what I'm doing that he always wants to be around me. He wants to curl up next to me. ... I've definitely grown a bond with him."
But, Erin said, the timing will be right. She'll go to college later this year, which means she likely wouldn't have time for a dog. And, a chance meeting last fall taught her all the more the importance of what she's doing.
At the state fair, a woman who was in a wheelchair approached Erin.
"She said she had a dog from KSDS that they had recently retired, and they were giving her a new dog," Erin said. "She was just so happy because it had just helped her life so much. She said she was just so thankful that people like us were around that would do things like this."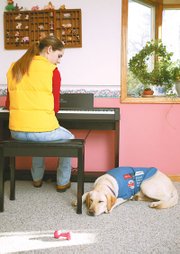 Tonganoxie training
Barley and Adobe are a purebred yellow Labs born in Washington at KSDS.
For Nicole and Erin, training the dogs fulfilled a 4-H leadership criteria.
"The goal was to find a problem in your community and fix it," Nicole said. "They said find something you have a passion for."
Erin said discussions at a leadership camp led her and Nicole to work on projects that had to do with animals.
Both girls had plenty of experience in 4-H animal projects.
"We were talking to my mother and she used to show dogs and she said there was a program where you can raise service dogs," Erin said.
The girls contacted KSDS, filled out the required forms, and sent letters of reference from their veterinarians, as well as from another adult who would be helping them in their project.
About a month later, in April 2003, the girls learned they'd both be getting a puppy to raise.
Big project
Annette Metz is puppy coordinator for KSDS.
Taking on a puppy to raise can be time-consuming, Metz said.
When the puppies are ready to go to their homes, the trainers attend a three-to four-hour training session at KSDS.
They are given a manual with commands the dogs are to be taught in different training situations, and a cape that a puppy in training wears when it goes out in the public.
The monthly puppy reports resemble well-baby checkups.
Information on the form details the dog's height and weight, whether they're potty trained, how they get along with people and how they respond to things such as storms and vehicles.
Trainers are instructed to massage the dog's feet so that later, when their nails have to be clipped, they're comfortable having their feet worked on.
The trainers also learn how to keep a dog's ears clean, and brush its teeth.
And then there's the actual training.
"We ask our puppy raisers to teach them basic obedience," Metz said.
This includes commands for sit, stay, come, sit and stay when you leave them and then come to you on command, and to potty on command, Metz said.
Puppy trainers are asked to expose the dogs to cats and birds so that later in public they'll be able to ignore them. And, the dogs are trained to ignore people when in public.
Currently, Metz said, about 45 to 50 puppies are born at KSDS each year.
"They all go out in puppy raisers' homes," Metz said. "I would say about 78 percent of the dogs are successful."
For the 22 percent of the dogs that don't qualify for use as service dogs, often the reason is health-related. Maybe these dogs have hip dysplasia, or poor eyesight.
The dogs that don't go on to be service dogs have what is called a "career change," Metz said, and they're added to an adoption list for people who want a dog for a pet.
Family pet
As Nicole talks, Barley sits at her feet. Almost without realizing it, she pets Barley on the nose. Then, as Barley rises toward her, Nicole rubs the dog's cheeks, then her ears. Barley, obviously so comfortable with this affection, makes a quick purring sound.
Clearly, family life -- complete with obedience lessons -- has prepared Barley for her next step in training.
"She will go either to the women's correctional center in Topeka or to a volunteer who's specially trained to train all the advanced lessons," Nicole said.
Then, Barley (and Adobe) will be tested for hip dysplasia. Then if hearing, eyesight, attitude and obedience tests are passed, the dogs will go to the next step.
"They will train her specifically to be a seeing eye dog or a guide dog," Nicole said. "It just depends on what her strong points are. If she passes all that, then she'll be placed in a home."
If KSDS dogs fail to qualify as a service dog, she could wind up back at their original trainer's house.
"If she doesn't pass, we have the option of taking her back," Nicole said. "Or, she will be put up for adoption."
Part of the process
As part of the training, Nicole took Barley, and Erin took Adobe to six weeks of free obedience lessons offered by a kennel club in Lawrence.
While the girls paid for their dogs' medical care themselves, they didn't have to buy food.
"The dog food is paid for by Science Diet," Nicole said. "They supply all KSDS dogs with a lifetime supply of food."
A cape the dogs wear when on her work time sports the Science Diet logo. When they wear the cape, they're all business.
But, for instance at the Allen house, when the cape's off and Barley's let outside to play, she's like any other dog -- running around the farm and occasionally, even being sprayed by a skunk.
Nicole and Erin's work with their dogs is evident.
Barley qualified for the state fair last year, taking "a couple of reds and a couple of blues" for obedience.
And, the training has included lots of outings.
At church on Sundays when Nicole plays the piano, Barley sits beneath the piano bench. She's gone on shopping trips, and Tina, who is 12, even took her to visit a class at the grade school.
In addition, Nicole, and Erin, have made about 10 public presentations with Barley and Adobe.
Though Nicole, who is 16, said the timing wouldn't work on taking another puppy -- unless she planned to train a puppy while in college, she would recommend it to others, assuming they want to work at it.
"It takes a lot of hard work and dedication," Nicole said, explaining 4-H helped prepare her for the challenge. "4-H'ers are used to dedication because they have other livestock."
Ultimately, while training the dogs was a lot of work, it could be that the most difficult task will hit the girls on March 21.
"It's going to be hard because we've had them for almost two years," Erin said.
But she recalled the woman in the wheelchair whom she and Nicole had met at the state fair.
"I think it was almost like a wakeup call for Nicole and I, about how powerful of an action we were doing for people like this," Erin said. "I think it's reasons like that that Nicole and I will be able to give the dog back and be happy -- it's definitely because of people like that."