Honoring a fallen brother
When I am called to duty God,
Wherever flames may rage.
Give me strength to save some life,
Whatever be its age.
Help me embrace a little child,
Before it is too late.
-- Excerpt from "A Fireman's Prayer"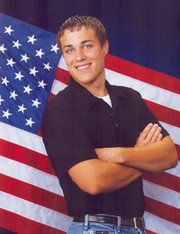 These words, rooted in the very beliefs of the late Jared Moore, may well have been on his mind as he rushed to the scene of an injury accident last week just north of Basehor.
Friends and family of Moore, a 19-year-old volunteer firefighter, said he renewed a relationship with God late in his young life and in God's name dedicated himself to the service of helping others.
Tragically, it was a career that was all too brief, a life taken away far too soon.
Moore, a probationary firefighter for Fairmount Township Fire Department, died early last Wednesday morning from injuries he received in a two-vehicle accident at 155th Street and Donahoo Road just north of Basehor. He was buried Saturday in his native Harrison, Ark., but approximately 500 people attended a memorial service Monday afternoon at Savior of the World in Kansas City, Kan.
Moore was the first Fairmount Township firefighter in nearly 30 years to be killed in the line of duty.
Mike Criswell, a pastor from Moore's Church of Christ, said the young man so full of life came forward during a recent service and told the congregation he wanted to rededicate his life to the Lord. Moore, Criswell said, placed God and helping others above all else.
"I believe this point in his life was a turning point," Criswell said. He added "I think Jared was finding his purpose in serving others, in volunteering. That spoke volumes to me.
"How many 19-year-olds volunteer for anything these days? Here's a young man ... that volunteered his life."
Criswell's eloquent words were designed to offer solace to the hundreds of friends and family and the dozens of fellow firefighters, law enforcement officers and public servants from across the state who attended the local service.
Moore, Criswell said, "is in the arms of the Lord," and in this dark hour "maybe there's an odd sort of comfort in that."
A statement, penned by Moore's mother, Marlene Moore of Basehor, and read to the heavy-hearted crowd Monday, shed light on who her son was and how he lived his life. Jared, the middle child of Marlene and Patrick Richard Moore, was the couple's "wild child, our risk taker," his mother's statement said.
In a way only a mother and father can appreciate, the couple's son found mischief alluring. Whether it be flushing keys down a toilet or jumping off cliffs at night, Jared gleefully boasted about his misdemeanors in a way that was more "see, look what I did," than a sorrowful admission of guilt.
He lived with a zest for life and his parents could smile because their son, while mischievous, showed a kind heart toward others. "He was kind to everyone," and "nice to kids that were picked on," his mother's statement said, and above all else, Jared stood up for "what he believes is right."
Part of those beliefs included the tremendous calling Moore felt about becoming a firefighter. A photograph displayed Monday showed a smiling Moore, then a fourth-grader, posing proudly while wearing a toy firefighter helmet.
His mother said her son told her "it would be the coolest thing in the world if I could get paid for being a firefighter."
His fellow firefighters from Fairmount Township said Moore, a probationer since August who wouldn't have become a full-fledged firefighter for another two years, died as a colleague.
"Not only have we lost a firefighter, we've lost a brother ... a friend," said Jeff Theno, Fairmount fire chief.
"All he ever wanted to do was be a fireman. Jared, you are a fireman."
Gaylyn Gorup, a Fairmount Township captain and training officer, recalled his first meeting with Moore. As training officer, Gorup's job is to weed out pretenders. It's the training officer's job to tell prospects about the "things he would see, the nights he wouldn't be able to sleep," he said.
None of it could shake Moore's resolve to serve, Gorup said. "I knew in my heart I wanted him to be a firefighter," he told the crowd at Monday's service.
"I was there when he joined the fire department and I was there when he gave his ultimate sacrifice," Gorup said. "Jared's life will not be lost in vain."
Richard Nemchik, fire department chaplain, said Moore is someone who will not soon be forgotten. After only a brief, first meeting, Nemchik said he was struck by the happiness Moore exhibited.
"I never met a person who loved life as much as he did," Nemchik said. "He always had a smile on his face. When I first met the guy, I thought he had a condition or something. ... He was always just so positive and happy."
There is no greater love man can show than for his fellow man, Nemchik said, and "on Dec. 29, Jared Moore gave it all."
The service Monday included a posting and retiring of the colors by the Kansas City, Kan., Fire Department honor guard, a moving video tribute, a bagpipe rendition of "Amazing Grace," a flag and helmet presentation and a final alarm.
A former resident of Harrison, Ark., and Louisburg, he had lived in Basehor for the past four years. He worked at Mazzio's Restaurant in Bonner Springs throughout high school, had been working construction and was to start a new job at FedEx this week.