Bricks tumble off 110-year-old building
And the bricks came tumbling down
Late Thursday night, residents who live in an apartment in the 600 block of East Fourth came home to a surprise. Bricks had fallen off the front of their building and smashed on the sidewalk below.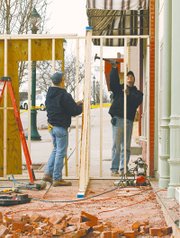 Fortunately, no one was on the sidewalk when the bricks made their two-story drop -- and landed in front of the door.
Monday morning, Ryan Theno and Stephen Malee were busy at the site, building a temporary frame that extended out onto the sidewalk, so that if any more bricks fall, they won't strike people or vehicles.
Steve LaForge, who has owned the 110-year-old building for 20 years, said a renter called him about 11:30 p.m.
"He said that the bricks on the front side of the building had fallen on the sidewalk," said LaForge, who noted the tenant usually parks on the street in front of the building.
When LaForge arrived, a Tonganoxie police officer was already there.
"We went inside and checked out the structural part inside," LaForge said. "It appears it was just the facade -- the decorative brick they put on there."
LaForge attributed the damage to the weather. A couple days before the bricks fell, the area had received heavy rains. This was followed by a quick drop in temperatures, which apparently damaged the mortar.
To prevent injuries in case more bricks fell, the sidewalk was roped off. Later, the parking area in front of the building was also roped off, to prevent damage to cars that might park there.
Kathy Bard, Tonganoxie assistant city administrator, said that on Friday, the city asked its building inspector to inspect the building for structural soundness.
Also, she said, the city asked Tonganoxie Fire Chief Dave Bennett to check it out for life-safety issues.
"They both were not comfortable with making a decision, so we called our city engineer, who called a structural engineer from Manhattan," Bard said.
John Evans Jr., who handles insurance on the building, also had looked into the situation. For Evans, this was a first.
"There's a lot of these older buildings in town," he said. "I've never had this happen to me before."
LaForge said the structural engineer's recommendation was for him to remove all decorative brick from the front and east side of the building.
And after that, the facade will be rebuilt, LaForge said, using as many original bricks as possible.
However, Bennett said, until all the repairs are made, overhead protection will be built and remain over the entrances at the front, and on the east side of the building, which also has a brick facade.