Making music all the way
Nashville-bound Tonganoxie teen learned to sing before she could talk
For Joey Glenn, music is what it's all about.
The 17-year-old Tonganoxie singer is scheduled to be in Nashville today, recording songs for Wild Oats Records.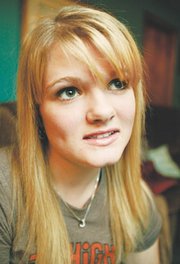 Although this puts her one step closer to reaching a goal she set as a child -- to become a professional singer -- anyone who knows Joey likely realizes she's still a down-to-earth teenage girl.
On a recent winter evening, as a fire simmered in the fireplace, Joey sat on the floor, nestled between her parents, and sang. Her mother, Judy, and her father, Jim, accompanied her on their guitars.
Joey says she looks to her parents not just for parental guidance -- but also for singing advice.
This is not surprising, considering that other than taking music classes at school, the Tonganoxie teen has never had a voice lesson.
She is a self-taught, or rather, a home-taught singer.
"She was raised around music," Judy said. "She started singing before she could talk."
And, Judy noted, her youngest daughter proved her musical interest in another way -- she also learned to whistle before she could talk.
The family room of their house, which is about 10 miles northeast of Tonganoxie, further shows the family's interest in music. There are several guitars, a mandolin and microphones and amplifiers. Beside a bookcase is a small microphone that Judy, who's always loved to sing, used as a child.
After singing half a dozen songs with her parents, Joey curled up in a corner of the couch, practicing the words to "High Performance Woman," one of the songs she'll be recording in Nashville. As the music rang from the stereo, Joey sang along, easily overpowering the original singer's voice on the recording.
Her father knelt behind the couch, listening to every note and sometimes coaching.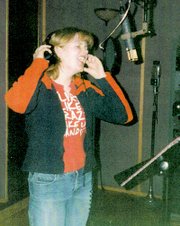 "Crank it up," Jim said, as the music grew more intense.
And that's just what Joey did. Her voice grew, filling the room, in fact, filling the house with music.
But during an instrumental section in the middle of the song, Joey's actions are less like that of a would-be-famous singer, and more like that of an ordinary teenager.
Sitting cross-legged in the corner of the couch, she fiddles with her cell phone, checking to see what friends have called, tugs at a strand of her long blond hair.
Nashville experience
Joey, her mother, her aunt and Joey's friend, Leah Peterson, spent a November week in Nashville.
Joey had hoped to find a successful showing at a competition at the Guest House Inn.
She found more.
By the time Joey left Nashville, she'd had at least two offers for record contracts.
And, she'd had a pretty good time at Tootsie's, a lounge known for music that the Glenn contingent stopped by while sightseeing.
Joey's mother, Judy, happened to mention that Joey was a singer.
"They said, oh, do you want to sing right now," Joey said. "They pulled me up on stage."
When asked what she wanted to sing, Joey suggested "Stand By Your Man."
But the accompanist didn't know how to play it.
"So I basically sang it a cappella," Joey said.
And the response to her performance: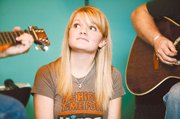 "Good, good, good. I had a good response -- everybody loved me down there, they said they wanted me to stay because they think I can make it."
So, Joey sang at Tootsie's a couple more times, leading to an offer for a record contract.
Later at the mall, a man overhead Joey and Leah talking about the record contract offer.
"He said 'Sing something,'" Joey said. "I sang 'Come Home Soon,' and it turned out he had connections with Curb Records."
People soon began recognizing Joey in public, she said.
"I would walk through the mall at Opryland and I would have random people come up to me and say I saw you sing, you're really good, I think you're going to make it, you should stay down here," Joey said.
Dream come true
But it was at the Guest House Inn competition where Joey wound up with a contract she would sign.
Out of 162 musicians, only about three received contract offers, Joey said.
"If there were certain people they (record producers) wanted to have meetings with, they would give you a card," Joey said.
The card told them what room to go to, in order to meet with them.
A week after returning to Tonganoxie, the contract arrived in the mail.
"I looked it over, I had my mom look it over and my dad had lawyers look it over to make sure it was good," Joey said, "and then I signed it."
As a result, once the CDs begin selling, Joey will begin making money.
"I'll earn 50 percent of everything that I sell, and I'll get a royalty check every six months," Joey said.
This step, Joey said, will put her closer to another dream -- to sing on stage at Verizon Wireless Amphitheater in nearby Kansas City, Kan.
But for now she's focusing on the recording -- and still trying to convince herself it's all really happening.
"I'm so excited," Joey said, her deep dimples appearing as she smiled. "I'm still kind of like I haven't actually realized it all yet, this all happened so fast -- I got two offers in one day."
And, Joey added, quietly, almost as if still trying to convince herself she was this much closer to her dream: "I am now a national recording artist."