Tournaments feature plenty of ranked squads
This week, the Kansas high school basketball season traditionally is set aside for boys tournaments, while girls tournaments usually are played next week.
But at Tonganoxie this week, it's one big basketball-fest with two tourneys under way.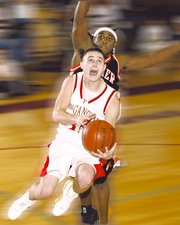 ¢ At 46, the Tonganoxie Invitational is the second-oldest high school tournament in Kansas. Only the Dodge City Tournament of Champions, which is in its 62nd year this season, is older.
¢ Atchison returns to the tournament this year. The boys won the 2003 tournament in their first year at Tonganoxie. Before that Atchison played in -- the Dodge City Tournament of Champions.
¢ The Silver Lake boys and girls teams are new to the field, as are the Atchison girls. Gone from last year's tourney are Maur Hill (boys), Metro (boys), Hogan (girls) and Lawrence-Free State junior varsity (girls).
This week's tournament is the 46th installment of the boys Tonganoxie Invitational -- second-oldest in the state behind the Dodge City Tournament of Champions, which is entering its 62nd year. For the girls' teams, it's just the second tournament as a girls bracket was introduced last season. Jeff West won the inaugural girls tournament last season.
"I think for 4A it's a pretty good tournament," THS athletics director Brandon Parker said. "All the teams are about the same size. You have Imac in 2A, but they're No. 1 in 2A."
Parker was referring to the Immaculata boys, who are undefeated at 4-0. The Raiders hold the top spot ahead of Pittsburg-Colgan. Colgan currently is 6-0.
Immaculata, last year's Tonganoxie Invitational champion, advanced to state last winter, as did Atchison, which placed fourth in 4A. Atchison, ranked No. 3 this season at 5-2, returns to this year's Tonganoxie tournament after a one-year hiatus.
On the girls' side, the bracket includes two teams currently ranked in the top 15 teams in the state in their respective classes -- Tonganoxie in 4A and Silver Lake in 3A.
The tournament kicked off Monday with Metro Academy taking on Silver Lake and Lansing taking on Pleasant Ridge in the girls bracket. On the boys side, Atchison played Silver Lake and Pleasant Ridge faced Lansing.
Tuesday, Tonganoxie played Atchison and Jeff West met Immaculata in girls contests. Tonganoxie and Jeff West faced each other, while Immaculata and Eudora faced each other in first-round boys games.
Consolation games will be played Thursday, while the tournament semifinals will be Friday.
The final round of games will be played Saturday.
Having two tournaments makes for a hectic week, but Parker said having both invitationals provides a better atmosphere.
"It's more fun to have boys and girls there to support each other," Parker said.
Cheerleading exhibitions also are planned for Saturday between the third-place boys game and the girls championship games, roughly at 4 p.m. Squads from all nine tournament schools were invited. The exhibition will feature six of those schools.
Before last year's tournament, free-throw and three-point contests, along with a tournament queen crowning, were held between representatives of each school, but because the field has increased to 16 teams, Parker said the school did away with those activities.
"We sacrificed the foul shooting and queen deal to have the girls here also," Parker said. "We definitely came out ahead in that deal."
And at this year's tournament, fans can grab something at the concession stand without missing any action. A feed from a video camera in the gym will run to the cafeteria and will be shown on a screen there throughout the tournament.
"We're pretty excited about this tournament," Parker said. "The level of teams is pretty even and they're all about the same size. I think it's going to be a pretty good one."
More like this story