Youth rescued from Tonganoxie Creek
Tonganoxie firefighters rescued a youth Wednesday afternoon just south of VFW Park.
Tonganoxie teenager Brian Eveland, who reportedly was trying to ride his bike across a low-water bridge, fell into Tonganoxie Creek about 1:15 p.m. A Tonganoxie Fire Department offical heard the boy calling for help from the firehouse, which is located just southwest of the creek.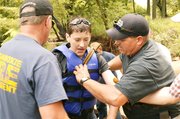 Eveland, who walked away from the scene, was taken to Lawrence Memorial Hospital.
For more information about the rescue, look at the June 8 edition of The Mirror.