Local firefighters rescue 15-year-old from raging creek
Youth, bicycle take plung in water following storms
Brian Eveland racks up mile after mile on his trusty bicycle while riding through Tonganoxie.
After last week, he's fortunate he still can ride his bike.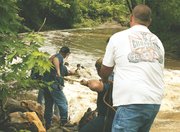 Last Wednesday, Brian was riding through VFW Park when he slammed on his brakes. He had just come over a small hill when he approached a low-water bridge at Tonganoxie Creek.
Normally getting across the slab of concrete isn't much of a task.
But last week, after the area received substantial rainfall, the quiet creek had transformed into a loud, raging river.
Brian couldn't stop his momentum as he and his bike washed into the raging stream. Luckily, a tree wasn't far to the east of the bridge. Brian grabbed it and held tight.
Clinging to the tree, he yelled, in hopes someone would hear him.
And, luckily for him, the person who heard his cries knew exactly what to do.
Tammie McCutchen, who had stepped outside the nearby Tonganoxie Fire Department, heard someone yelling for help. Other firefighters went to the creek with McCutchen and discovered Brian, who was still clinging to a branch.
"It was shocking. It was heart-wrenching," McCutchen said later. "I couldn't do anything but tell him to hold on.
"It kind of grabs at you when you see a kid down there."
The fire department contacted the Leavenworth County Water Rescue Team, but there wasn't time to wait.
Firefighters formed a human chain with rope from the north bank of the creak near the bridge. From the south bank, Fire Chief Dave Bennett shouted instructions.
Luckily, firefighter Eric Lang had two life jackets in his truck. The previous weekend, he had been at a local lake.
At one time, the fire department was equipped with life preservers, but the department gave its equipment to the water rescue team.
Adrenaline flowing
Josh Domann, who was closest to Brian when the human chain formed, wore one of the life jackets. When Domann finally reached the teenager, he slipped the second life preserver on Brian and had him climb on Domann's back. As they started to head to the bank, Brian slipped and fell under the tree. Moments later, Domann retrieved Brian from the water and again carried Brian on his back -- safely to land.
"My adrenaline was flowing," Domann said. "You don't really think about anything else."
One firefighter estimated water was flowing at 20 to 30 mph.
"I weigh 210 pounds and it was everything I could do to stand in it," Domann said, noting the water was chest-deep.
When Brian finally was on solid ground, he had one word to describe how he felt.
"Relieved," Brian said. "My adrenaline was going pretty good. And I was pretty tired."
Word of the rescue quickly spread last Wednesday as area television networks reported the event during their 6 p.m. and 10 p.m. newscasts.
Minutes after Brian was rescued, Tonganoxie's fire chief spoke about his firefighters, whom he referred to as heroes.
"They never stop amazing me, what they do for me, what they do for the community," Bennett said. "They saved that boy's life today.
"A lot of people don't realize we risk our lives just like any other fire department."
The department is accustomed to vehicle accidents and house fires, but last week's rescue certainly was a unique fire call.
"This was a very intense situation," Bennett said.
Wednesday afternoon, again standing outside the Tonganoxie Fire Department, McCutchen spotted a couple boys riding their bikes through the vacant lot just east of the firehouse. McCutchen hollered to the boys, urging them not to go toward Tonganoxie Creek.
"I went to run mine down and said, 'Stay away,'" Callaghan said.
Be aware
The rescue shed light on water safety near the creek after heavy rainfall.
But Bennett wasn't sure how to curb youngsters from traveling across the creek.
"If we block the bridge, they'll crawl down over there," Bennett said, motioning to another spot along the creek.
Bennett urged everyone to be aware of creek levels and to steer clear after heavy rainfalls.
"When it comes to high waters, it's everybody's problem," Bennett said. "It happens in Kansas City. It's a magnet."
After his rescue, Brian was taken to Lawrence Memorial Hospital, where he was checked for injuries. Back in Tonganoxie, he rode his bike home after retrieving it from the creek.
He says he'll likely ride his bike through the park again.
But he has advice for anyone approaching the low-water bridge.
"Just be careful, really," Brian said.
As for the bike, it's safe and sound at home.
"It needs some work," the 15-year-old Tonganoxie youth said, commenting that the bike had some battle wounds. "The water washed out all the grease. It squeaks now."
The bicycle's condition aside, Brian is just thankful he still can ride his bike.