Blurring the line between work and play
Fishing, hunting absorb life of Tonganoxie native turned outdoor sportswriter
It is a summer day, and Michael Pearce is doing what he likes to do best.
At a 15-acre farm lake near Tonganoxie, he stands on the bank, fly rod in hand, ready to angle for fish. Nearby his son, Jerrod, has a head start. Jerrod swings his fly rod over his shoulder, then tips it forward. His 4-pound test line loops into a perfectly folded horizontal line seconds before it arcs some 50 feet from the tip of the rod, landing the fly on the cool water's surface.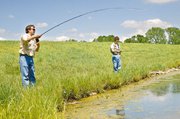 Chances are that Michael Pearce, who is self-effacing about his abilities as an outdoorsman and an outdoor writer, would decline to take credit for his son's textbook cast.
But it's likely Michael was there every step of the way, teaching his son, and his daughter, everything he could about outdoor sports.
"I was born with an instinctual love of hunting and fishing -- almost like breathing and eating," said Pearce, who grew up in Tonganoxie and is a 1976 Tonganoxie High School graduate.
Since his senior year of college, Pearce, who lives in Newton, has been an outdoor sportswriter. He wrote for outdoor magazines for 19 years. During much of that time, he also wrote stories for the Wall Street Journal. Since August 2000, he has been the outdoor sportswriter for the Wichita Eagle, Kansas' largest newspaper.
Profession and passion
For Pearce, his work and his passion intertwine.
"There's no difference between work and play," Pearce said. "I do on my days off what I do on my days on. And I usually have the camera. Being an outdoorsman brought me into writing -- it wasn't the other way around."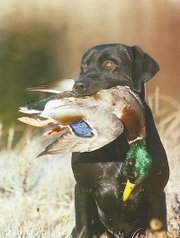 He recalled a childhood gift that cemented this pattern.
"When I was 6 years old my grandmother, Frances Korb, bought me a subscription to Outdoor Life, thinking it would help me with my reading," Pearce said.
After a year of honing his literary skills on Outdoor Life and reading and re-reading the magazines until they were dog-eared and torn, another precipitous event occurred.
A local woman, the late Helen Schilling, was selling encyclopedias. Schilling, a lifelong Tonganoxie resident, knew her potential customers and their interests like she knew the back of her hand, Pearce said. And, he added, she knew how to nail down a sale long before she rang a doorbell.
Pearce remembers Schilling entering their house with an encyclopedia tucked under her arm.
"So what (book from the encyclopedia set) does she bring into our house," Pearce said, smiling. "The letter F, she got her thumbnail on the fishing page, she opened it up."
Pearce recalls his thrill at seeing the section on fishing.
"It had all the colors of all the different fish which I could identify already," Pearce said. "My poor mom had to buy the whole set."
When he was a child, Pearce decided to pursue a career as an outdoor writer. He would go to great lengths to read the latest issues of hunting and fishing magazines.
"I probably had the shortest hair in Tonganoxie as a kid because Thompson's Barber Shop was the only place in entire Tonganoxie that had Field and Stream, Outdoor Life and Sports Afield all in one place," Pearce said, chuckling.
Finding his way
When Pearce was 14, his mother, Jane (Korb) Pearce, died. He described his mother as "a beautiful woman who never said an unkind word about anybody."
Though he had excelled in his schoolwork, after her death, his interest in his studies waned.
And during high school, Pearce said, he felt as if he were out of the loop in another way.
"It was a time when sports was very big at Tonganoxie High School," Pearce said. "I think in my junior year I was the smallest boy in school. I know I was the most uncoordinated. That pushed me into the outdoors."
But through it all, and for as far back as he could remember, Pearce held his sights on a career as an outdoor sportswriter.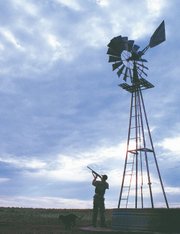 During an interview Friday at the family lake near Tonganoxie, leaves of tall cottonwoods rustled in the breeze. A bullfrog croaked from the water's edge. Sunshine filtered through the trees, glinting off Pearce's brown hair. Pearce soaked up the quiet for a few moments before adding, "I never wanted to do anything else."
When Pearce's father, Darrell, remarried, his stepmother, Nancy Pearce, understood her stepson's need to hunt and fish.
"Nancy had a strong interest in hunting and fishing too," Pearce said. "She kind of propelled me. I never had to worry about what I was bringing home, because she knew how to cook game."
And he noted another bonus, adding his stepmother had hunted herself.
"She understood about the truck coming home muddy or me coming home muddy and the bird dog in the back yard," Pearce said.
David VanDyke, a childhood friend of Pearce's, who is now a Realtor in Lenexa, remembered his hunting days with Pearce.
"He was always eager to go, always eager to fish," VanDyke said. "There was some great bluegill fishing out there at Angell's pond."
And he said, Pearce had a bird dog he'll never forget. The dog proved its worth, and then some, on an autumn hunting trip.
"He had one of the best Brittanys -- its name was Rosie," VanDyke said. "We flushed up a pheasant, and the dog jumped up and grabbed it out of the air. It was probably one of the best Brittanys I've ever seen."
People to meet
Pearce began selling outdoor stories in college. He was a senior journalism major at Kansas University. While taking a class in magazine-article writing he wrote and sold a half-dozen stories.
A bonus of being a writer, Pearce said, is that there are always interesting people to talk to.
That includes Kansas Gov. Kathleen Sebelius.
Pearce had interviewed her during the governor's race, talking to her about outdoor-related issues.
When he learned about an annual one-shot turkey hunt in El Dorado, he asked if he could tag along and write a story about it. He wound up going to the hunt with her two years in a row.
"She'd never shot a gun," Pearce said.
The first year she didn't get her turkey, but the second year, she did, Pearce said.
He said it's easy to feel as if Sebelius is an old friend.
"She turns into a Kathleen pretty quick," Pearce said.
Pearce has also fished with a childhood idol, Harold Ensley, who used to have his own televised fishing show. And he's hunted deer with comedian Jeff Foxworthy.
"He's probably the most enthusiastic deer hunter I've met in my life," Pearce said of Foxworthy.
But one of his most memorable fishing expeditions took place a year ago, just before Father's Day at the 15-acre pond near Tonganoxie.
Pearce went fishing with then-Kansas University basketball player Wayne Simien and his father, Wayne Sr. And he wrote a Father's Day story about it for the Wichita Eagle.
Though until that day, Pearce had never met the basketball player who grew up in Leavenworth, he had met his mother, Margaret Simien, years ago when he worked at Hallmark, earning money during the summertime to put himself through college.
More family ties
It was in college that he met his future wife.
Kathy and Mike married in 1980.
Mike's sense of humor and his thoughtfulness drew Kathy to her future husband, she said.
"He worked in the dining hall of the dorm where he lived," Kathy said. "I worked in an office right next door to his dorm. He would bring me over cookies and cream puffs, so that didn't hurt."
And Kathy, who is a clinical psychologist at Prairie View Regional Behavioral Rural Health Center in Newton, appreciates his interest in outdoor sports.
"There's never a dull moment, which is good," Kathy said. "He's always got a variety of things going on, and we've had lots of interesting trips and experiences along the way."
She's also enthusiastic about his expertise in the kitchen.
"Of course he cooks all the wild game, so that's really good," Kathy said.
One of her favorite meals is pheasant in a cream sauce, a modified recipe her mother used when her father would bring home pheasants.
Kathy and Mike have two children. Lindsey, 21, will be a senior this fall at KU, where Jerrod, 18, will be a freshman.
Proud of their children, Mike laughed and said, "Both my kids got their mother's intelligence, which is really good."
But Kathy's quick to return part of the credit to their father.
"They got brains from somewhere," Kathy said. "I think some came from him too."
Pearce said, even when their children were young, their teachers would comment on how mature and responsible they were.
Pearce credits that to their time they've spent in outdoor sports. They have to see the sport through from beginning to end.
For instance, Pearce said, since Jerrod was 12, he has processed the deer and wild pigs he has hunted.
Nearly since birth, Pearce involved his children in his hobbies.
For instance, Lindsey caught her first fish at Angell's pond when the family lived in Tonganoxie. And Jerrod caught his first fish at the 15-acre lake where he fished last week.
Pearce, the grandson of Frances Korb and the late Ed Korb, is also an avid turkey hunter.
In fact, he still can recite a children's song he adapted to sing to his children. The first part of the song goes like this:
"Hush little baby don't say a word, Daddy's going to call you a turkey bird -- If that turkey bird's a jake, Daddy's going to take you to a bluegill lake."
Grand slam
When it comes to turkey hunting, Pearce and both his children have achieved a common goal.
They all have a grand slam. This means, he said, they've shot all four species of wild turkeys. Each species lives in a different area of the United States.
Even Pearce laughs at the work involved in turkey hunting.
"You do all this planning, you pool a thousand dollars of equipment and you're out to fool a bird that has a brain the size of your thumbnail," Pearce said, adding, "And he (the turkey) usually wins. You would think if you (the turkey) had a brain the size of your thumbnail and it's brain was full of testosterone that that would be a piece of cake."
While Mike said neither of their children plan to follow his career path, Jerrod has delved in writing.
"Outdoor Life needed somebody to review a huge flood of computer hunting games," Pearce said.
So Jerrod wrote a review of the games. And he's finished a couple of stories on deer hunting for another magazine.
"But he doesn't enjoy writing," Pearce said, emphasizing his thought. "He doesn't enjoy the writing -- none of us do."
Pearce said he began writing for the Wichita Eagle when his children were teens. He wanted to be able to spend more time at home with them. And, he said, he had long appreciated the Eagle's outdoor coverage.
"The Eagle since 1986 has had a strong presence in covering outdoor updates," Pearce said, noting its coverage extends beyond hunting and fishing to include legislative issues that deal with wildlife and outdoor sports.
When Pearce writes, he has his readers in mind. From firsthand experience, having read outdoor sporting stories since he was a young boy, Pearce knows what his readers want.
"They want to feel the fly line sliding through their fingers, they want to hear the turkey gobbling so close they can feel it and they want to feel like they're walking past that dog on point, knowing that at any moment now heaven's going to break loose and it's going to scare the snot out of them and they're probably going to miss all three shots."
After Friday afternoon's 30 minutes or so of fishing at a corner of the family lake, and catching and releasing a dozen or so bluegills, Pearce made one last cast, the line of his fly rod whistling through the air.
Then, as he headed to his car, ready to make the drive back home, he added in his down-home Kansas manner:
"I think we've jerked all the lips in this corner -- they'll be back tonight."