Garrett Palmer couldn't help but celebrate.
After defeating Concordia's Weston Fleming -- the No. 2 ranked wrestler in the 145-pound division in Class 4A -- in the opening round of the state wrestling tournament, Palmer dropped to his knees.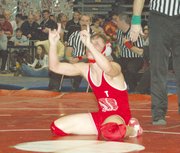 Leaning back slightly, he looked toward the Kansas Coliseum ceiling and raised his arms, fingers pointed upward, to the sky.
Palmer later said the gesture had no particular meaning, he just was caught up in the moment.
But to anyone who knows Palmer's story, the sequence seemed to be a communication between him and his mother, Ruth.
About 15 months ago, Ruth Palmer was diagnosed with lung cancer. On Jan. 16, she died, two weeks before her 49th birthday.
"He was very close to his mother," Palmer's father, John, said. "All the kids were. It was hard for them, that's expected.
"But he did good. He's got a lot of friends at school and a fantastic coach. A lot of support at school, I'm really thankful for that."
Palmer has been involved in football and wrestling throughout his high school career, but wrestling has been Palmer's breakthrough sport.
After going 2-17 in his freshman year, Palmer responded with 20-plus wins the next three years and state appearances each of those seasons.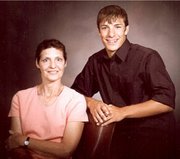 And it was his mother who encouraged him the most when it came to wrestling.
"I wouldn't have got into wrestling if it weren't for her," Palmer said. "She told me to get into it.
"Now that she's gone, I thank her a lot for that."
His mother's absence has left Palmer more determined than ever. Competing in a stacked 145-pound bracket, the THS senior shocked Concordia's top wrestler in the opening round and then held off Santa Fe Trail's Josh Connelly in the consolation bracket for his second win. Connelly gave Palmer fits with a three-quarters nelson move, but Palmer avoided a pin and held on for a victory.
That, however, came as no surprise to THS coach Jeremy Goebel.
"Garrett's just a strong-willed kid," Goebel said. "Someone like that, it makes them even harder to beat, be cause he has so much determination.
"That just added fuel to the fire."
Most of Palmer's teammates, along with Goebel and assistant coach Scott Underwood were at the funeral. Scheduled to wrestle at the Holton Invitational that day, the team withdrew from the tournament in memory of Ruth.
On Saturday, when Garret wrestled alongside fellow seniors Hunter Samuels and Ross Starcher, the Tonganoxie cheering section resembled an extended family. Palmer's brother, Justin, and sister, Rachael were in attendance, along with plenty of Samuels and Starcher's relatives.
"We had our own section back there," John said.
In his two previous state appearances, Palmer came up empty-handed in the win column. On Saturday, he left Kansas Coliseum with two victories.
"I always want to do the best for her because I know she's always looking down on me from heaven," Palmer said. "She always wanted me to do the best I can, and I know she'd be proud of me."
The perfect scenario would have included Palmer standing at the medal stand Saturday evening, but he was one victory away from that goal.
"I really wanted to win a medal for her," Palmer said. "Every time I get to the mat I try to do my best because I'm always thinking about her."
And before her death, Ruth always was thinking about her son as well. During his sophomore and junior years, she told Palmer she thought he was cutting too much weight.
Watching her son being pulled and tugged into a pretzel at times likely wasn't easy to watch, either, but as Palmer said, she was quite proud of her son.
On Saturday, Palmer's dream ride ended. He finished the year at 28-12 after losing to Columbus' Taylor Finely.
"The last couple seconds when he had me on my back it went through my mind that I wasn't going to wrestling in high school again," Palmer said. "That hit home a lot."
The Tonganoxie senior isn't sure whether he'll continue to wrestle. If he can land a large enough scholarship, he might wrestle at Dana College in Blair, Neb., near Omaha.
Palmer always will have his high school successes to look back on, many of which his mother was able to see.
At his mother's funeral, Palmer left a framed picture of him wrestling this year in his mother's casket so he always would be near her.
At this weekend's state meet in Wichita, it was clear she was with him, too.