Small-town Lions Club earns kudos for aid
In the town of Linwood, which has a population of about 300, the 22-member Lions Club makes a big difference.
And that's why the Lions Club members were invited to be guests at Friday's lunch at Linwood Elementary School.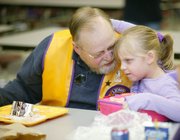 Vickie McEnroe, principal of the grade school, said the Lions Club often helps the school.
"If we have a need and we can connect with them, they'll respond in terms of some family support services, or if we need their muscle for something," McEnroe said.
To thank club members for their ongoing support, McEnroe, and her students, have made treats for Lions Club members for their meetings, and invited them to lunch.
LeRoy Elder, president of Linwood Lions, said club members appreciated the holiday treats, as well as the lunch invitation.
Here are highlights of what the Lions Club does for the school and community each year:
Pays for two classes to go to Science City.

Pays chapter dues for Boy Scouts and Cub Scouts. When Linwood had a Girl Scout chapter, the Lions also paid those dues.
Sponsors baseball and softball teams through the Linwood Recreation Commission.
Helps provide eye exams and eyeglasses for children whose families can't afford to pay for them.
Donates money to the Linwood Library for the summer children's reading program.
Donates money and food items to the Basehor-Linwood Assistance Service in Basehor.
Sponsors a high school student to send to Lions state band camp.
Provides an annual $1,200 college scholarship for a high school senior. This is broken down into four $300 scholarships for the first four semesters of college.
To provide the array of benefits to the community, the Lions Club relies on three annual fund-raisers: a chicken barbecue in July, a pancake feed in November and a chili-soup supper in March. This year's chili supper is set for 4 p.m. to 7 p.m. March 12.
Elder said the biggest challenge to the Lions Club is the low number of members.
"Everybody is so busy anymore that they just don't have time for this and it's hard to keep members," Elder said. "But it's that way through the U.S. Everybody is involved in so many things anymore."
But the rewards of being involved in the community, through Lions Club, are many, Elder said.
"I like to see the giving to the children and the needy people that we take care of through our community."
At Friday's lunch, McEnroe introduced the Lions Club members to her students.
"These are people who are willing to give their time and effort throughout the community and we appreciate it," McEnroe said.
Liane Abare, who owns Linwood Cafe and is a Lions Club member, told the students that now is the time to study hard, reminding them that the Lions Club sponsors a college scholarship.
Among the other Lions Club members at Friday's lunch were Casey Jones, who's racked up 43 years in Lions Club. Jones, who is 75, has lived in Linwood all his life and has been a member of the Lions Club longer than anyone else.
"I got started because they were sponsors for the Boy Scouts and I was a scoutmaster," Jones said. "They've sponsored them ever since I've been here."
Stuart Sweeney, another Lions member, said the club's name, Lions, started out as an acronym for "Life in our nation's service."
Today, according to the Lions Cub Web site, the mission of Lions Club, which was founded in 1917 in Chicago, still follows its original purpose: "We serve."
In Linwood, where myriad projects speak for the small-but-strong Lions Club membership, it's clear the club members are taking that mission seriously.
But also humbly.
When asked how he felt about being thanked by grade school students and staff, Elder said simply, "I was kind of surprised, but it's very nice of them to think of us that way."