A well-worn path
90-year-old Tonganoxie resident a familiar sight during his daily rounds
Even if you don't know John Quasa by name, it's likely you know him by sight.
Quasa, who turned 90 on Jan. 24, walks 3 1/2 miles every day -- when Tonganoxie's weather is right.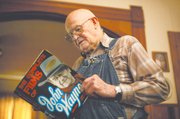 He starts at his house at First and Gould, heads downtown, makes his way up Fourth Street (checking for coins in newspaper racks and pay phones). Then, after rounding the corner at Fourth Street and U.S. Highway 24-40, he turns back east on Second Street, heading home.
Quasa's route is always the same.
"That way if I go down or something, somebody can call the police, they'll know who I am," Quasa said.
He's recognizable by the orange hoodie he wears in the winter and the orange vest in the summer, he said.
Early riser
Quasa starts his days early.
"I get up at 2:30 or 3 o'clock, eat my breakfast, then I call my daughter about five minutes to five," Quasa said.
And at 9 p.m., just before he turns down the covers and goes to sleep, he again calls Neal.
"That way she knows I'm all right," Quasa said.
His daughter, Neal Kissinger, who lives near Tonganoxie, enjoys her father's phone calls -- especially in the mornings.
"He usually says what the temperature is and kind of tells me what the weather's like and that he's OK and he's getting ready for his walk," Kissinger said.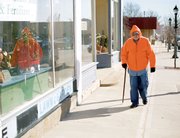 Neal said she's always been impressed with her father's energy.
For instance, Kissinger recalled that years ago her father worked at a grocery store in Richmond, Mo.
"Whenever he would make the home deliveries, most people walked -- but he ran," Kissinger said. "He was always very energetic, always a go-getter and very conscientious about the jobs he had."
Though her father, the oldest of eight children, didn't start out with an easy life, Kissinger said, that didn't stop him from being a success.
"I'm just real proud of all of his accomplishments," Kissinger said. "For a man who didn't have much of an education, I think he did quite well in his life."
Around Tonganoxie, Quasa knows all the cracks in the sidewalks.
And, he knows where all the pay phones, pop machines and newspaper racks are located. On his daily walks, Quasa stops at each one, checking for change in the coin return.
He sniffs out pennies on the sidewalks, too.
"I suspect I found 25 pennies this week on the sidewalks and street," Quasa said Friday. "I save 'em and when I get a whole bunch of 'em, I take 'em to the bank and turn 'em in."
Neal said her father has always been frugal.
"Ever since I was a little girl I can remember him saying, 'You take care of your pennies, and the dollars will take care of themselves.'"
The hard way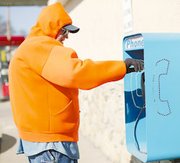 One might say that Quasa has lived the pioneer life.
He was born in "Ioway," as Quasa calls the Hawkeye state. The family moved to Missouri when he was 5 years old.
The young Quasa helped with the move by riding on the seat of a covered wagon, driving a team of blind horses.
"My father was in another covered wagon ahead of me," Quasa said. "He had a pair of mules, I had a pair of horses. My horses were blind but his mules wasn't."
The family settled in the small town of Henrietta, Mo., where Quasa started school.
"I only got through the fourth grade," Quasa said, explaining when his father fell into ill health and died, it was up to him to help support the family.
From Henrietta, the family moved to Richmond, and later, after he was married, Quasa and his wife, Mary Ella, moved to Kansas City, Mo.
Quasa worked in the Kansas City stockyards for 10 years and then went to work in maintenance at Bendix, where he stayed 28 years. He is now retired.
"I've had three jobs in my life," he said, counting the grocery store job back in Richmond.
The 'Duke'
Quasa and his wife, who moved to Tonganoxie in 1968, had four children, Neal Kissinger, Tonganoxie, Deb Campbell, Eudora, and John Quasa Jr., Liberty, Mo. A daughter, Betty Foster, died of complications from diabetes when she was in her early 20s, and Quasa's wife died in 1999, after 59 years of marriage.
Quasa says his family, including his four grandchildren and seven great-grandchildren, are the most important things in his life.
He keeps track of them.
For instance, on a street behind the grade school, Quasa points his cane at a van and says, "That's my granddaughter's."
Two of his granddaughters -- Gail Keifer and Ursula Kissinger -- teach at Tonganoxie Elementary School. He checks for their cars every day to make sure they made it to school. And if he doesn't see their cars there, you can bet he makes a phone call or two to find out why.
Throughout the 100-plus-year-old house where Quasa has lived since 1976 are dozens of photos of his children, grandchildren and great-grandchildren. The photos fill walls and tabletops.
And in the mix there are also a couple of pictures of his favorite movie star -- John Wayne.
Quasa is a die-hard western fan.
His video library contains 38 John Wayne movies.
In a John Wayne book, Quasa has checked off the titles of the movies he owns. He has 38 movies he said, adding, "He (John Wayne) made 108 movies."
Quasa's daughter, Neal, said her dad gets his money's worth out of his movies.
"He can sit and watch those John Wayne movies over and over and over again," Neal said, chuckling. "And any time there's a John Wayne movie on TV, you can always know where he (Dad) is going to be."
On the move
Quasa has been on the go all his life. In his younger years, he was a runner.
And now at 90, obviously he is a walker.
He takes two morning walks, one early, around 5:30, and another later, around 9:30.
When he's not walking the streets, he's apt to be at home, zeroing in on puzzle books.
"I work on them to keep me up on reading and spelling," Quasa said. "Of course I'm not as good as I would like to be, but nevertheless, I get by."
Or, he might take his 1991 Taurus out for a spin around town. The car, which he bought new, has 28,000 miles on the odometer.
Promises to keep
Though Quasa enjoys his long walks about town, greeting people he meets and checking out the local scenery, he knows when to stay home.
"I don't walk in pouring down rain, snow or ice," Quasa said. "If I can't see where my feets a goin', I don't go."
If those who know him could learn one thing from him, Quasa said it's something that he himself learned from his own father.
"My dad taught me, anytime you make a promise to somebody, you keep it or you die trying," Quasa said. "If you can't keep it, you go to them and tell them why and 99 percent of them will go along with it. I still do that today -- if I make a promise to somebody, I keep it, or I die trying."