Chieftains celebrate at state
THS

makes history with fourth-place finish
The first quarter of Saturday's Wichita Collegiate-Tonganoxie game seemed a bit surreal.
A fatigued Chieftain team, a few hours removed from its overtime heartbreaker the night before, mustered just one point in the first quarter.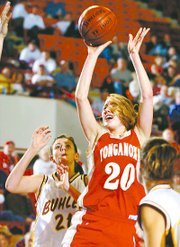 The scoreboard read "Wichita Collegiate 17, Tonganoxie 1."
The Chieftains have seen similar scores this season, but Tonganoxie never was on the losing end.
"Murphy's Law set in early," Tonganoxie coach Randy Kraft said.
Tonganoxie, though, responded after a rocky first quarter.
The Chieftains outscored Wichita Collegiate in each of the remaining three quarters. But THS couldn't orchestrate a final rally as Collegiate took third at the state tournament with a 39-33 victory.
"The kids had a lot of fight in them," Kraft said.
Tonganoxie cut the lead to eight several times, but Collegiate kept answering the Chieftains' scores.
"Our minds knew what we were wanting to do, but our bodies wouldn't allow us to," Kraft said.
Ali Pistora led Tonganoxie in scoring with eight, while Elizabeth Baska, Addie Heim and Kelley Stauch had five each.
Wichita Collegiate's Ashley Bell scored a game-high 14 for the Spartans.
Although Tonganoxie had to settle for fourth, the Chieftains finished higher than any other team in THS girls basketball history. Tonganoxie also won its first state game in school history.
The Kaw Valley League champions finished the season at 22-4.
"It's been a wonderful experience," Heim said. "I've learned a lot about myself and life through this."
About this time three years ago, Tonganoxie went 7-14 after a first-round substate loss to Holton.
In 2003, Kraft's first year at THS, Tonganoxie improved to 10-11. The past two seasons, the Chieftains have captured back-to-back league titles.
The transformation couldn't have happened without Tonganoxie's four seniors -- Heim, Madison Weller, Laura Jeannin and Heather Deaver.
"I'm proud of our seniors," Kraft said. "They've taken us somewhere Tonganoxie has never been. Hopefully they'll set a standard for future teams."
With that said, Kraft's first trip to a state tournament was a special one that wouldn't have been possible without the senior class.
"It's been a fun trip," Kraft said. "I'll miss them next year."
Buhler 57, Tonganoxie 54 (OT)
Fans snagged a bargain for a $6 ticket to this game.
The game had 12 lead changes and four ties. But the Chieftains couldn't oust No. 7 Buhler.
Buhler's man defense gave Tonganoxie fits to the tune of 34 turnovers. The Crusaders produced 28 points out of those turnovers in a 57-54 overtime victory.
Despite the miscues, Tonganoxie never trailed Buhler by more than six.
Then came the end of regulation. Trailing by three, Tonganoxie moved down the court in the final seconds as Kelley Stauch's bank-shot three-pointer tied the game.
The Tonganoxie crowd erupted and the Chieftains seemed poised to repeat its substate final game in which Tonganoxie scored 14 points in overtime.
But it didn't happen a second time.
Despite having three-point leads twice in overtime, Tonganoxie couldn't stretch the contest to a two-possession game.
Led by Kris Richman's 18 points, Buhler outlasted Tonganoxie and advanced to the state championship game. The Crusaders eventually were crowned state champions after defeating Labette County in the finals, 55-39.
On Friday, Tonganoxie couldn't stop a Buhler team that found its groove in the postseason. Buhler was 11-9 entering substate, but finished with a 17-9 mark and a state title.
"Our man defense has just been getting better," BHS coach Andy Balerio said. "That's what we have been stressing since substate."
The state title marked Buhler's seventh overall, but first since 1987.
Tonganoxie, meanwhile, had chances to advance to the state final, but a 10-for-22 performance from the line didn't help the Chieftains' cause. Buhler was 16-for-28 from the line.
"We had a lot of trouble," Kraft said, referring to Tonganoxie's offense. "Early on I think it was the jitters. On the other hand, I felt our defense played well."
Tonganoxie's defense usually has been a strong point this season. On Friday, it again was crucial for the Chieftains.
Offensively, Pistora and Heim formed Tonganoxie's double threat. Pistora had a game-high 19, while Heim scored 15. In the fourth quarter, the sophomore and senior scored most of Tonganoxie's 14 fourth-quarter points.
Heim even had one last shot in overtime to force a second extra period. But Heim's open look near the top of the key was off the mark and Tonganoxie had to watch its quest for a state title finally end.
"We had all the confidence in the world," Kraft said. "The bottom line is, we missed free throws throughout the whole game."
Tonganoxie 55, Royal Valley 29
Thursday's Class 4A state quarterfinal game in Salina wasn't the prettiest contest Tonganoxie played in, but it counted in the win column.
And once Tonganoxie got past its early jitters, it was all Chieftains.
Playing against Royal Valley in the first round, THS had just a 12-5 lead after the first quarter and a 23-12 halftime lead. In the first half, Tonganoxie shot just 42.9 percent from the field (9-for-21) -- but Royal Valley was shooting a frigid 18 percent (4-for-22).
At the half, Tonganoxie had a 23-12 lead. Royal Valley would get no closer. An 8-0 run to start the fourth quarter was the Chieftains' biggest run as THS eventually secured the win with a 55-29 victory.
Royal Valley tied the game once, at five, and never led.
As for the Chieftains, Tonganoxie registered the school's first state victory in girls basketball history. THS had been to the state tournament three times before, but exited each tournament in the quarterfinals.
Pistora, who scored seven for THS, said the win was an amazing feat.
"It's so exciting," Pistora said. "I've never dreamed of being here, but now that we are here, it's a lifetime experience."
Heim led the team in scoring with 15, while Deaver, who struggled against Sumner last week in the substate finals, was a major key for the Chieftains and set the tone early. Deaver scored seven of Tonganoxie's 12 first-quarter points and finished with 13.
Deaver said playing in the large arena took some getting used to, but everything eventually settled down.
"The first time we came out on the floor, I was a little scared," Deaver said. "The walls weren't right by the court."
State box scores
Thursday quarterfinal
Royal Valley 5 7 8 9 -- 29
Tonganoxie 12 11 15 17 -- 55
Royal Valley (17-7) -- Lawrence 2, Amanda Area 7, Misty Stone 2, Tara Mitchell 2, Amy Laible 8, Cortney Brown 8.
Tonganoxie (22-2) -- Pistora 7, Baska 7, Heim 15, Weller 4, Stauch 2, Re. Bogard 5, Ra. Bogard 2, Deaver 13.
Friday semifinal
Tonganoxie 10 14 9 14 7 -- 54
Buhler 14 12 12 9 10 -- 57
Tonganoxie (22-3) -- Pistora 19, Heim 15, Baska 4, Weller 2, Stauch 3, Re. Bogard 1, Ra. Bogard 2, Jeannin 2, Deaver 6.
Buhler (15-9) -- Hines 7, Unruh 2, Faulkner 2, Cally Bridgess 8, Caitlin Pankratz 9, Jones 2, Richman 18, Beardslee 9.
Saturday consolation
Tonganoxie 1 12 11 9 -- 33
Collegiate 17 9 6 7 -- 39
Tonganoxie (22-4) -- Pistora 8, Baska 5, Heim 5, Weller2, Stauch 5, Ra. Bogard 2, Laura Jeannin 2, Deaver 4.
Wichita Collegiate (24-2) -- Camarena 3, Floodman 7, Claassen 6, Bell 14, Bogart 3, Lawrence 6.