Chieftains take 4th at state
Tonganoxie sends team off to tourney in style
Tears streamed down Tonganoxie players' faces after Saturday's consolation game at the state tournament in Salina.
Wichita Collegiate held off a steady Chieftain rally and claimed a team trophy, individual medals and a third-place finish with a 39-33 win.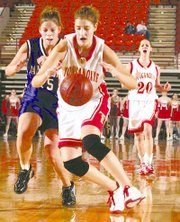 The Tonganoxie girls, meanwhile, settled for individual state medals.
This was a bittersweet end of the road for the Chieftains.
After coming so close to victory Friday against Buhler in overtime in the Class 4A state semifinals, Tonganoxie finished the season with a two-game losing streak. Buhler outlasted THS, 47-44, and eventually became the state champions with a win against Labette County.
But as rough as the ending was, it couldn't spoil a breakthrough year for the Chieftains.
This year's squad finished higher than any other Tonganoxie girls team and had more wins than any other Chieftain team.
Tonganoxie (22-4) also captured Tonganoxie Invitational, Kaw Valley League and substate titles along the way. This year's squad also became the first THS girls team to win a state tournament game. The Chieftains accomplished that feat by defeating Royal Valley, 55-29, on Thursday.
Several THS students -- some sporting red and white face paint -- made the more than two-hour drive to Salina to cheer on their team. Plenty of other Tonganoxie boosters also journeyed west on Interstate-70 to see their Chieftains play.
Thursday morning, before the team left for Salina, it made its way through downtown, along Fourth Street, which resembled a mobile pep rally.
With police squad cars leading the way with sirens sounding and lights flashing, the Tonganoxie High girls basketball team's bus made its way down Fourth Street.
The bus made a quick stop at The Light Bulb Store to pick up a state banner that Bryan and Tammy Kemp had ordered for the team.
Bryan Kemp, who is the Tonganoxie High booster club president, said the ceremony was exciting.
"It was a great morning," Kemp said. "People really turned out. It was a good thing."
The Kemps distributed fliers to downtown businesses last week urging merchants to decorate their store windows. Businesses obliged, as many windows were decorated with signs of encouragement for the Chieftains, who were headed to their first state basketball tournament since 1998. The Chieftains took fourth place in the state competition.
Betty Kirby, who works at Farm Bureau Insurance, constructed her good-luck sign early last week.
The sign read:
"Price of Admission: $6"
"Tonganoxie sweater: $30"
"Heading to Salina: 137 miles"
"Watching the girls win state: Priceless"
Some businesses posted a popular student cheer: "We want a T-town beat-down," while others had various messages plastered to their windows.
"It was nice to see the crowd," Kirby said. "There was a lot of support for the girls."
Kirby said Thursday that she planned to commute back-and-forth to Salina from Tonganoxie rather than stay Thursday night.
Even though it was her first trip to Salina, she had no plans to sightsee the central Kansas town.
"We're just going to the game and coming home," Kirby said Thursday. "We're not going to shop or anything."
During Thursday's procession through downtown, Sandy Bichelmeyer, owner of Sandy's Flowers, had a prime seat at her business, across from the Light Bulb Store.
A number of family and friends stood outside her shop to watch the event. She had a sign outside the store that read: "Way to go, state bound."
Bichelmeyer said she was happy to see so many businesses decorated in support of the girls team.
"It was great to see that there was that much participation," Bichelmeyer said.
At Tonganoxie Elementary School, students lined both sides of Fourth Street in front of TES. Many students held signs they made that wished the players well.
The bus didn't stop in front of the school, but rolled by slowly as students cheered on the high school team.
"It was an option for each class if they wanted to make posters," TES assistant principal Tammie George said.
The state tournament started Thursday, but George said students were talking about the tournament well before then.
"They were excited before they came through, so when the bus came through, they were definitely excited," George said.