Safety's the key
Remote-controlled bus captivates, teaches children
There's nothing like a robot to catch a child's attention.
Last Thursday and Friday, a couple of special guests visited students at Tonganoxie Elementary School.
One of the guests, Sharon Todd, has a job kids would envy.
She gets paid to operate a remote-controlled vehicle.
Todd, who works for the Kansas State Department of Education, runs the Buster School Bus Safety Program.
"Buster" is a remote-controlled robotic school bus that Todd uses to teach bus safety to school children across Kansas.
Buster's no ordinary remote-controlled vehicle. He's about the size of a card table. His eyes can wink and blink, and his headlights flash on and off.
With a push of a button from his "driver," he'll even shake as if the earth is quaking beneath him. He'll go in any direction in which Todd steers him. And, perhaps most importantly, Buster can talk.
Actually, Todd stands nearby, talking into a microphone, but after listening to her cartoon-like skit for a couple of seconds, Todd seems to fade into the background, and Buster takes over.
Buster's lessons take the children on a virtual sort of ride about bus safety. Stay away from the front of the bus as the driver can't see past the bus' nose. Don't walk close behind a bus. Hold onto the handle as you climb aboard.
And other safety tips. If someone offers you candy and tells you to get into his or her car, run away and tell someone -- all which appear to be voiced not by Todd, but by the miniature, remote-controlled bus.
"If we can save one life, it will make the program well worth the money," Todd said. "It's amazing how the kids will listen to the bus. They'll pick up a whole lot more this way than by having a bus driver telling them the safety rules of a bus."
Shari Curry, Tonganoxie's bus supervisor, said this is the first year Todd has brought Buster to Tonganoxie Elementary School.
"We would love to have her back," Curry said. "I just appreciate how this program supports what drivers tell kids all the time. But Buster can get a whole lot further with it."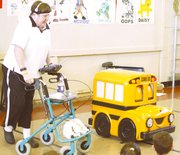 Driving lessons
Todd, who during the school year spends three to four weeks a month taking Buster to schools across the state, said KSDE does not charge schools for the bus safety visits.
Her job is not without challenges. Todd, who started as a bus driver in California some 30 years ago, is in her third year of criss-crossing the state with Buster parked in the back of her van.
Early on with Buster, like all bus drivers, she had to relearn a basic driving skill -- steering.
Typically, the children she visits sit in a horseshoe type shape on a gym floor. As Buster talks, he moves in the center of the open area, edging close to the children.
It wouldn't be out of line to ask if Todd has ever accidentally run Buster into the children.
"Yes I have," she said. "Oops. I've got to where I can pretty well get him close without hitting them now."
Winkin' and blinkin'
And, Todd has learned the rudimentary mechanics of robotics.
For instance, Curry noticed a light was out on Buster's front.
"When I get him home this weekend, I'll have to take off the top and fix it," Todd said.
And sometimes, the lights will come and go on their own.
"He'll have quirks every now and then," Todd said. When a program begins, Todd has Buster hidden beneath a canvas as she introduces herself as a bus driver.
"Big buses can't go down the road by themselves and neither can little buses," Todd said.
And, as soon as she uncovers Buster, the kids forget all about her, though she's standing in front of the room.
"The thing that always amazes me is they're not watching me, they're watching the bus," Todd said. "It just trips me out they're watching the bus -- but he can blink, wink and flash his lights."
Memories made
Children responded to Buster's antics with giggles, grins and, depending on what he did, shrieks of laughter.
Here's what a few of Debbie Wedel's kindergarten students had to say about Buster after the assembly ended.
Jake Marshall: "I wish we could go back and see Buster again."
Jordan Brown: "He told us all the rules."
Jacob Burgoon: "I liked his wheel bounce."
Race Streker: "He can do a wheelie."
Hope Creten: "I liked it because his eyes light up."
Amanda Martin: "We sang 'The Wheels on the Bus'" with him.
Micaela Weaver: "His eyes blink."
Dessie Forshee: "He talks."