Customers flock to
PTA

's book fair
Last week's book fair went over better than ever.
Stephanie Maurer, a PTA member who co-chairs the Tonganoxie book fair with Kathy Baragary, said sales were terrific.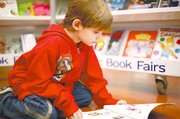 "We made $5,480, which is amazing," Maurer said. "We only ran three hours on Wednesday night and 12 hours on Thursday."
The PTA sponsors the Scholastic book fairs, and holds them during parent teacher conferences in October and March. That way, Maurer said, there's room at the school to set up the displays. During regular school days, the south gym would not be available because it's used for physical education classes as well as a lunchroom.
"We made considerably more than we made this time last year," Maurer said. "But each time we get a bigger book fair, because the more money we make the larger the fair we can have and right now we're at the top -- the custom fair, it's the biggest book fair they offer."
Though Maurer said sales were impressive, she noted the PTA doesn't directly profit from the sale.
"We get a percentage of that (of the total proceeds) to be used for book credit through Scholastic Books," Maurer said. "But we don't actually get any cash. This funds RIF for fourth through sixth grades because the state only funds RIF for kindergarten through third grade."
In the RIF, or Reading is Fundamental program, children select books that they get to keep.
Maurer, who manned the book fair with Baragary, said the fair setup went smoothly, thanks to about 15 volunteers who helped.
It takes about two hours to set up the racks, tables and displays, Maurer said. This included putting 45 boxes of books on the tables.
And, Maurer and Baragary visited all the grade school classrooms ahead of time, making "book talks" in which they told children about some of the books that would be in the sale.
The hottest items on this year's book sale included an 11-book mystery series, "A Series of Unfortunate Events," by Lemony Snicket.
Another big seller was a book of codes to use in figuring out the secret codes for video games. In fact, these books sold out early on.
"That's not even something that we booktalked," Maurer said. "... We didn't book talk that one (the secret codes book), but they all knew what that one was."