Mark of a true Jayhawk
Tonganoxie man displays Jayhawk tattoo with pride
Mike Vestal remembers that day in Allen Fieldhouse vividly.
During the 1961-62 season, Vestal attended a Kansas basketball game with his father and brother. Vestal, in grade school at the time, sat five rows from the floor.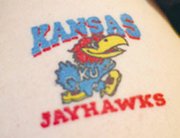 "I remember JoJo White hitting the winning shot from the sideline at the end of the game," Vestal said. "That's when I started watching the Jayhawks a lot."
Last summer, Vestal proved that he's a permanent KU fan.
Vestal made a trip to Big Daddy Cadillac's, a Lawrence tattoo parlor, where he had a Jayhawk etched into his right shoulder.
The tattoo was a Christmas present from his children. Vestal told them he always wanted a KU tattoo. His children eventually made Vestal's dream come true.
"It's nice bright blue, red and yellow," Vestal said.
One could say Vestal went through some pain for his favorite team, but Vestal said the needle didn't cause much discomfort.
"Nah, it didn't bother me," Vestal said. "It was two and a half hours of stinging, that's all."
Loyal to the Crimson and Blue
"I've been a Jayhawk fan as long as I can remember," said Vestal.
He makes sure he doesn't miss a game -- no matter what.
Vestal, who cannot walk, works out of his home as a dispatcher for the Tonganoxie police department.
Last month, when Vestal was scheduled for a procedure at an area hospital, he wanted to be certain the hospital carried ESPN. After all, KU was scheduled for two consecutive Big Monday games and he wasn't about to miss either of them.
"I made sure they had ESPN," Vestal said. "If they didn't I wasn't going down there."
Unfortunately, those two games didn't go as Vestal had hoped. KU lost Feb. 14 in a heartbreaker, 80-79, in double overtime to Texas Tech. And a week later, the Jayhawks fell to Oklahoma, 71-63.
"I blamed myself because I was away from home when they lost," Vestal said with a slight smile.
Vestal also likes KU football, but he doesn't get to follow that team as much. It's hard to find KU on the tube in the fall.
"I watch KU football when they're on, but you don't get a chance to watch them," Vestal said. "If they're playing Oklahoma, they're on TV.
"I'd watch every football game if they were televised."
Back in the fieldhouse
It took a little more than 40 years, but Vestal had the opportunity to again attend a game in Allen Fieldhouse two years ago when Kansas played Wyoming.
From the energy the crowd generates during the game to the Rock Chalk chant, being back in the fieldhouse was an amazing experience for Vestal.
"It just makes the hair on the back of your neck stand up," Vestal said. "I'm not kidding you, it's an amazing feeling."
When Vestal first attended a game at Allen Fieldhouse, the structure also was just a young pup.
A few things have changed since then.
But overall, it's the same arena. And this year, it celebrated its 50th anniversary.
"It's just a big barn to me," Vestal said. "I hope they never build a new arena. It's the atmosphere in that place."
Jayhawk decor and more
Vestal's room, which doubles as an office for the Tonganoxie police dispatch, nearly resembles a sports museum.
There are posters from past and present Jayhawk teams, along with a signed KU basketball and several other KU wall hangings.
His basketball features many prized John Hancock's -- Wayne Simien, Kirk Hinrich and Nick Collison, to name a few.
The room also has some Chiefs and Royals memorabilia. A life-size poster, complete with Sweeney's signature, and a Chiefs football that includes Tony Gonzalez' autograph, also is displayed in Vestal's room.
Vestal also has a David Segui autographed baseball bat. Segui, who most recently played with the Baltimore Orioles, is a Kansas City, Kan., native and attended Schlagle High School. Vestal's stepson is a friend of Segui.
In addition, Vestal has a few albums full of baseball cards.
"I'm just kind of a sports nut," Vestal said.
All-time favorites
Picking a favorite Jayhawk isn't easy for Vestal.
"That is tough," Vestal said. "There's a lot of them."
Of the more recent Jayhawks, Kirk Hinrich and Nick Collison are at the top of Vestal's list. Former Jayhawk Jacque Vaughn also ranks up there.
"I like Wayne Simien," Vestal said. "He's a good kid to talk to. He's got a good family."
As for his favorite game, Vestal picked the Texas-KU game two years ago, an instant classic that KU won in Allen Fieldhouse.
"It's gotta be the Texas game when Collison got all those rebounds," Vestal said. "That had me on pins and needles.
Vestal also recalled a tough game to watch -- the 2003 National Championship game.
"The all-time bummer was when they lost to Syracuse on a blocked shot," Vestal said. "I hate to see my Hawks lose.
"Free throw shooting, that's what killed them."
Most wonderful time of the year
For Vestal, no other time of the sports year can compare to the NCAA basketball tournament.
"When basketball season's over, I just go 'Oh, man,'" Vestal said. "That's my passion, watching college basketball. And college football is next."
No professional leagues can compare to college, especially the March tournament, according to Vestal.
On his wall is a dry-erase board that is an official NCAA tournament bracket. Vestal purchased the board a few years ago when the NCAA headquarters moved from Overland Park to Indianapolis.
"This is it, this is the most fun time," Vestal said. "You get to see the upsets in the tournament. The upsets are the fun part of the tournament."
Unhappy ending
Those upsets are fun to watch -- unless you're viewing the Jayhawks.
Kansas' first-round loss Friday to Bucknell marked the first time since 1978 that KU was defeated in the first round of the tournament.
"I was just devastated," Vestal said. "It was unbelievable to me.
"I woke up the next morning and thought, 'man, did I just dream that or what,'" Vestal said. "That couldn't have actually happened."
When KU's Wayne Simien attempted what would have been a game-winning shot, Vestal thought it was going to go in. But the shot just missed.
A sequence similar to Christian Laettner's memorable last-second shot that lifted Duke past Kentucky in the 1992 NCAA Tournament just wasn't to be.
"I feel really bad for Wayne missing that last shot," Vestal said. "He's going to remember that for a long, long time."
Vestal said he wished all the seniors well and is hopeful next year's young Jayhawk squad can make a run in the NCAA tournament.
"I'm not in the wine-and-cheese crowd," Vestal said. "There's a reason for everything."
Although KU didn't come close to reaching the Final Four for the third time in four years, Vestal still is proud of his Jayhawks.
And though he'll have to wait until November for his favorite team to play again, he clearly always wears his emotions for the Jayhawks under his right shirtsleeve.
That loyalty his there to stay.
"Oh yeah, until I die," Vestal said. "Live and die as a Jayhawk fan."