After months of hard work,
THS

graduate off to pageant
The opening days of spring have been a flurry of activity for Rachel Saunders.
The Kansas University junior has spent recent weeks trying on dresses, eating "rabbit food" and jogging upwards of five miles a day.
¢ A Miss USA online vote will be held Friday through next Wednesday at www.covergirl.com. ¢ The votes will tally into the total votes during the April 11 Miss USA pageant.
The goal: To be crowned Miss USA next month.
"I don't want to get there and have any regrets," Saunders said last week of her preparation. "You can only do this once, and I want to do this to the best of my ability."
Saunders, a Tonganoxie native, was crowned Miss Kansas USA in November. She left Friday for Baltimore, where the Miss USA pageant will be televised April 11.
"I don't know" what's going to happen there, Saunders said. "I really try not to think about it too much. I want to go there and experience everything that happens."
At least one supporter thinks Saunders -- a 5-foot-8-inch green-eyed brunette -- has a good chance to win it all.
"First of all, she's absolutely gorgeous," said Vickie Cackler, a former Tonganoxie High School teacher whose daughter, Danielle Boatright, was Miss Kansas in 1996 and placed as runner-up to that year's Miss USA.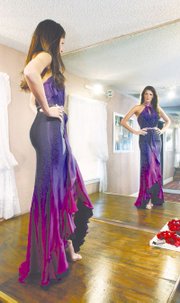 "It sounds like a cliche, but she has an inner beauty, a natural refinement that goes into being Miss USA," said Cackler, who also owns the bridal shop where Saunders works. "I thought she could win the dadgum thing. She's got all the tools."
It was Cackler, in fact, who encouraged Saunders to start competing in pageants.
"Rachel's just a natural beauty," Cackler said. "Everything about her is natural."
So Saunders, now 21, entered the 2004 Miss Kansas pageant. She finished in the top six.
"This year, I wasn't going to do it again," she said. "I thought that was a great experience, and I need to focus on what I want to do."
The 2002 Tonganoxie High School graduate changed her mind, entered the pageant and won.
Since the crowning, Saunders, the daughter of Stephen and Edna Saunders, has filled her closets with all the outfits she'll need for 18 days in Baltimore -- clothes for dinner, cocktail dresses and Easter apparel.
"The shopping I've been doing is insane," she said. "My closet has been every girl's dream for all the clothes I'll need for this."
That's been expensive, she said. And the physical training has been rigorous.
"Working out and working out again," Saunders said. "I've been running four to five times a week, at least five miles a day. I've been pushing myself as much as possible, because I don't want to get there unprepared. I don't want to be on TV and be the chubby girl."
The competition
Saunders and the other contestants will compete in interviewing, evening gown and bathing suit competitions, judged by a panel that includes former boxer Sugar Ray Leonard, Olympic swimmer Michael Phelps and Raj Bhakta, a former contestant on the reality show "The Apprentice."
During preliminary rounds, however, anyone can vote for finalists. Between April 1 and 6, covergirl.com will host online voting.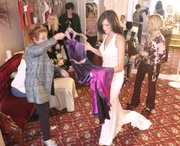 And Saunders said this year's pageant would feature another innovation: The show's backstage staff will chose five of the 15 finalists.
"That's wonderful, because I know some true colors will be shown backstage," Saunders said.
The winner will get an SUV, a New York apartment, a scholarship, thousands of dollars in cash prizes and many other benefits.
Cackler said her daughter's participation in 1996 led to a career in modeling and sports broadcasting.
"From a girl's business standpoint, it's very advantageous," Cackler said. "From a personal point of view, it's about personal growth -- pushing yourself to be the best you can be."
Saunders agreed. Preparation for the national pageant, she said, has been a profound learning experience.
"You learn a lot about yourself," she said, "because you have to look at yourself very objectively."