For Miss Exacto, the birth came easily. Six days ahead of schedule, on March 16, she delivered a 70-pound heifer.
Both mother and daughter, it's reported, are doing well.
For Tonganoxie teen Courtenay DeHoff, this is good news. Miss Exacto is a national prizewinner, and it's possible her offspring will be stellar, as well.
Courtenay, the daughter of Tim and Cindy DeHoff, has enjoyed a year of success with Miss Exacto in livestock competitions.
Here are some stats on Miss Exacto:
First competition, July 2004 at National Junior Angus Show -- the world's largest one-breed show -- Exacto won in her class and was junior division champion.
She fared well at the Leavenworth County Fair, the American Royal, North American International at Louisville, and at the Kansas Angus Futurity at Hutchinson where she was Supreme Champion, even placing higher than the bulls.
At Fort Worth, Texas, Miss Exacto took junior division champion and then went on to snare the coveted title of Grand Champion Female.
"We hope to show her some this summer with her baby at her side as a cow-calf pair," Cindy DeHoff said.
Courtenay, whose parents have dedicated a wall of their living room to showcase her dozens of cattle and horse-related wins, is a life member of the Kansas Junior Angus Association. She said Miss Exacto's triumphs, especially her national win, were unexpected.
That's because Courtenay, who started showing steers and heifers when she was 7, didn't think her heifer was that extraordinary.
But from the beginning, Miss Exacto caught the eye of judges.
"We were so surprised," said Courtenay, explaining she didn't know her heifer was that good. "That made it cooler."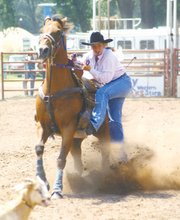 Cindy said the heifer's pregnancy may have helped with her wins.
"The older and more mature and the heavier she got with calf, she just started looking more and more beautiful," Cindy said.
The family has a long history with cattle.
Cindy grew up on Rock Creek Ranch near Admire, which is between Topeka and Emporia. Her parents, Jim and Jean Houck, raised cattle. When she was a child, she showed Angus cattle. Then she married Tim DeHoff, who had grown up raising Simmentals. Tim is the son of Peggy DeHoff and the late Bob DeHoff.
"We have a blended family," Cindy said, smiling.
Seconds count
Barrel races don't give a rider -- or the horse -- much time to win or lose.
"A barrel run that wins is 15 or fewer seconds," Cindy said. "It's got to be second nature -- you can't stop and think out there, it's got to be a habit."
Courtenay said that when she's barrel racing, she hears the advice shouted from the sidelines.
"Mom is on this side, the trainer is on this side and as I'm going down they're all yelling 18 different things," Courtenay said. "It helps, but if I do one thing I was supposed to do, then I didn't do something else I was supposed to do."
To understand what she needs to do to improve, Courtenay and her mother watch videotapes of her performances.
"And we slow motion it 800 times a day," Courtenay said with a groan.
Experienced rider
Courtenay, the 15-year-old daughter of Tim and Cindy DeHoff, has been competing since she was 8 and has been riding horses for as long as she can remember.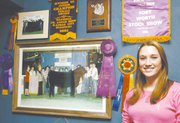 Her grandparents, Cindy's parents, gave her a horse to show in 4-H.
"Courtenay discovered whoever had had her before was a barrel racer," said Cindy. "She wore her out, passed her on to her sister, Hadley, and has gone through four more horses."
To their surprise, they learned early on -- when it came to horses -- Courtenay was a natural.
"Courtenay's got a God-given talent that no one else in the family has," Cindy said, noting she and her younger daughter, Hadley, are good riders.
But they're not like Courtenay, she said.
Courtenay Dehoff
Age 13
¢ Placed 13th in the National Youth World Barrel championships held in Jackson, Miss.
¢ Won the Angus Auxiliary Crystal award being the youngest girl to win this Junior Angus education award in Milwaukee at the National Junior Angus Show.
¢ She has placed in photography, extemporaneous speech, prepared speech, meat cook-off teams, and sales talk at the state and national level.
Age 14
¢ Won the Kansas Junior Rodeo Finals polebending year end and placed in barrels and goat tying.
¢ Her heifer, Liz, was named to the Reserve Roll Of Victory Female 2003 North American International-Louisville.
"She's always been a speed demon," Cindy said. "Court's just always can go through some wrecks that normal people would have fallen off of -- she's always just been an awesome rider," Cindy said. "She doesn't have any fear."
Though in rodeo, some might interpret the term "wreck" as meaning the rider falls, or nearly falls from a horse, Courtenay has a different definition:
"I consider a wreck to be not winning, which most people don't," Courtenay said, a grin spreading across her face.
Courtenay is a member of the Kansas High School Rodeo Team, the Kansas Junior Rodeo Association and the National Barrel Horse Association. She started barrel racing in 4-H horse shows.
A challenge in the past year has been that Courtenay has been riding two quarter horses that are new to her.
"I got a new horse that's professional and I can't ride him that well yet," Courtenay said of Nick, one of the horses. "He's so perfectly trained and knows exactly what he's doing. ... But he's one of those horses that you know if you ever get with him, I think he'll be awesome -- he is awesome -- I just need to learn to ride him."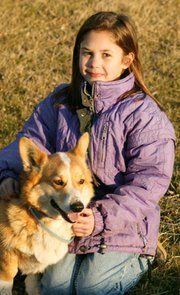 The other horse, Chocolate, nicked a tendon March 19 at the high school rodeo in Kingman. It will be a few months until he can compete again, so in the meantime Courtenay will be riding Hadley's horse, Cricket, in pole racing, and will use Nick for barrel racing.
On the road
Courtenay, a member of her high school freshman basketball team this year, tries to ride at least three times a week. That's a challenge in the winter, when ice, snow and mud may prevent that.
But it's not keeping Courtenay from trying.
"I started high school rodeo this year," Courtenay said. "I love it, it's really fun."
High school rodeo lasts 18 weeks. The meets are held across the state. And because the final wins are based on cumulative points from every week, it's important to be at each one.
While the activities are fun and the competition rather addictive, there's another reason to compete with livestock -- it's the friendships made along the way.
"It's not necessarily the people my age," Courtenay said. "It's the people in general."
For instance, Courtenay referred to one of them, Brad McCurry, who lives in Mount Hope, as her "second dad," and one of her best girlfriends, Claire Taylor, lives in Arkansas.
Especially close friendships stem from the cattle circle.
"Because you start up when you're 9, they're like family," Courtenay said. "The cattle people will drive all night to see you."
The cattle shows sometimes last a week and a half to two weeks.
And these events have opened her eyes to more of the world.
"I've been to more places than probably anyone in my entire high school," Courtenay said.
Her mother noted the vacations vary from the typical idea of a vacation.
"We've never done a family vacation since Court was about 9 that there wasn't a cattle trailer or a horse trailer hooked behind us," Cindy said.
While the life on the cattle and horse circuit may be exciting, Courtenay and her mother agreed it's a challenge to blend this with everyday teenage life.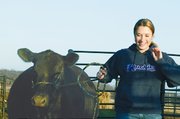 For instance, in February, the family was on the turnpike at 7 p.m. on a Saturday night, heading home.
"Court said to me, 'I wonder who will be queen of hearts,'" Cindy said, noting she hadn't known about the high school dance.
After a hurried trip home, and a hurried change of clothes, Courtenay made it to the school dance.
"I think she feels like she gives up school friends," Cindy said.
Courtenay agreed, referring to the dance.
"Everybody's talking about it for three months," Courtenay said. "I say 'oh I can't go.'"
Her friends think she's fortunate to be so involved in her horses and cattle competitions.
But Cindy, who described Courtenay as shy, said Courtenay won't wear her western clothes to school and prefers to dress like everyone else.
She and her husband support Courtenay's plans to become a professional rodeo rider.
"Right now, as a 15-year-old, that would be her dream," Cindy said, explaining Courtenay's education would come first. "We're going to make her go to college before she gets out on the rodeo because you have to have a job to fall back on -- you have to have a job during the week to pay the bills."
It's evident that without her family's dedicated support, even the high school rodeo action wouldn't be happening.
Despite the potential for "wrecks," as Courtenay would say, for the possibility of missed high school dances, and the incredible work and training that goes into it, it's all worthwhile, Courtenay said.
"There's always a barrel race somewhere," Courtenay said, grinning, "and we always find it."