Store manager slain
Tonganoxie resident victim of suspected homicide
The manager of one of Bonner Springs' two Dollar General stores was found dead at the store Saturday morning in a scene police described as "gruesome."
Robin Bell, 44, Tonganoxie, was found in the back of the store with severe head wounds, said Sgt. Mark Zaretski of the Bonner Springs police department.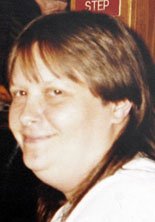 The case is being investigated as a homicide, the first in Bonner Springs since 2003.
Bell was promoted to manager of Dollar General, located at Kansas Highway 7 and Kansas Avenue, in October. She had worked for the Dollar General corporation for three years.
Co-workers were devastated by the news Saturday.
"She was my manager and she was my best friend," said Meagan Riley, Shawnee. "I thought of her as like my second mother."
"She worked hard and did everything for this store and for us, too," said Amanda Crews, Bonner Springs.

Police found Bell's body just before 3 a.m. Saturday. Her husband, Don Bell, also of Tonganoxie, called police at approximately 2:30 a.m. after he awoke and realized his wife hadn't returned home from work.

The store closed at 8 p.m.

After Mr. Bell's call, police entered the store and found a "very gruesome scene and the victim had tremendous head trauma," Zaretski said. Police are confident that the death is a homicide, the sergeant added.
Crime scene investigators from Kansas City, Kan., were called to Dollar General to assist. An autopsy of Mrs. Bell was scheduled to take place at 3 p.m. Saturday in Topeka.
Zaretski said investigators are working on "well over 100 leads" and are also reviewing parking lot videotapes from nearby businesses.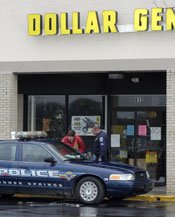 "We've got so many leads right now and we're divvying them up," Zaretski said.
One of those leads could be tracking down a man that co-workers said got into an argument with Mrs. Bell Friday afternoon. Riley and Crews said Mrs. Bell had politely asked a couple who were having a loud argument outside Dollar General to leave the premises.

The man became unruly and began screaming at Mrs. Bell, said Crews, who encouraged the store manager to call the police. Mrs. Bell did not call the police and went back inside the store to resume work, Crews said.
It is undetermined whether the homicide was the result of a robbery gone bad. Because the investigation is continuing, police limited comments on certain aspects of the case.
"We can't prove it was a robbery gone bad," Zaretski said. "There is a lot of information we're trying to sift through."
Don Bell, standing just a few feet in front of the store where his wife was slain Saturday morning, said his wife of nine years had two goals: to run Dollar General and to own a new Mustang.
"And she got her new Mustang last Wednesday and her store three weeks ago," said Mr. Bell, while looking at his wife's car, which was still in the Dollar General parking lot.
Mr. Bell encouraged the perpetrator of the homicide to come forward.
"Whoever did this ... please come forward and take care of it. Help us have some closure."
Robin Bell leaves behind her husband, two daughters, two stepdaughters, a stepson and two grandchildren, co-workers said. She also has two grandchildren on the way, they added.
If anyone has any information into the Bell case, they are to contact Bonner Springs Police Department detectives Ron Crouss or Vicki Kennedy at (913) 422-7800 or (913) 596-3000. You may also call the Tips Hotline at (816) 474-8477.
Staff photographer Kevin Anderson contibuted to this report¢