Hurricane Katrina relief
Tonganoxie firefighters answer call
By Thursday afternoon, their supplies were packed.
All that Tonganoxie firefighters Dave Bennett and Joe Peel needed was the word to go.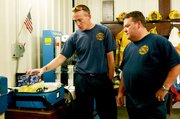 The two, who are paid firefighters for the city of Tonganoxie, left Saturday on a commercial jet to Atlanta for 24 hours of training before heading to Louisiana, Alabama or Mississippi. There, they will provide help to victims of Hurricane Katrina, which slammed the Gulf coast last week.
It was a fast-track planning for a trip, planning which began Thursday morning when Bennett, who is Tonganoxie's fire chief, arrived at work and read an e-mail from the Federal Emergency Management Association.
The FEMA's e-mail said the agency was hoping to recruit 1,000 pair of paid firefighters from departments across the country.
Bennett and Joe Peel decided to look into it. So Bennett called Tonganoxie City Administrator Mike Yanez.
"I gave him the information, then Mike took the ball, got hold of the council and the mayor," Bennett said, noting their approval was necessary before their application could be submitted.
At 12:30 p.m. Thursday, Bennett e-mailed their applications to FEMA. The response was quick.
"We got a call from FEMA 10 minutes later to verify some information," Bennett said. "They sort of told us to start getting ready, but it wasn't official."
As of Thursday afternoon, the men didn't know for sure if they'd be going.
But by Friday morning, they did.
"As soon as we came in this morning, at 8 o'clock there was an e-mail on the computer," Peel said.
Once their notice was received, Tonganoxie Mayor Dave Taylor called an emergency meeting at city hall.
Mike Yanez, the city administrator, council president Velda Roberts, city attorney Mike Kelly, and firefighters Bennett, Peel and John Callaghan, who will fill in as fire chief in Bennett's absence, met Friday morning.
Taylor said they reviewed the FEMA papers, covered legal matters, talked about making sure the city still would have adequate fire protection, and discussed Bennett and Peel's safety while in the hurricane-stricken area.
"We assured the fire department that if there's anything they need the city will step forward and help them," Taylor said. "I have confidence that John Callaghan will be a good chief -- he's experienced and I believe he will serve the city well as acting fire chief."
Friday morning, Dawn Bennett, who had just learned her husband and Peel had received official notice that they'd be leaving, expressed her support and concern.
"I think it's a great opportunity for them, but of course I'm very nervous about his safety," Bennett said.
She didn't know what communication would be like.
"It says to send their cell phones," Bennett said. "But as you hear on TV, they're not always working."
A month in the South
Bennett said he and Peel would be at the same location through their 30-day signup. And, because they're paid city employees, FEMA will reimburse the city for their wages.
Peel said this seemed like the right thing to do.
"I feel like if they need the help and we've got the people, and the people to cover us and make sure we're not jeopardizing our own area, I feel we ought to send the help that we can."
It makes sense to recruit firefighters, Peel said.
"We're trained as first responders and EMTs," Peel said. "We've got the training to handle situations like that and as long as we do we have a duty to act. And if people need help from all over, it doesn't matter -- we'll go."
Peel and his wife, Leanne, have three children.
"She understands the severity of what's going on down there and that those people need help," Peel said. "She's OK with it."
Traveling light
The men were asked to pack first aid supplies that they will use to treat others.
And for themselves, two pair of waterproof boots with extra socks, insect repellent, rain gear, compass, flashlights, personal hygiene items and a sleeping bag.
"Basically it's a survival outfit," Bennett said.
The gear is supposed to weigh a maximum of 60 pounds. And the men were told to bring daypacks in which they can carry a day's worth of supplies each time they leave the FEMA headquarters.
While they plan to pack their cell phones, They're doubtful they'll be able to use them once they leave Atlanta.
Basically, Bennett said, they'll be going out and making contact with people, directing them to the FEMA center, giving first aid and using EMT and first responder skills as needed.
And while they work to make others safe, of course his, and Peel's safety is of concern, too.
"Right now there's a lot of concerns," Bennett said. "But the safety issue is a concern. I would be kind of fibbing to you if I wasn't concerned about it."
Too much emotion
Goodbyes can be rough.
So rough in fact that Leanne Peel left Kansas City International Airport before the plane took off.
On the plane Saturday morning were Peel's husband, Joe Peel, a Tonganoxie firefighter, and Tonganoxie Fire Chief Dave Bennett.
"We stayed as long as we could," Leanne Peel said. "We had to get the kids out of there because they were getting so emotional."
For Dawn Bennett, and the six children she and her husband have, it was an emotional morning as well.
"Three of our kids are little and they didn't understand at all," Bennett said.
Reagann, who is 5, told her father he "had to be back in four days no matter what," Bennett said.
And Dawson, who is 4, didn't quite understand what his father would be doing. In fact, his mother said the boy was overhead saying his daddy would be building tree houses for people.
Peel said it's important that the children, especially the older ones, understand that their fathers are volunteering so that they can help others.
"We made sure we explained to them that they're going to help other people -- they're going to help other kids and older people," Peel said.
Even so, the children asked why.
"My youngest one, who is 9, asked why is it her daddy that is going," Peel said.
And her 12-year-old, who had watched televised news reports and knew of the dangers her father might be facing, was worried.
"She said 'Watch your backs, you and Dave watch out for each other,'" Peel said.
As of Tuesday morning, Peel said, the men had completed training in Atlanta. Monday they flew over New Orleans and spent Monday night in a tent city in Baton Rouge, 80 miles northwest of New Orleans.
At mid-morning Tuesday, Peel's husband had just called to give her an update.
They were headed toward New Orleans.
"They will be dispersed to certain parishes," said Peel, referring to what counties are called in Louisiana. "Their job is to rescue. They're going to go in there, find people that haven't left or haven't been able to leave," Peel said.
They're to help people leave and, if necessary, convince them to leave, providing food and water or medical assistance if needed, she said.
"They're carrying all the food and water that they possibly can," Peel said. "Also their bedding and their backpacks. They will actually stay where they go. They don't know if it's on the ground or if there will be a tent or anything, they won't know until they get there."
Peel desperately hopes the phone calls from her husband will continue. When she or Bennett hear news, they call each other, and call the Tonganoxie fire station as well. But as of Tuesday morning, Peel didn't know whether her husband, or Bennett, would be able to call from New Orleans.
"I just want to hear someone call and say they're OK," Peel said. "Not hearing from them, that's going to be different, I've been able to hear from them each day since they left."