THS

grad to help pilot again with flight
Once again, Nancy Milleret will track millionaire pilot Steve Fossett as he attempts a record-breaking flight.
A year ago, Fossett broke world records when he completed a 67-hour solo around-the-world flight, taking off from and landing the Virgin Atlantic GlobalFlyer at Kansas State University's Salina College of Technology and Aviation.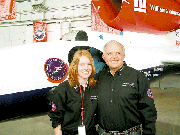 Milleret, Tonganoxie High School's 2002 valedictorian, was one of three K-State students who worked in mission control during Fossett's 2005 flight.
In a few weeks, Fossett will go for another world record. His goal is to top the world's longest nonstop flight distance record during the Virgin Atlantic GlobalFlyer's "Ultimate Flight."
The plane will take off in Florida, circle the globe and land in London. And again, Milleret will help with flight planning and work in mission control during Fossett's flight, this time at the London Virgin Atlantic headquarters.
According to Kansas State University, Milleret will be based at mission control in England, "assisting with aircraft tracking, weather reporting and air traffic control communications."
Because the flight's date depends on weather conditions, Milleret doesn't yet know when she'll fly to London.
"Whenever the weather is optimum and we know we're going to take off, that's when I'll leave," Milleret said. "It might be a day or two notice, sometime around the end of January or sometime around the end of February."
The flight is expected to take at least 80 hours, time which Milleret and others assigned to mission control will be working around the clock.
"Basically we track his progress and make position reports when he's over the ocean," Milleret said. "It's easier for us to call up air traffic control than it is for him -- it's something to take the burden off of Steve."
Milleret described Fossett as "just a nice guy."
"He's not the outgoing hero that you might expect," Milleret said. "He doesn't go on and on about all the things he does. He likes to listen to other people's stories, he likes to talk to us and hear about all the things we're doing."
A trip overseas
Milleret, who likely will have to take at least a week out of school to monitor the flight, said she's looking forward to the experience again.
"Especially since you get to go to London, instead of staying in Salina," Milleret said.
Though at school she wears a flight uniform, Milleret said while working in mission control she, and the other students with her, will wear black shirts that have the GlobalFlyer patch on them, with black jeans.
Milleret, who has a 3.95 college grade-point average, said she's glad to be able to list her experience with GlobalFlyer on her resume.
This helped with an interview for an internship, she said, especially when she was asked if she had ever worked with a group of people or in a stressful situation.
"I could say when I was working on GlobalFlyer, I had to deal with this situation," Milleret said.
For instance, she said, last year, GlobalFlyer lost from 2,600 to 3,000 pounds of fuel during the flight.
Though there were worries about the lost fuel, the mission worked out.
"For every pound he carries on he has to carry more fuel to get him that much more farther," Milleret said. "In the end it was OK because he was able to move faster."
And, seeing him land safely at Salina, where cheering crowds lined the runway, was memorable, Milleret said.
"It was pretty exhilarating because we'd been working 24-7 the whole 67 hours that he was up there."
Though Fossett's safe landing was marked by jubilation, the moment was bittersweet.
"It was a big relief to have it all over, and at the same time, we'd been sitting in mission control with these people from Virgin Atlantic 24-7 and we made some good friends and now they were going to have to leave, so it was sad, too. There were just a lot of emotions."
One of three KSU students
In London, she'll be working alongside two others that attend K-State's Salina school. Milleret, a senior majoring in professional pilot, is the daughter of Mark and Melinda Milleret, Linwood. She plans to become a corporate pilot.
Melinda Milleret, said she and her husband were pleased that their daughter would be able to work on mission control again.
They've been following their daughter's interest in flight since, as a junior in high school, she started taking flying lessons. By the time Nancy started college she had earned her private pilot's license.
"We're excited," Melinda Milleret said of the GlobalFlyer experiences. "As parents, we can't believe all that she's accomplished in her school years."
During last year's GlobalFlyer flight, the Millerets saw their daughter on television while she was working in mission control.
They'll be looking for her again this year.
"This time I assume we probably won't be able to see as much, with mission control being in London," Milleret said.