First-graders get upclose view of
CPR

aide
Students at Tonganoxie Elementary School haven't made it to Hollywood -- but they're one step closer.
Kathy Riddle's first-graders participated Monday in the filming of a training video for CPR Teddy.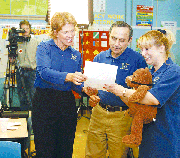 CPR Teddy is an infant-sized teddy bear that is a training device to teach cardiopulmonary resuscitation and choking rescue skills.
Monday morning, a professional filming crew from Overland Park parked its truck outside the school and began unloading an array of lights and cameras.
Then in the morning, as the film crew and actors worked, the children studied in the music room down the hall. Later in the day they would see some filming going on, as scenarios were planned for the playground and cafeteria.
Melissa Waugh and her father, Dr. Elroy Cantrell, invented the CPR Teddy. When the bear's right paw is squeezed, it tells the user what to do if an infant is choking or loses consciousness. When the left paw is squeezed, the information is tailored for a slightly older child.
The bear is equipped with a facemask and a "belly" that inflates when CPR is applied. The bear has a red heart on its chest indicating the proper site for chest compressions. Lights in a bowtie tell the user if the compressions are too soft, too hard or just right.
And, the bear is constructed so that users may demonstrate a practice Heimlich maneuver, to clear the airway.
The bears, which sell for $49.95, are marketed toward parents, grandparents and child care providers.
Waugh said that a lot of people have taken CPR classes. But it may be months or years -- if ever -- before it's necessary to administer CPR.
"So it's a tool to review these skills. ... It can remind people to keep practicing their skills all the time." Waugh said.
Waugh said her father had invented other medical devices. The two thought up the CPR Teddy so that users could rely on it to "strengthen the chain of survival" in the event of a medical emergency.
Waugh lives in Lynchburg, Va. Her father lives in Huntsville, Texas. But they decided to film the video -- which later may be used in part for a television commercial -- in Tonganoxie. That's because Waugh's aunt and uncle, Diane and Rex Cantrell, live in Tonganoxie. Rex Cantrell made some contacts. Waugh and her father approached the school district, and plans were made for the Tonganoxie filming.
So far, Waugh said, they've sold about 400 CPR Teddies. And this summer, she expects an order of 1,500 bears, complete with plastic facemasks, to arrive from China, where they're made.