This McLouth family emphasizes quality
Seth VanNostrand has an ear-to-ear grin, and he isn't shy about showing it.
That's just the way his parents, Misty and Corey VanNostrand, like it.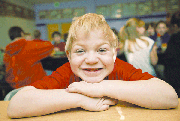 That's because, for 6-year-old Seth and his family, it's all about quality of life, not quantity of life.
The McLouth first-grader was diagnosed three years ago with a rare genetic disease, mucopolysaccharidosis type II. MPS II, also known as Hunter Syndrome, primarily affects males, and it occurs about once in every 100,000 to 150,000 births. If the mother is a carrier, there is a 50 percent risk that any male child will have the disorder.
The condition interferes with the body's ability to break down specific chemicals, which then build up in cells throughout the body, interfering with body functions.
According to the National MPS Society, infants may show few signs of the disorder, but as more and more cells are damaged, symptoms start to appear.
Physical characteristics of children with MPS II include distinct features -- large heads and abdomens. And the children may experience hearing loss, hickening of heart valves, breathing and sleep problems. And, there may be progressive damage to the femurs, eventually making it difficult, or impossible, for the child to walk.
But worse, the severe form of Seth's incurable disease cuts life short, with a life expectancy of 10 to 15 years.
Three years ago, the Van Nostrands finally had a diagnosis for the many health problems their middle child had suffered since birth.
"We had gone from clinic to clinic, trying to figure out what was wrong with him," Misty said.
From birth, Seth had suffered severe respiratory problems. And, he couldn't eat food by mouth. Instead, Misty said, he was fed through an abdominal tube. Although he now eats by mouth, he unable to eat food of mixed consistency, such as cereal and milk, or of mixed temperatures, such as ice cream with hot fudge sauce.
At first, Misty said, it gave her hope to be able to pin a name to their son's condition.
But after researching Hunter Syndrome on the Internet, she was distraught.
"You don't want this," Misty said. "You don't want your child to have this at all. I said, 'No way, no way does my son have this, there's no way.' My husband had gone back to work, I called him up saying you have to come home."
Understandably, Misty didn't want to face the fact that her son's condition was incurable.
But finally, she and her husband found a way to reach out to other families affected by Hunters -- through a parents' forum on the MPS Web site, http://www.mpssociety.org
"It took me several months to get on the forum and talk with other parents," she said.
Along with a name for their son's disease, the family also received some practical advice from a physician-- advice she said she'll never forget.
"Our genetics doctor said, 'quality over quantity,'" Misty said. "I can't tell you how many times I've heard that over the past three years -- and how many times I've said it to myself and to other parents -- quality of life over quantity."
Spreading the word
Seth's diagnosis helped the family set their priorities. Chief among them was that they would continue to strive to make Seth's life, as well as that of their other two children, D.J., 11, and Kent, 3, as good as it possibly could be.
One of those ways is to help spread the word of this rare disease, to promote understanding.
That's why on Friday the family sponsored a "Crazy Dress Day -- Come Out of Your Shell for MPS/ML" at McLouth Elementary School. Mucolipidoses (ML) is a condition similar to MPS, Misty said.
Students who dressed in crazy clothes competed in contests, with winners receiving a T-shirt and certificate. All students received prizes. Seth helped hand out purple ribbons to classmates. His parents talked to every classroom, explaining the disease. And in the cafeteria, Seth made his appearance at lunch time, wheeled into the room by a nurse's aide who accompanies him during the school day. But Seth, whose mother describes him as a child "who can go and go all day long until he drops," quickly left the wheelchair and scampered to the table where his parents talked about MPS with sixth-graders.
Sixth-grader Kali Sharon said she had never heard of MPS until she met Seth.
"If somebody made fun of him, that would be just terrible," said Kali, who had looked at the photos of MPS children at the display.
Jade Patterson, another sixth-grader, said she also was learning about Seth's disease, and the importance of accepting people who may look or act differently.
"If somebody makes fun of someone, I say, 'Don't do that. You could be in their shoes, you could be just like them,'" Jade said.
Being an advocate
It's that kind of a response the VanNostrands were hoping to hear from students.
The roller coaster ride of parenting an MPS II child has led the VanNostrands through harrowing medical experiences. Two years ago, Seth was diagnosed with hydrocephalus, which is an abnormal accumulation of cerebrospinal fluid within ventricles inside the brain.
"I don't know how many times they've told us he's not going to make it through the night," Misty said.
Because of the hydrocephalus, Seth was blind for a year and a half. Seth now can see again, because of two shunts placed in his brain.
While taking care of Seth is important, Misty said she and her husband work to fill the needs of all of their children.
"What I find the hardest to do is to keep the other two kids all normal -- give them the time that they require as kids," said Misty, who is trained as an emergency medical technician. "And that's hard because Seth is hard work. There are lots of doctors appointments."
It all adds up to standing up for their children, Misty said.
"We're our kids' best advocates, whether it be the school, whether it be the doctor -- everywhere."
And, she reiterated, it's about monitoring Seth constantly, overseeing his medical condition and helping him live a full and happy life.
"It may seem overboard to some parents," Misty said. "But when they say 'quality over quantity,' they're not kidding."