38 years later, vet to receive medals
Terry Brown knows what war is like.
"I can tell you what two AK-47 bullets feel like when they come this close to your head," Brown said, squeezing his thumb and index finger close together.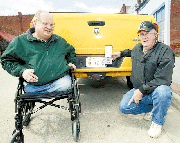 "I can tell you what the wind feels like. It's a scary feeling when you feel the wind from the bullets, knowing that if it had been a little closer I would have been dead."
Nearly four decades after he risked his life for his country, Terry Brown, a Vietnam War veteran, is being honored for his service in the war.
Brown, a 59-year-old Tonganoxie resident, served in the U.S. Army from 1964 to 1968.
For two of those years, from March 1966 to December 1968, he was in Vietnam.
He worked various areas, in artillery, as a helicopter gunner and in the infantry.
That's where he earned his unwanted souvenir of war -- a piece of shrapnel lodged near his heart.
"They said it was too close to the heart to remove it so they left it in there," Brown said. "They said that over a period of time a callous would form around it."
When he returned to the States after his service, Brown was not met by cheering crowds. Instead, he said, there were war protesters.
And, there was the ever-present reminder of his service -- the shrapnel lodged near his heart.
Brown said he knew he'd qualify for the Purple Heart, and likely for other military medals.
And for four years, he tried to obtain them.
"They told me in 1972 that there had been a fire in St. Louis and a lot of records had gotten burned up and mine was a part of it," Brown said.
He gave up.
A few years ago, Vietnam veteran Jim Rogers, who is president of Tonganoxie's chapter of the American Legion, set out to gain Brown's medals for him.
He went through the state's American Legion, as well as through the office of U.S. Sen. Sam Brownback.
And all Rogers had to start with was a piece of paper from a hospital where Brown had been treated.
"It was a medical form showing that I did in fact have shrapnel in my upper left chest and that it's still there," Brown said. "If it hadn't been for that, Jim couldn't have done nothing."
And though all these years Brown had known his documents had been destroyed by fire, he didn't know there were microfiche copies of them in Washington, D.C.
More than three years after starting his search for Brown's medals, Rogers succeeded.
On April 19, at an American Legion meeting, Brown will receive his awards.
Rogers said it took longer than he expected to obtain Brown's medals.
"When we started, I told him this is a slow process," Rogers said. "I figured about a year, but it ended up, it took closer to three years."
Included in the awards Brown will receive will be the Purple Heart, the National Defense Service Medal, the Vietnam Service Medal with Single Silver and Single Bronze Star attachments, the Vietnam Campaign Ribbon with service bar, the Marksman Badge with rifle bar and a Meritorious Unit Commendation.
Brown said this would not have happened without assistance of many, particularly Rogers. He noted that Rogers, who lost both legs in Vietnam, also was a recipient of the Purple Heart.
"It kind of puts closure to what we went through in Vietnam," Brown said of knowing he will receive the medals. "Jim went through a lot more than I did, of course, but everybody went through a different degree of, you know, their own private little hell there, and everybody handles it differently. You can try to explain to someone what you went through in Vietnam, but unless you were there you don't understand the fear."