Vietnam: Years go by, memories remain
All for the want of a pair of socks.
In Vietnam, feet mattered.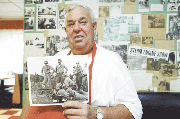 "We used to get bullets first and then I'd rather have a clean pair of socks before food," Bartlett said. "Because your socks would rot off in your boots."
Bartlett, who served in Vietnam in the early 1960s, said the wet conditions left him with jungle rot on his feet -- a condition he said that still comes back to haunt him in the heat of a summer, particularly when he wears boots.
"It will show up about as big as a 50-cent piece on the top of my feet," Bartlett said.
This week is Vietnam Veterans Recognition Week. And Bartlett, who lives with his wife, Karen, in McLouth, is still learning to cope with his experiences from the war.
This commemorative week -- or anything else that can get Vietnam veterans talking about their experiences -- is beneficial, Bartlett said.
"A lot of these guys have kept this stuff pent up and they need someone to talk to," Bartlett said.
Though his advice may be sound, Bartlett said it's difficult -- even some 40 years later -- for him to talk about what went on in Vietnam.
Bartlett, who was in the service for nearly seven years and in Vietnam for 18 months, never claimed to be a war hero.
"I ain't got any bullet holes in me," Bartlett said simply.
But his story is unusual in that he, as well as seven of his eight brothers -- all raised in McLouth -- served in the military. For a while, all seven of them were in the service at the same time, and at one time, four were in or near Vietnam -- as close as 90 miles from one another.
There were the twins, Harold and Howard who served on a submarine tender ship for the U.S. Navy, and Phillip, another Navy man, worked as a missile technician. Butch, Paul, Mike and Bruce were in the Marines.
Another brother, Patrick, stayed in McLouth and for years served as a volunteer firefighter and fire chief.
While nearly half of her 16 living children were serving in the military, Helen Bartlett stayed in McLouth, raising the rest of them. Two children had died in infancy. Marie's husband -- a heavy-construction superintendent who farmed on the side -- had died in the mid-1950s when Butch, the second-oldest, was 15.
Butch dropped out of high school during his junior year.
He wanted to go into the service and didn't care which branch he joined.
"I went to all of them and the Marine Corps was the only one that took me," Bartlett said. "They was needing warm bodies in Vietnam."
Bartlett said it likely was his weight that kept him out of the other branches of the service.
"The day I went in, I weighed 263 pounds and I was 5-foot-10," Bartlett said. "And 18 weeks later I was 6-foot-2 and weighed 180 and could run like a deer."
While in the service, Bartlett passed his GED.
"I got my diploma from the state of Kansas while I was in Vietnam in a rice paddy," Bartlett said with a wry grin, adding, "A lot of good that did me there."
Bartlett said he and the men with whom he served were "just grunts."
"We'd go out and find them, the bad guys," Bartlett said.
During his 18 months in Vietnam, Bartlett learned the sound of a bullet's narrow miss.
"It's like a whoosh when it goes by your ear," Bartlett said. "You think, four inches closer and I'd of got to talk to Jesus in person. You know it just ain't your time to go."
As Bartlett speaks, he greets customers who are part of the early lunch crowd at Bartlett's.
Now that he's retiring from a 40-year career at a rural Tonganoxie natural gas company, Bartlett spends more time helping out at the restaurant. Friday morning, dressed in a red apron and wearing an easy smile, he was on chicken-frying duty.
"How are you doing kid?" Bartlett cheerily greeted a long-time customer. It's business as usual. He smiled as he refers to his wife, Karen, as "The boss."
Karen said she's glad for the national Vietnam Veterans Recognition Week.
"Anything for them is long overdue," Karen said.
She said it's important for the Vietnam veterans to join Veterans of Foreign Wars or American Legion. Butch is a member of Tonganoxie's VFW Post 9271.
"That is a good release because they have gone all their lives and not talked about it," Karen said. "That's part of the healing process -- they need to be with others who understand."
And, after being married to a Vietnam veteran for eight years, Karen said she understands their agony.
"The bottom line is they went over there, they fought that war and they came home and the Americans at home made them feel ashamed for fighting the war," Karen said. "Not all of them did, but a lot of them did."
Butch recalled a grim return to the United States in 1966.
"I had to get out of my uniform in San Francisco -- they were throwing food on me ... yelling 'baby killer.'"
It's that kind of response, combined with the lingering and sometimes haunting memories of the war itself, that makes for hard lives, Bartlett's wife said.
"There have been so many divorces (among Vietnam veterans)," Karen said. "They do not feel that they deserve to be loved."
As the years go by, Bartlett said his memories of war ease a bit. It's not so bad anymore when he catches a glimpse of a Vietnam war movie on TV.
Still, he's glad he served his country.
"At times I thought it was a waste, but I was glad I was there, I guess," Bartlett said.
Some of the men he knew in the military never made it home from Vietnam. And others, Bartlett said, never made it to Vietnam.
"We had guys that when it came down that they was going to Vietnam, they shot themselves, believe it or not," Bartlett said. "I said, man I'll go to Vietnam, they're going to have to kill me instead of me killing me -- I thought that was a helluva waste."