Tonganoxie teen loses his 'voice'
Brandon Allen turns 18 today.
And for the autistic teen, the greatest birthday gift would be the return of his voice.
This summer, Brandon's grandmother, Nancy Pearce, bought a $7,500 portable computer that allows Brandon to talk. Literally.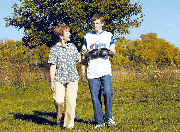 Using a touch-screen keyboard, Brandon can type the words he wants to say, and the computer will say the words aloud.
Brandon carries it with him, so he can communicate wherever he goes.
But Saturday, while shopping for groceries at Tonganoxie's B&J Country Mart, Brandon put his computer down.
And later in the day, when his grandmother realized it was missing, he told her he'd left it on the meat counter at the grocery store. Pearce called the store, hoping someone had found the computer and turned it in.
But no such luck. As of Tuesday, it still had not been found.
The computer is a DynaVox DV4. It's the size of a laptop computer, but doesn't fold. It's black in color and weighs about 10 pounds.
Pearce, who filed a police report Monday, said she was hopeful the DynaVox would be found.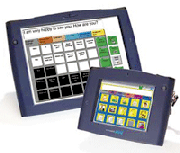 That's because the grocery store uses surveillance cameras. Eric Gambrill, manager of B&J
Country Mart, said he invited the police department to review the videotapes.
"I told them to come on out and we'll look at the tapes, and if we see something we'll burn it off for them," Gambrill said.
Tuesday, Tonganoxie police Lt. Billy Adcox went to the store, but said the camera system was unable to record on Saturday.
"Just in listening to her (Pearce) talk yesterday, she wasn't 100 percent sure where they had left it," Adcox said. "She thought B&J was the last place they had had it at."
Pearce said she's contacted the DynaVox company to alert them of the disappearance of the unit. The computer's battery only lasts 24 hours without recharging. And the chargers only are available from the manufacturer.
"If they call the factory and give them the serial number to order a charger, they'll know it's mine," Pearce said.
Brandon's voice
Since May, when Pearce bought the DynaVox, it has become his voice.
Brandon, who has lived with Pearce since 1998, will occasionally say a few words, but if he has to think about speaking, the words don't come out.
So the machine speaks for him.
Using the touch screen, Brandon can type words he wants to say. The computer assists him, predicting what the words are. It can speak the words. And, it stores phrases he frequently needs to say.
For instance, the DynaVox helps explain to strangers why this tall, blue-eyed, clean-cut teenager won't speak to them.
"It has a little box that says, 'I am Brandon Allen. I am autistic. I am nonverbal. Please be patient with me while I anticipate what I want to say,'" Pearce said.
Currently, Brandon, who requires 24-hour care, is attending high school through the Leavenworth County Special Education Cooperative.
He uses the DynaVox on a daily basis, at school, Sunday school, and home. He also takes it to two clubs in which he participates, T.A.G., which meets twice a week after school, and Gateway 2, which meets the last Sunday of each month. And he uses it at the Schiefelbusch Speech and Hearing Clinic at Kansas University.
"Last Friday, the student who has been working this semester with Brandon was excited of the number of times he pushed the appropriate responses independently on the DV4," Pearce said.
Pearce, who is making monthly payments on the DynaVox, which she bought in May, says it may change her grandson's life.
She's looking into the possibility of him taking the ACT test next summer, in preparation for college.
Sunday afternoon, when asked what career he's interested in, Brandon typed a response on his Alpha Smart keyboard, similar to the DynaVox but without as many amenities.
Painstakingly, with his grandmother gently touching his right elbow to help guide him, Brandon typed these words, "computer programmer."
Alert to the world
Pearce said though he doesn't always show it, Brandon is well aware of the world around him.
Not long ago, they ran into teachers who had taught Brandon in a special preschool when he was 3.
Pearce said Brandon immediately recognized them and recalled details about them.
With the assistance of computerized learning devices, Brandon's intelligence has become even more apparent, Pearce said.
For instance, a teacher told Pearce that Brandon surprised her by typing the names of all the state capitals.
And, three years ago, a tutor came to the house to work with Brandon. She brought a book of her own to use in their studying.
"She started asking him questions and he was trying to type an answer," Pearce said. "He got real upset."
Pearce said she asked him what was the matter.
And, speaking with his own voice, Brandon said, "What is this cat thing?"
Pearce and the tutor looked through the book and found the word "catastrophic," which was what Brandon had asked about.
"I explained the meaning of catastrophic and pronounced it to him twice," Pearce said. "Then I asked him, 'What has happened in your life that was catastrophic.'"
Brandon's reply was immediate.
He answered, "9-11."