Tour offers glimpse of life on the farm
The day was bright, and Harley and Carrie Swanson were ready for an outing.
"We just decided we wanted to go and check everything out," Harley said. "The weather was going to be nice."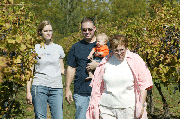 With the Swansons, who live in Tecumseh, were their children, Hannah, 2, and Sawyer, 9 months.
Late Saturday morning the Swanson family was well into the Kay Valley Farm Tour. They'd just visited at Roxane McCoy's goat farm, east of Tonganoxie, and were starting their visit on their next stop -- Basehor's Holy-Field Winery.
"The goat farm was excellent," Harley said. "The whole family and everyone there was friendly. And they knew what they were talking about.
Carrie tried a new experience -- milking a goat.
"You have to hold to the teat really tight and squeeze it," Carrie said. "Once you get the hang of it, the milk comes out."
At the winery's shop, Holly Tucker and Mandy Hampton served samples of wine to the couple, as well as to other visitors. And downstairs, Michelle Myer and her father, Les Myer, showed visitors where wine is made.
Another family taking advantage of the good weather were Kevin and Denise Trummel their 8-month-old daughter, Ellie, of Lawrence, and Virginia Daily, Kansas City, Kan.
"We're just out enjoying the weather," Kevin said as he and his wife walked through the vineyard, letting Ellie reach for clusters of grapes.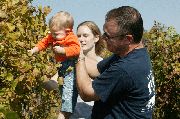 From hobby to business
At Tonganoxie's Screamin' Oaks Farm and South Wind Dairy, owner Roxane McCoy was glad she had taken down part of a fence to make way for more parking.
A continuous flow of cars pulled onto her farm, east of Tonganoxie. And there were activities for everyone. The Johnson County Legacy 4-H Club brought goats and an obstacle course through which any child could compete with a goat.
Nearby there was a mini petting zoo with calves and sheep.
And just up the yard near the house, volunteer Dave Scharinge steadied Felicity, a Swiss Toggenberg goat, as two Lawrence youths, George Wormsley, 13, and Zach Wormsley, 11, milked the goat.
Nearby, Abe Buddish, 10, worked at his spinning wheel, twisting wool from his angora goat, "Harry," into yarn. His sister, Anna, sat nearby, knitting sheep's wool into a scarf.
Just in front of the house, Lana Howe, owner of Tonganoxie's Vintage Soap and Bath, shared samples of goat cheese and soap made from goat milk. Howe set up a mini shop at the site, selling soap and candles made from goat milk produced at Roxane McCoy's farm.
McCoy's goat business started with a goat 4-H project 10 years ago. Since then the herd has grown from one goat to 50. Depending on the time of the year, each goat produces from one to two gallons of milk a day.
She was pleased with the weekend's attendance at her farm.
At least 176 carloads of visitors came to her farm during the two-day event.
"We had 100 ribbons for kids that said, 'I milked the goats,'" McCoy said. "We ran out of those on Sunday."
Helping plan the Screamin' Oaks visit was the Leavenworth County Goat Club, made up of youths who belong to various 4-H groups in the county. Many of the animals in the petting zoo -- rabbits, ducks, chickens, calves -- were part of those youths' 4-H projects.
And she said, Howe, owner of the soap shop, and Howe's family, spent several weeks helping her ready the farm for the tour.
McCoy said she and Howe were surprised by the number of people interested in buying goat milk and cheese.
"Because they had been on the tour last year, they bring their coolers," McCoy said, noting she sold 17 gallons of milk during the weekend. "Next year we're going to gear up and have cheese for sale, too."
Most of the tour participants whom McCoy met were from the Topeka, Lawrence and Kansas City areas. But they must have been a generous crowd. A special collection for Sarah Smith, a Tonganoxie teen injured in a horseback riding accident last month, raised $235.
McCoy plans to participate in the farm tour again next year, adding another event -- goat cart rides.
Goats are strong animals, she said, noting one goat can pull a cart that has one adult and child in it.
Along for the ride
At Wildhorse Orchard between McLouth and Tonganoxie, Star Straf bobbed for apples -- which were hung on strings from an apple tree.
After that, Straf and her friends would load into a haywagon to take Perry Walter's tour of the apple orchard.
She had had a good day, Straf said of the day trip that so far had included visits to Pendleton's Country Market west of Eudora and McCoy's goat farm.
Just inside, visitors talked to Laurie Walters, who owns the apple orchard with her husband, Perry Walters. In the shop, they could see where apples are cleaned and sorted and cider is made.
Perry Walters said customers can pick apples themselves or buy apples in the bag. And of course there's the apple cider and apple butter.
Walters noted that agri-tourism activities are gaining in popularity. Wildhorse offers hayrack rides during apple season.
"What I've seen is that the people who come on the weekends come for the hayride and to pick apples," Walters said.
Day trips
Karen Pendleton, who owns Pendleton's Country Market with her husband, John, helped organize this year's Kaw Valley Farm Tour.
She estimated their farm alone had 500 cars come through during the two-day event. The 2006 tour was the second annual tour.
"The tour really allows people to put a face on local agriculture," Pendleton said. "We are so fortunate in this area to have farms that we can go out and visit and where we can buy things direct from the farmers. And we have a population base that makes it worthwhile for farmers."
It's not just entertainment, Pendleton said. It's educational.
"People can see where their food is coming from."