Tonganoxie High boasts National Merit semifinalist
For a second consecutive year, a Tonganoxie High School senior has been named a National Merit semifinalist.
Justin Smith, the son of Frank and Jeanne Smith, ranks among the 16,000 semifinalists in the 52nd national competition.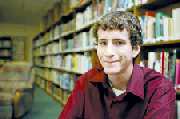 Last year, Micah Titterington received the honor.
Justin, who's attended Tonganoxie schools since kindergarten, learned about his accomplishment several weeks ago, but was told the news wouldn't officially be released until last week.
Justin didn't race home to tell his parents. Instead, Justin used more of a by-the-way approach.
Several days after THS principal Tatia Shelton told Justin he was a semifinalist, he received an unrelated scholarship application in the mail.
When he told his parents about that, he also broke the news about being a National Merit semifinalist.
As a semifinalist, Justin has the opportunity to continue in the competition for some 8,200 Merit Scholarship awards worth $33 million. About 90 percent of semifinalists are expected to become finalists, about half of whom will be selected as Merit Scholarship winners.
In qualifying as a semifinalist, Justin was one of more than 1.4 million high school juniors who took the SAT/National Merit Scholarship Test last year.
Justin, an unassuming, 6-foot-2 lanky teen, is academically minded.
During his school career Justin only has earned one grade lower than an A -- in sixth-grade band.
"I was real upset," Justin said. "I got a B in band because I messed up on a test."
In addition to his consistently high grades, the 17-year-old holds a cumulative ACT score of 32. Justin said he plans to take the ACT test again during his senior year to try to raise his score. The highest ACT score possible is 36.
Justin attributed his ACT score to the fact that he took advantage of practice tests offered by the school. These were particularly beneficial to him, he said, on reading and science questions.
"English and math are a lot easier because it's just applying knowledge that you already have," Justin said. In those areas, Justin scored 36 in English and 34 in math.
After high school, Justin plans to attend the University of Kansas or Kansas State University and major in engineering. And he said it's possible he may want to continue into law school.
Justin said there are people in his life who have influenced him in his desire to be successful. But he's also self-motivated.
"I just work hard because that's kind of what I feel that I ought to do," Justin said. "I kind of feel that there are people who have invested in me and I have a responsibility to be the best person I can be."