Dance is plum for 11-year-old
Photo Gallery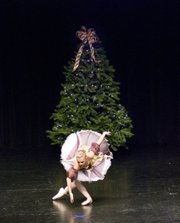 Nutcracker
Performing in front of crowds is no problem for 11-year-old Mikayla Schad.
The Tonganoxie youth has been dancing for about a decade. To demonstrate her skills, Schad performed the solo Dance of the Sugar Plum Fairy in Peter Tchaikovsky's "Nutcracker" during Saturday night's performance before an estimated 350 people at the Tonganoxie Performing Arts Center.
Despite having a larger crowd than last year's performance Schad didn't have stage fright. Instead, she used the crowd to her advantage.
"I like having the fans cheer me on," she said.
Schad and 16 other dancers were onstage at the Tonganoxie High School, performing scenes from the Nutcracker for the Graves Talent Company's holiday show.
This was the fourth year dance instructor Brenda Graves performed this ballet at the high school.
"I'm very thrilled with it; they've done a really good job," Graves said.
Graves said she has been instructing her students and getting them ready for the big holiday show since August.
To mix things up, Graves had her students learn dances from the ballet, but she also added some more contemporary holiday songs, like "Merry Christmas Baby," "Winter Wonderland" and "Let it Snow" to the performance.
"We went with some other holiday songs because it lets the kids do something a little bit different." Graves said.
With cameras and camcorders in hand, the friends and family of the dancers were there to show their support.
Mark Jacobs was videotaping his two daughters Sarah and Claudia.
"I liked the performance," Jacobs said. "(Sarah and Claudia) are always pretty excited when they get to dance."