Chieftains lack urgency vs. St. James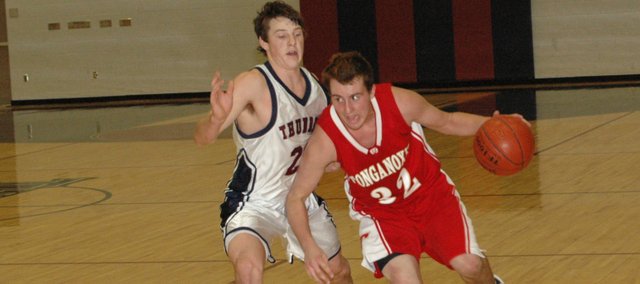 Lenexa — The Tonganoxie High boys basketball team started Saturday's game against St. James Academy slower than its coach anticipated.
Much slower.
"Our sense of urgency was horrible in the first half and our consistency right now has to change," coach David Walker said after THS lost, 49-40, to St. James in its final game of the Central Heights Tournament.
Tonganoxie and St. James played the third-place game in the Thunder's home gym in Lenexa. The rest of the tournament took place at Central Heights High School in Richmond, which is more than an hour away from Tonganoxie. With Saturday's wintry weather conditions, administrators moved the game to Lenexa.
The time of the game changed from 4 p.m. to 1:30 p.m.
"The fact that (the time and location of the game were) moved around, you can't use that as an excuse," senior forward Gabe Belobrajdic said. "We should have been ready to play, no matter where we were."
St. James built a 17-7 lead and led, 30-15, at halftime. Tonganoxie looked sloppy in the first half and committed 16 turnovers overall. St. James scored 24 of its 49 points off turnovers.
"Those will be correctible because guys are going to either fix those or they're not going to play," Walker said. "Those are things we cannot tolerate. We cannot put up with our unforced errors."
St. James ran a methodical half-court offense, which featured effective ball movement to create open lanes for its post players. Many of the Thunder's points came in the paint.
"It seemed like they would have 15 passes before they would go up for a shot," Belobrajdic said. "We had maybe three at the most in the first half. We have to move the ball around a lot more until we get an open shot. We're hurrying the offense way too much."
Belobrajdic led the THS offense with 12 points and 10 rebounds. He was the only Chieftain who scored in double figures.
Tonganoxie (1-3) outscored St. James by six points in the second half, but it was too late to pose a serious threat.
After the Chieftains cut the lead to seven with 1:15 remaining, they immediately forced a Thunder turnover. Tonganoxie's Austin Smith converted a jump hook in the lane, but the referee called the junior center for traveling before the shot.
The Chieftains cut the lead to as little as six points with 56 seconds left. St. James kept the game out of reach by sinking its free throws. After attempting only one free throw in the first half, the Thunder converted 13-of-19 in the second half.
"If our sense of urgency was like it was in the second half, then we probably have a different ball game," Walker said. "We didn't come out of the chute ready to play. You've got to approach the game when it starts as though there were two minutes left and you're down by five."
Tonganoxie went 1-2 in the tournament. Earlier in the week, THS defeated Metro Academy, 38-37, Tuesday and lost to Central Heights, 43-36, on Friday.
The Chieftains will face Lansing at 7:30 p.m. Thursday at home.