Storm brushes city, but worries not over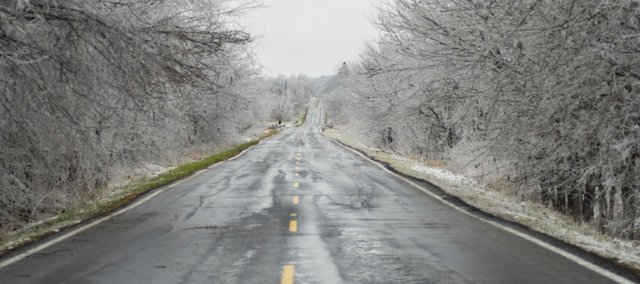 Photo Gallery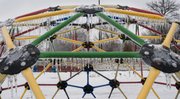 Freezing rain hits Tonganoxie
A wintry storm that coated much of Kansas in thick layers of ice and caused power outages for thousands decided it would spare Tonganoxie of its brunt.
The news was OK with Mayor Mike Vestal.
"We dodged a bullet, I guess, at least for now," Vestal said early Tuesday afternoon as a soaking rain - not freezing rain as had been forecast - continued to fall on the city.
Trees and power lines throughout the city showed off a coating of ice from the precipitation, which began Monday night and continued throughout much of Tuesday. But the city's streets, for the most part, remained free of ice through the daylight hours as temperatures stayed above freezing.
"Right now, the streets are in good shape," Vestal said. "If it goes to 30 (degrees) or lower, I don't know."
City crews were out much of Monday night, spreading salt and sand on streets. Vestal said the crews would continue to keep an eye on conditions throughout the day and night.
Vestal said crews were out collecting limbs that had fallen into streets, and Tonganoxie firefighters responded to a couple of calls for arcing electrical lines.
There were no wrecks reported to police in Tonganoxie due to the weather. Vestal attributed the statistic to several factors, including the street conditions. "Mostly though, everybody's being real sensible and staying home. There's no school, which helps a lot, and a lot of people stayed home from work."
Although Westar Energy reported power outages in Leavenworth County - 7,000 customers at one time early Tuesday afternoon - there was little trouble with the lights staying on in Tonganoxie.
"We had one power outage," Vestal reported, "and it was scheduled ahead of time to repair trouble on a line. They fixed that in about 10 minutes."
Lt. Andy Dedeke of the Leavenworth County Sheriff's Office said the city of Easton experienced one of the worst outages Tuesday. A Westar official said areas of Leavenworth and Lansing also were without electricity.
Westar spokesman Nick Bundy said crews continued to work systemwide to restore power, with help arriving from out of state throughout the day. He anticipated power outages to continue throughout Westar's territories, perhaps even becoming more widespread as rain and ice continue to weigh on trees and power lines.
In Linwood, assistant city clerk Bert Fritz said beyond an hourlong, citywide outage Tuesday morning, there were few weather-related hardships.
"We've been very fortunate so far," she said.
Power went out in Linwood just after 8:30 a.m. but was restored at 9:27 a.m. Fritz said an outage at her home, northeast of Linwood, lasted nearly three hours before power was restored.
Dedeke said most paved roads in the county were in good shape although there were scattered problems with downed tree limbs and power lines, mostly in the northwestern part of the county.
As of early afternoon, he said the Sheriff's Office had not worked a single accident Tuesday.
"For the most part, people had advanced notice of the storm and decided to stay home," he said.